Louis van Gaal pulled out a dossier full of statistics at his press conference as he hit back at Sam Allardyce's claim that Manchester United are long-ball merchants.
West Ham boss Allardyce described Van Gaal's team as "long-ball United" after they scraped a 1-1 draw at Upton Park on Sunday.
But Van Gaal said Allardyce's "interpretation" was incorrect and the Dutchman produced a pamphlet filled with statistics at his pre-match press conference on Tuesday to support his stance.
The statistics quoted in the A4 pamphlet, which were put together by Van Gaal's analysts, claim West Ham sent a higher percentage of their long passes forward than United during the match.
West Ham 1 Manchester United 1 player ratings
West Ham 1 Manchester United 1 player ratings
1/22 West Ham: Adrian

Impressive performance from the Spanish goalkeeper. He wasn't tested too many times but when he was, in particular from Robin van Persie in the second half, he stood firm. 7

2/22 Carl Jenkinson

Not as effective as he has been recently. He struggled to cope with Radamel Falcao and allowed Adnan Januzaj to get the wrong side of him too often. Came close to scoring when his cross-cum-effort when inches past David de Gea's goal. 6

3/22 Cheikhou Kouyate

What a goal. He did excellently to turn and shoot past David de Gea. Alongside the composed figure of James Tomkins he was able to express himself. He was also the most effective at stifling Angel di Maria. 8

4/22 James Tomkins

Back into the team and he did not disappoint. He kept composed when his defence was under threat and did brilliantly to block a Robin van Persie effort that looked destined for the back of the West Ham net in the second half. 7

5/22 Aaron Cresswell

Consistently he has been one of West Ham's best players this season. Defensively not much gets past him and he's no slouch at getting forward. His delivery from the left is superb. 6

6/22 Alex Song

Made a few sloppy errors in the first half. Lucky not to have been punished when his pass across his own box was intercepted by Robin van Persie. 6

7/22 Kevin Nolan

Still not a fans' favourite as the fans near the press box in the west stand made clear. He was constantly overrun in midfield and wasn't able to deal with Wayne Rooney running at him. 6

8/22 Mark Noble

Dependable performance from Mr West Ham. Tireless work marking Adnan Januzaj, who can break quickly, but Noble dealt with him well. 7

9/22 Stewart Downing

Behind Diafra Sakho and Enner Valencia, the English midfielder seemed to run into trouble a little too often and didn't press forward as much as he has been able to before. 6

10/22 Enner Valencia

A constant threat to the Manchester United defence. Used his pace effectively to move into areas where the ball could be fed to him. 7

11/22 Diafra Sakho

No sign of his recent back injury causing him any bother. He didn't use his physicality as well as he should have and was too slow to react in the final third. No doubt he'll get his sharpness back with a few more matches. 6

12/22 Manchester United: David De Gea

Sharp to react to the penetrating runs of Enner Valencia and Diafra Sakho. Did brilliantly to deny Valencia in the first half. Beaten by a strong Cheikhou Kouyate volley. 6

13/22 Phil Jones

Handled the physicality of Diafra Sakho well. He won the majority of 50/50 balls in the air against the Senegal international. A composed performance. Could possibly have done better to stop Cheikhou Kouyate getting his shot away. 5

14/22 Luke Shaw

Caught out of possession a few times by Enner Valencia who never allowed him out of his sights. Pressed forward well. Sent off for a horror tackle on Stewart Downing. 5

15/22 Antonio Valencia

One of Manchester United's best players against West Ham. Highly effective on the right. Worked particularly hard to support the attack but made sure to track back when required. 6

16/22 Marcos Rojo

He never stopped grafting. Very quick out of defence but covered for Luke Shaw when the English defender pushed up. He did pick up an unnecessary yellow card for a reckless tackle on Mark Noble. 6

17/22 Angel di Maria

In behind Robin van Persie and Radamel Falcao, the Argentinian playmaker struggled to make an impact. His delivery from set pieces were particularly poor as they failed to beat the first defender. 5

18/22 Adnan Januzaj

50th game for Manchester United three days after he turned 20. Early on his was relatively effective on the left side but as Carl Jenkinson started to read where he was going the Belgian ran out of options. Replaced by Marouane Fellaini after 72 minutes. 5

19/22 Wayne Rooney

A little out position but his ability to link up the midfield and attack is always required. A threat to West Ham after the Hammers took the lead. Very creative from a fairly deep role. 7

20/22 Daley Blind

Not as strong as he has been. Playing in front of the defence you expected him to stay calm and tidy up loose balls. Bypassed a little too easily by Stewart Downing. Scored a beautiful goal to bring his side level. 7

21/22 Radamel Falcao

Too often he appears a little too casual. His movement created space but when he got the ball he didn't progress play often enough. Missed a sitter to level the scores when one-on-one with Adrian. 5

22/22 Robin Van Persie

Failed to punish Alex Song's mistake in the first half when the midfielder played across his own box. Didn't link up with Radamel Falcao as much as he has done previously. Should have levelled the match with minutes remaining. Good movement, though. 6
West Ham attempted 200 passes, according to the figures, and United 343.
The pamphlet said 71.1 per cent of West Ham's "long passes" - of over 25 metres - went forward whereas United's percentage was just 49.9 per cent.
Diagrams in the pamphlet claim to show United's passes went sideways or diagonally, rather than forward.
Van Gaal talks regularly about the fact that he wants his teams to play attractive football.
He was clearly, therefore, annoyed at Allardyce's comments and he had the pamphlet on his desk waiting when he fielded the first question about the West Ham boss' jibe.
"Because I expected this question, I have made an interpretation of the data for this game and then I have to say that it is not a good interpretation from Big Sam," Van Gaal said.
Van Gaal insisted his team only started launching balls forward after 6ft 4in Marouane Fellaini came on in the 76th minute of the draw in east London.
"When you have 60 per cent ball possession do you think that you can do that with long balls?" Van Gaal added.
"Yeah, long balls, in the width, to switch the play. You have to look at the data and then you will see that we did play long balls, but long balls wide, rather than to the striker.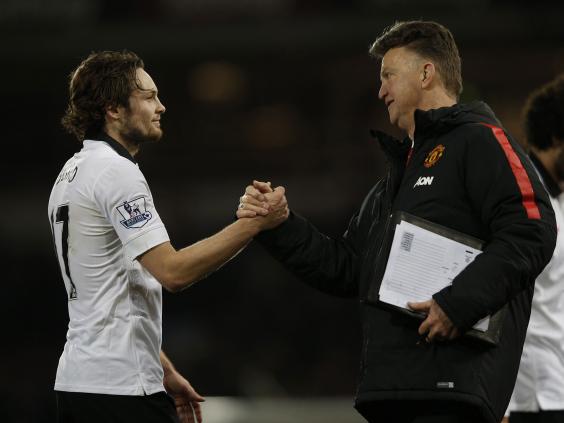 "A ball to the forward striker is mainly caused long-ball play.
"It is not so difficult also to read that.
"I am sorry, but we are playing ball possession play and after 70 minutes we did not succeed, in spite of many chances in the second half, then I changed my playing style.
"Then, of course, with the quality of Fellaini we played more forward balls and we scored from that, so I think it was a very good decision of the manager.
"But, when you see overall the long ball, and what is the percentage of that, then West Ham have played 71 per cent of the long balls to the forwards and we 49."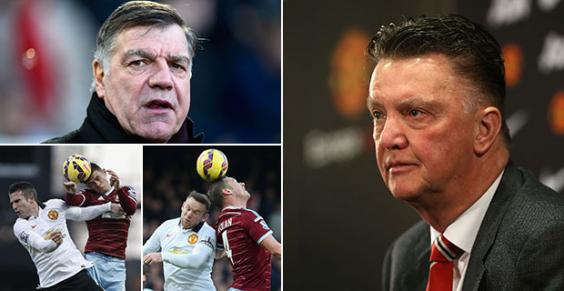 After reeling off the statistics, Van Gaal rose from his chair and handed the pamphlet to the reporter who asked the question about Allardyce.
The United boss asked the journalist to analyse the last three pages, which contained diagrams which contained coloured arrows pointing in the direction of both team's passes.
"I give you this and you can see that the blue ones are the good ones because long balls are also very difficult, which is why I began with the explanation of ball possession," the 63-year-old said.
"When you have 60 per cent ball possession you cannot play long balls. So again, they did it 71 (per cent) and we 49, and I give it to you, you can copy it and then maybe you can go to Big Sam and he will get a good interpretation."
PA