Antonio Conte has by now faced Zlatan Ibrahimovic several times in his career as a manager, to the point he was talking about how best to prepare against the striker ahead of Chelsea's trip to Manchester United on Sunday, but he could have known much more about him had his career as a player just gone slightly differently.
The Italian retired in 2004, just in the summer when Ibrahimovic arrived at Juventus, and Conte admits there is a slight regret they didn't play together.
"When Zlatan arrived at Juventus, I finished my career," Conte said on Friday. "It was a pity because I'd like to have played with him."
Chelsea vs Manchester United: Five memorable matches
Chelsea vs Manchester United: Five memorable matches
1/5 Chelsea 3 Manchester United 1

January 19, 2014: Samuel Eto'o rolled back the years against David Moyes' United to become one of a very exclusive group to have scored a Premier League hat-trick against the Red Devils.

Getty Images

2/5 Chelsea 2 Manchester United 3

October 28, 2012: Javier Hernandez was the match-winner as Branislav Ivanovic and Fernando Torres saw red in the last time United beat Chelsea at Stamford Bridge.

Man Utd via Getty Images

3/5 Chelsea 5 Manchester United 4

October 31, 2012: Only coming three days after their previous encounter and this time in the League Cup. The game went to extra time thanks to a 90th-minute Hazard penalty before Daniel Sturridge and Ramires secured the win for the Blues.

Getty Images

4/5 Chelsea 3 Manchester United 0

April 29, 2006: Chelsea emulated United in become only the second team to retain the Premier League title as William Gallas, Joe Cole and Ricardo Carvalho secured the win for Jose Mourinho's side.

AFP/Getty Images

5/5 Chelsea 0 Manchester United 3

April 20, 2002: Paul Scholes, Ruud van Nistelrooy and Ole Gunnar Solksjaer all scored in a dominant performance as United marched to their third consecutive Premier League title.

Getty Images
The Chelsea manager is one of many, meanwhile, who feels Ibrahimovic is only getting better after having scored 28 goals in 44 games for United this season.
"Yes, I agree. I always said this. I think now, Zlatan is at the top of his form in his career. I think he's a great player now, a top player. Not only a finisher, but he plays for the team. It's good to have this type of player because it's very good to play for the team. It's great. For me, he's one of the best players in the world, Zlatan."
And that makes stopping him one of Chelsea's biggest challenges on Sunday.
"We must have good defensive organisation, and we must pay attention because, when he attacks the box, he's very dangerous. Also when he receives the ball, he's dangerous. He's a dangerous player. For this reason, I think my players must pay great attention and great concentration tomorrow to stop him, and not only one player, but the team."
Conte meanwhile used similar words about a player he did at least manage in Paul Pogba, defending the United midfielder from criticism, and stating that his much-discussed price-tag merely reflects the market for a player of such talent.
"Honestly, I think he's a massive player, Paul. He's a really top player, a great talent, a complete player because he's strong physically, fantastic technique, good stamina, he's fast... He has the whole of the modern player, and I think he's a really top [player]. I know him very well and I know he's a really top player. Very, very strong."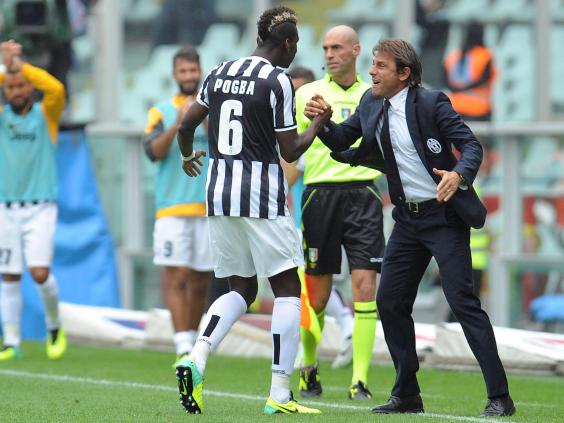 Pogba joined Conte's Juventus from United in 2012, and immediately enjoyed a quantum leap in his level of performance.
"I worked with him for three years and he arrived in Juventus very young," the Chelsea boss said. "But we understood very soon the capacity of this player. For this reason, only after three or four months, he was playing in the starting XI. Then he learned a lot that season, and also he's a player who likes to work and to improve himself. Yes.
"Paul is always a player who can change a game. I repeat: for me, he's a top player. He's a player who stays at a level so high."
Asked whether Pogba was maybe feeling the pressure of his world-record £89m price-tag, Conte disputed this.
"If you ask me about him, I can tell you that, I repeat, he's a massive player because I know him very well. Then the amount of money that United spent on him, I don't know if it's right or not. But, for me, he's a top player. When you go to buy a top player, you must be able to pay a lot of money."
Reuse content