If you want someone to spoil your party, to spill red wine on the carpet and knock over the stereo, then invite Jose Mourinho.
Three years ago, he had taken Chelsea to Anfield to face a team managed by his former youth-team coach, Brendan Rodgers, and captained by Steven Gerrard, a man he had tried three times to sign. Liverpool, a team driving towards the title amid almost messianic fervour on Merseyside, were stifled and beaten. The beneficiaries were Manchester City managed by Manuel Pellegrini, a man Mourinho detested.
He may mask it these days but Mourinho's feelings for Chelsea still run pretty deep and now he did to them what he did to Rodgers and Gerrard and in doing so he transformed Manchester United and tore open the race for the Premier League title.
Manchester United 2 Chelsea 0 player ratings
Manchester United 2 Chelsea 0 player ratings
1/22 David de Gea - 6 out of 10

Rarely tested. Impressive under the high balls and in his distribution.

2/22 Antonio Valencia - 7

Solid all round performance from him. Strong going forward and assured on the back foot. Physically impressive too.

3/22 Eric Bailly - 7

COmposed under pressure, read the game brilliantly and made all the right decisions. Excellent defensive display.

4/22 Marcos Rojo - 6

A gritty and fiesty display. Battled hard against Costa and largely kept his cool while the Spaniard repeatedly lost his.

5/22 Matteo Darmian - 6

Kept Pedro under wraps and limited the wingers' influence for much of the game.

6/22 Ander Herrera - 8

Demonstrated fantastic vision to play in Rashford for United's goal. Hard-working as ever. Shame about the yellow card but completely ran the game today.

7/22 Marouane Fellaini - 7

United's battering ram. Strong in the air, firm in his challenges and excellent at breaking up play. Dominated against Kante too.

8/22 Paul Pogba - 7

A rounded, mature performance from the Frenchman. May not have threatened as others did but kept the United midfield ticking over with his constant passing and movement. Still missing that 'wow' factor though.

9/22 Ashley Young - 7

Another hard worker who dug deep to give 100 per cent today. Made some encouraging runs going forward and was vital in the build-up to United's second.

10/22 Marcus Rashford - 8

FUll of confidence and energy. Used his pace to devasting effect and proved to be too much for the visiting defence at times. Showed today what he's truly capable of.

11/22 Jesse Lingard - 7

Complimented Rashford to a tee. Excelled at getting in behind United's backline and provided a reliable outlet throughout.

12/22 Asmir Begović - 6

Could have maybe done more for the first goal but unlucky about the second. Made some important saves to keep the score down.

13/22 Kurt Zouma - 5

Stepped in to replace Marcos Alonso which subsequently disrupted the balance to Antonio Conte's team. Looked out of place.

14/22 David Luiz - 5

Guilty of costly mistakes and, rather surprisingly, was overpowered at times by Rashford. A shadow of the player he has been this season.

15/22 Gary Cahill - 4

Completely dropped his guard for United's second. Struggled to match Rashford for his pace and made multiple sloppy mistakes. An afternoon to forget for him.

16/22 Victor Moses - 4

Anonymous and largely ineffective. Hauled off around the hour mark for Cesc Fabregas.

17/22 N'Golo Kanté - 6

Showcased his ability to drive into space on a number of occasions but was overwhelmed physically throughout the match by Fellaini.

18/22 Nemanja Matic - 5

Struggled defensively and seemed out of his depth. Couldn't deal with the United set-up.

19/22 Cesar Azpilicueta - 6

Pushed forward down the flank and provided his team-mates with a reliable source of deliveries. Defensively, he enjoyed a better display than the rest of the Chelsea back line.

20/22 Pedro - 5

Enjoyed a few half-chances but was subdued and lacked any real dynamism.

21/22 Eden Hazard - 6

Missed that magic touch today. Was played out of the game by Herrera. Occasionally threatened with his quick feet but it wasn't to be.

22/22 Diego Costa - 5

Bullish but another disappointing performance. His quality on the ball and in front of goal deteriorated as his composure faded throughout the game.
With his attack led by Marcus Rashford and Jesse Lingard, two graduates of Fletcher Moss Rangers, a little but wonderfully-run club in Manchester's southern suburbs, Mourinho finally produced a forward line with pace. The result was the electrification of Old Trafford.
Pace, Alan Hansen used to say, was the one thing all defenders fear and as Rashford ran through on to Ander Herrera's pass with David Luiz not daring to touch him, you knew exactly what Liverpool's great captain meant.
The emergence of Rashford was one of the few lasting legacies of Louis van Gaal's time in Manchester. In his first league game in February last year he had scored two first-half goals against Arsenal that appeared effortless. He was the future but Mourinho has a reputation of distrusting young talent. "Jose always wants ready-made footballers," was Rodgers's assessment of his former boss. The treatment of Rashford, Lingard and Anthony Martial appeared to prove it.
Zlatan Ibrahimovic, 35 and a serial winner of championships in Europe's most glamorous cities, was as ready-made as they come. This was the first time that Ibrahimovic had not started a Premier League game for which he was available.
Before last week at Sunderland and his glacially-cool finish here, Rashford's last league goal had come in September. He, like Martial, who did not even make the squad against Chelsea, appeared to have been cast into the deep shadows.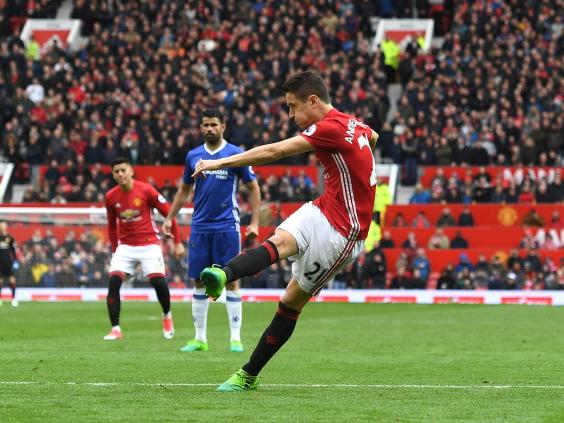 Now, in the first half, Rashford's quick feet deceived Nemanja Matic on the byline while in the second, he shook off Luiz before getting a shot away. Another rifled into the side-netting beneath the Stretford End. This was what all the fuss had been about.
When Chelsea knocked Manchester United out of the FA Cup at Stamford Bridge, their manager, Antonio Conte, had complained of the rough-house tactics Mourinho had employed against Eden Hazard. Now, Herrera stifled him with play that was rather more legal and rather more effective.
Old Trafford looked like what it used to be a stadium full of arrogance and noise, not the sullen arena where the Premier League's minor characters have had little difficulty grinding out draws.
Mourinho was right to argue that there has been progress but the forward movement from the Van Gaal years has been pretty limited. There is marginally more pace and marginally more goals. However, Manchester United, a club that was once a byword for flair, came into this game having scored 46 times, 17 fewer than any other member of the Premier League's top six and one more than Bournemouth.
The irony was that everything about Manchester United's build-up to the game seemed defeatist. From Mourinho resting Ibrahimovic and Henrikh Mkhitaryan for Thursday's encounter with Anderlecht to his programme notes that complained that for the third time United were facing Chelsea after a Europa League fixture, it felt Mourinho was in the business of getting his excuses in first. What followed was what Mourinho has delivered only sporadically – a big win on a big stage. At the climax, the Stretford End launched into repeated choruses of "I'm Into Something Good." Manchester United may have stumbled upon it by accident.
Reuse content