A Manchester United win, a personal Jose Mourinho triumph, and a transformation for both this team and the title race?
The Portuguese said before this game that he would be "killed" if he dared play a second team and, while his selection understandably raised eyebrows before the game, it offered what may have been his best performance as a manager since January 2015 and may well have given new life to this title race.
It is not just that there is now a mere four-point gap between Tottenham Hotspur and Chelsea after Antonio Conte's side were steamrolled 2-0 at Old Trafford, but also that they - and their entire system - looked so vulnerable. There are many caveats to that defeat like the fact injury to the evidently crucial Marcos Alonso denied them proper balance on the left, but there are no caveats to the way United beat them to everything.
Manchester United 2 Chelsea 0 player ratings
Manchester United 2 Chelsea 0 player ratings
1/22 David de Gea - 6 out of 10

Rarely tested. Impressive under the high balls and in his distribution.

2/22 Antonio Valencia - 7

Solid all round performance from him. Strong going forward and assured on the back foot. Physically impressive too.

3/22 Eric Bailly - 7

COmposed under pressure, read the game brilliantly and made all the right decisions. Excellent defensive display.

4/22 Marcos Rojo - 6

A gritty and fiesty display. Battled hard against Costa and largely kept his cool while the Spaniard repeatedly lost his.

5/22 Matteo Darmian - 6

Kept Pedro under wraps and limited the wingers' influence for much of the game.

6/22 Ander Herrera - 8

Demonstrated fantastic vision to play in Rashford for United's goal. Hard-working as ever. Shame about the yellow card but completely ran the game today.

7/22 Marouane Fellaini - 7

United's battering ram. Strong in the air, firm in his challenges and excellent at breaking up play. Dominated against Kante too.

8/22 Paul Pogba - 7

A rounded, mature performance from the Frenchman. May not have threatened as others did but kept the United midfield ticking over with his constant passing and movement. Still missing that 'wow' factor though.

9/22 Ashley Young - 7

Another hard worker who dug deep to give 100 per cent today. Made some encouraging runs going forward and was vital in the build-up to United's second.

10/22 Marcus Rashford - 8

FUll of confidence and energy. Used his pace to devasting effect and proved to be too much for the visiting defence at times. Showed today what he's truly capable of.

11/22 Jesse Lingard - 7

Complimented Rashford to a tee. Excelled at getting in behind United's backline and provided a reliable outlet throughout.

12/22 Asmir Begović - 6

Could have maybe done more for the first goal but unlucky about the second. Made some important saves to keep the score down.

13/22 Kurt Zouma - 5

Stepped in to replace Marcos Alonso which subsequently disrupted the balance to Antonio Conte's team. Looked out of place.

14/22 David Luiz - 5

Guilty of costly mistakes and, rather surprisingly, was overpowered at times by Rashford. A shadow of the player he has been this season.

15/22 Gary Cahill - 4

Completely dropped his guard for United's second. Struggled to match Rashford for his pace and made multiple sloppy mistakes. An afternoon to forget for him.

16/22 Victor Moses - 4

Anonymous and largely ineffective. Hauled off around the hour mark for Cesc Fabregas.

17/22 N'Golo Kanté - 6

Showcased his ability to drive into space on a number of occasions but was overwhelmed physically throughout the match by Fellaini.

18/22 Nemanja Matic - 5

Struggled defensively and seemed out of his depth. Couldn't deal with the United set-up.

19/22 Cesar Azpilicueta - 6

Pushed forward down the flank and provided his team-mates with a reliable source of deliveries. Defensively, he enjoyed a better display than the rest of the Chelsea back line.

20/22 Pedro - 5

Enjoyed a few half-chances but was subdued and lacked any real dynamism.

21/22 Eden Hazard - 6

Missed that magic touch today. Was played out of the game by Herrera. Occasionally threatened with his quick feet but it wasn't to be.

22/22 Diego Costa - 5

Bullish but another disappointing performance. His quality on the ball and in front of goal deteriorated as his composure faded throughout the game.
This laxness was anathema to everything we know about Conte, and his response will be interesting.
United's response to everything in this match, meanwhile, was emphatic and impressive intensity. This was by far their best performance of their season, and it's difficult not to think that Mourinho was properly fired up by the idea he might lose all three games to his old team and their new manager in one season. 
In that and how the Portuguese seemed to so willingly talk down the game, much of it was reminiscent of the famous 2-0 victory with Chelsea at Anfield in April 2014. Much of the performance was not, though, because this Mourinho team was so much more proactive and energetic than his team on that day. It was reminiscent of much better Mourinho teams.
From that, it was genuinely the type of win that should be a juncture moment for United, and give them a new belief.
It was that comprehensive and commanding a win.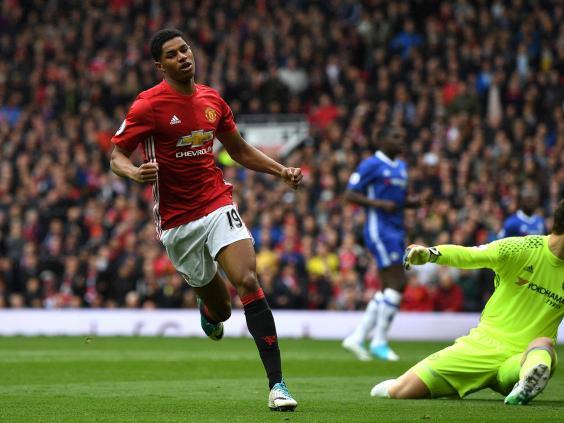 What's more, and what was most remarkable, was that it was Chelsea that suddenly looked jaded from a Europa League slog while United looked like the side that had a week off. The tone - and pace - was set as early as the second minute when Marcus Rashford ran right at David Luiz and immediately caused the type of problem that the Chelsea defence hasn't had to deal with for some time. It was as if the directness surprised Conte's backline, and as if Mourinho had specifically used his prior knowledge from working with the Brazilian centre-half to tell Rashford exactly how to get at him. And get at him he did. Within six minutes, through the same route, Rashford had given United the lead. It may have come from a handball - and divine pass - from Ander Herrera, and Mourinho's side might have got lucky in that regard, but Chelsea got slack in how so many of their players looked to the referee rather than how to try and stop the attack.
Even allowing for that, and the Portuguese's knowledge of David Luiz and so many in this Chelsea team, it was still Mourinho at his tactical best. He had so clearly worked out how to forensically stop how the league leader's attack, but even more impressively used that defensive work as the foundation for some fearsome counter-attacks. In that, it was impressively reminiscent of his Internazionale 2010 side. There were little tactical victories all over the pitch that added up to one big win.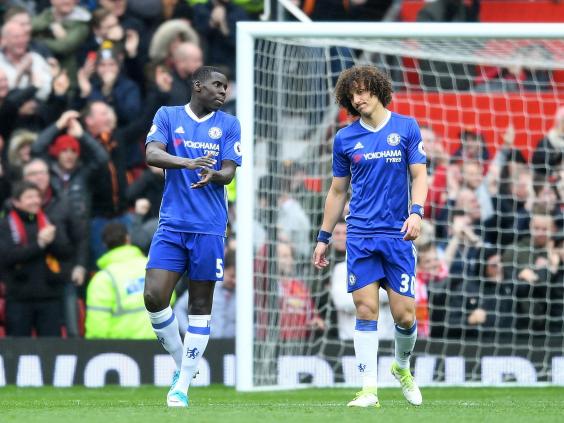 Eden Hazard was rendered utterly ineffective by a supreme man-marking job from Herrera, while the use of two forwards with proper running in them caused Conte's three centre-backs so many problems that it was one of those games where you felt like other teams will in future look to it as a blueprint as to how to finally get at this system. Not many of those teams will have Rashford, though, who was relentless in this game and offered a compelling argument as to why it would not be a disaster if Zlatan Ibrahimovic left. His running gave Mourinho's side a mobility and zip that they have frankly lacked with the Swede up front.
United did have some luck in all this, of course. Marcos Alonso's absence through injury completely removed Chelsea's balance, as well as some of Hazard's threat since there was no danger of Cesar Azpilicueta overlapping.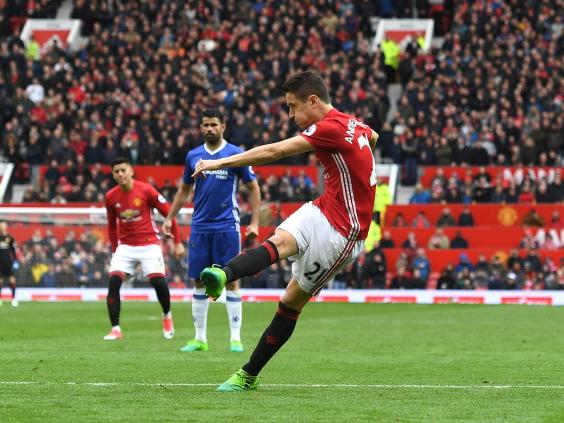 That still doesn't excuse how amazingly slack the leaders were, and a telling moment came in the 22nd minute when the lively Paul Pogba more than met the tone of this game with a brilliant tackle on Diego Costa to stop a Chelsea attack, and start a United one. It was one of many such moments.
It was also one of many impotent Chelsea attacks. That they did not register a single shot until the 45th minute was telling.
This combination of United's ferociousness, Chelsea's fickleness and a little bit of fortune going one way appropriately came together for the decisive moment, just after half-time. Rashford led another attack, Chelsea barely managed to clear, before the ball came out to Herrera who drove him through a deflection.
With the way both teams were playing, and how completely commanding United were in virtually all areas, that really was the winning it.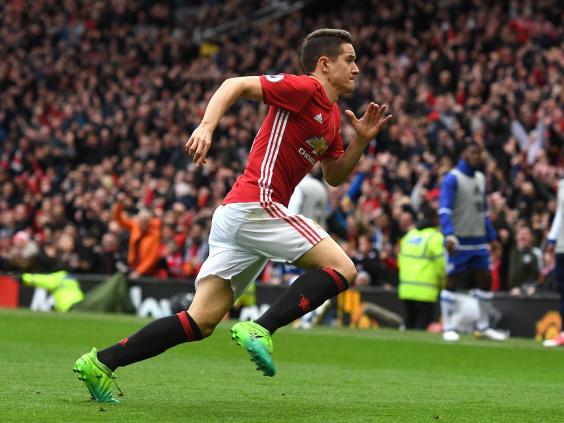 There was yet another one of those symbolic moments on 80 minutes when N'Golo Kante, of all players, was so easily beaten in a tackle by Ashley Young, of all players.
It is no exaggeration to say this might be Mourinho's finest piece of management in three years.
It is no exaggeration to say that the title race is now properly on. Chelsea have to get back on track, but their next opponents? A Tottenham Hotspur who so evidently believe in themselves, and will now have new belief about the title. That comes in the FA Cup but could genuinely be one of those juncture games in the title race given the context around it.
This looks a juncture moment for United. This looked a proper Mourinho team.
Reuse content