Angel di Maria claims he relishes the physicality of the Premier League despite his slim stature and that he has already clicked on the field with Wayne Rooney and Robin van Persie.
United's £59.7million record signing from Real Madrid was voted the club's player of the month for September by fans and has been a consistent threat in attack.
The 26-year-old Argentina winger admits however that United have to start achieving better results, and he has backed himself to continue his good start despite the differences with the Primera Division.
Di Maria said: "It's a more physical aggressive style of football here, strength comes into play a lot more. Players here are a lot more powerful and show their strength a lot more, it's another league but it's all about settling in as quickly as possible.
Manchester United injury list
Manchester United injury list
1/5 Wayne Rooney

There is uncertainty over the extent of the Manchester United captain's injury, with fears he may have suffered ligament damage to his knee during the 3-0 defeat to Everton. Unlikely to feature against West Brom and could miss the rest of the season.

GETTY IMAGES

2/5 Michael Carrick

Having limped off in the 4-2 derby victory over Manchester City, it's uncertain if the England midfielder will fit for this weekend. Was unable to even make the bench for the defeat to Everton.

GETTY IMAGES

3/5 Rafael

The right-back's return to action has suffered a set-back. After making a short appearance in the 3-0 win over Tottenham in March, the Brazilian has been pushing for full fitness. However he suffered a blow to the ribs in an Under-21 match against Leicester and could miss the rest of the season.

GETTY IMAGES

4/5 Marcos Rojo

Having missed the games against Chelsea and Everton due to a groin injury, the Argentina international is pushing for a return and could feature this weekend.

GETTY IMAGES

5/5 Phil Jones

Fellow defender Phil Jones also missed the defeats to Chelsea and Evertton but the England international has returned to training after a foot complaint and could play at against West Brom.
"There have been other players of a similar build and stature to myself, slim if you like, who have come here and shown a physical resilience in the way that I hope to as well.
"The main thing though is I am very, very happy to be here, it's a league I have always wanted to play in and I'm overjoyed to be playing here at Manchester United now and I hope it's going to be for a long time."
Di Maria said he felt privileged to be playing alongside Rooney and van Persie, but that their immediate understanding on the pitch needed to be converted into results.
Speaking at the launch of Manchester United's first global sustainable technology partner Abengoa, he added: "It's special - when you start playing you are aware of names like Wayne Rooney and Robin van Persie, you have seen them playing and know what great players they are. So it's fantastic to have a chance to line up with them I'm really pleased with how that understanding has started off. I think it has started well and it's now about converting that understanding into goals and points as quickly as possible.
"I am reasonably happy with the start certainly. It is never easy when you are somewhere for the first time and are settling in to a new type of football but things have gone very, very well.
"I think I've settled in, I've got used to the style of play, the club in general and my team-mates. What we have to strive for now is a series of good results."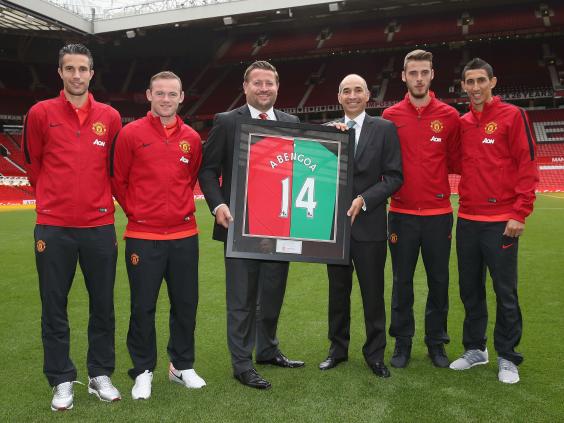 Di Maria did his interview via a translator but has already started taking English lessons, though the fact he speaks only Spanish and Italian has not been a problem in the dressing room.
He said: "I've started taking classes, we have a teacher coming in and I try speaking English to him. You have to want to do it.
"But not only does the manager speak Spanish but one or two of the backroom staff as well and some of the players too so the messages get across."
PA
Reuse content