Manchester United were self-confident enough about their development to introduce Sir Alex Ferguson on the pitch before the game, in tandem with Park Ji-Sung, and not worry about the effects of the choreography on new  manager Louis van Gaal. Park's appointment as a club ambassador will do much for the club in the Far East. "There's a role to play. Enjoy it," Ferguson told his old player, as he always used to do before kick-off. It was just like the good old days
There is still not emphatic evidence that this team is advancing tothe place where Van Gaal needs them to be, though. When Paul Scholes was asked after the match if he felt United were getting better, he chose to answer a different question. "I think we are seeing a team that has a goal in it," was his reply.
An Everton side without three of its best players, and only two and a bit days since the heavy industry of Europa League duty in Russia, was  scaring the living daylights out of Van Gaal's players by the end. It took something quite sublime from David de Gea to prevent Bryan Oviedo following up his historic  winner here for Roberto Martinez last season with an equally memorable equaliser. The Spaniard's leap to claw away Oviedo's late strike was the third outstanding save of an afternoon in which he also kept out a penalty.
Manchester United vs Everton player ratings
Manchester United vs Everton player ratings
1/21 David De Gea

First keeper to stop a Leighton Baines penalty and then won his side all three points with a super late save. 8/10

Getty Images

2/21 Rafael

A solid performance in attack and defence. 7

Getty Images

3/21 Paddy McNair

Did well to negate Romelu Lukaku's physical threat. 6

Getty Images

4/21 Marcos Rojo

Didn't look totally at ease and had a fairly quiet game. 6

Getty Images

5/21 Luke Shaw

Not a great game, gave away penalty, lost Naismith for goal and went off injured. 5

Getty Images

6/21 Daley Blind

A solid game from the Dutchman in midfield. 7

Getty Images

7/21 Antonio Valencia

Not a great performance. Doesn't look totally comfortable in a midfield diamond. 5

Getty Images

8/21 Juan Mata

In for suspended Rooney but didn't really grab his chance. 5

Getty Images

9/21 Robin Van Persie

Not a performance to right home about. 5

Getty Images

10/21 Radamel Falcao

Broke his United duck after missing a few earlier chances. 6

Getty Images

11/21 Tim Howard

An increasingly rare error-free game. 6/10

Getty Images

12/21 Tony Hibbert

Won his side's penalty but had an otherwise tricky time dealing with Di Maria. 6

Getty Images

13/21 John Stones

Another solid performance from the young defender. Late injury will be a concern for club and country managers. 7

Getty Images

14/21 Phil Jagielka

His (stunning goal last week aside) indifferent season continues. 5

Getty Images

15/21 Leighton Baines

Missed his first Premier League penalty, but made amends with assist for goal. 6

Getty Images

16/21 Muhamed Besic

Did what was needed without excelling particularly. 6

Getty Images

17/21 Gareth Barry

Reliable rather than spectacular, missed a great chance to equalise at the end. 6

Getty Images

18/21 Aiden McGeady

Didn't make much of an impact. 5

Getty Images

19/21 Steven Naismith

His great season continues and was a thorn in United's side. 7

Getty Images

20/21 Steven Pienaar

Classy backheel that led to penalty, but otherwise was fairly inconspicuous. 6

Getty Images

21/21 Romelu Lukaku

Struggled a little on his own up front, but kept going all game. 6

Getty Images
There are plenty of sources of encouragement for United though, who have reached the hallowed high ground of the top four for the first time in more than a year. Their  galaxy of attacking options make the reply Scholes gave seem like one of his better lines in deadpan. Angel Di Maria continued to show, in the first half especially, what £60m of good value looks like and you pitied Everton defender Tony Hibbert, whose two games have brought him up against Raheem Sterling and Di Maria over the past two weeks.
Compensation for Radamel Falcao's defensive indiscipline and initial struggle for touch was a flash of the  poacher's intuition which brought his first goal in a United  jersey. The Colombian's  penalty box finish just beyond the hour might have lacked the spectacular dimensions of Di Maria's opening goal but it hardly mattered.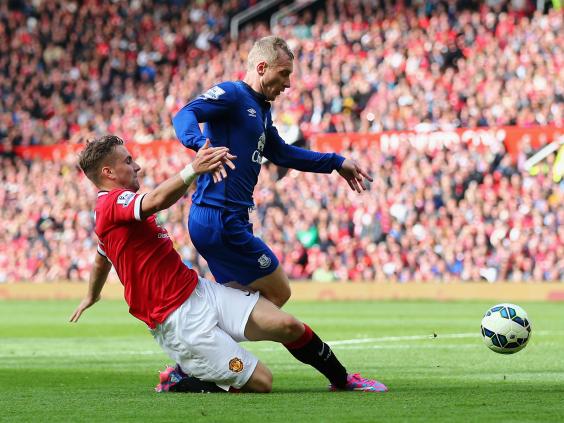 Six Everton players were standing still when Di Maria scuffed a shot, yet  Falcao's brain was ticking. He pounced on the ball, revealing in his finish why United have agreed both the wage package and transfer fee for him next summer. The top strikers will tell you that goals come when you attack space like that.
When an individual like Leighton Baines is in the building, then you have double the trouble. Falcao's failure to anticipate Baines' sharp one-two with Gareth Barry on the edge of United's area allowed the full-back time to take the return pass and tee up Steven  Naismith for a bravely headed equaliser.  The swap of Falcao for 18-year-old James Wilson in the last 20 minutes was nothing to do with sentiment. It was, as the manager later admitted, a protective device. Marouane Fellaini replaced a cramping Antonio Valencia for the same reason but Martinez's substitutes – Leon Osman and Bryan Oviedo – caused far more damage.
Osman was a demon and Oviedo gave Rafael a rough ride around the outside when he arrived for Steven Pienaar to double up with Baines. "I had to speak with Rafa about this," Van Gaal told reporters  afterwards.
United's defence certainly needed protection. There was no subtlety about Martinez's decision to have Romelu Lukaku pick up 19-year-old Paddy McNair. Daley Blind – the brain of United again and sole central midfielder of their quartet – slid back to divert the  Belgian's low cross over the bar after he had got his first run on the youngster. When Baines exposed McNair by lifting a ball over his head for Lukaku, the striker's connection with the ball was poor. Martinez made that £28m move for the forward this summer because he felt he could affect the course of every Everton game he played. The player's unenthusiastic response to Martinez's assistant Graeme Jones urging him to get back and defend a set piece told a different story.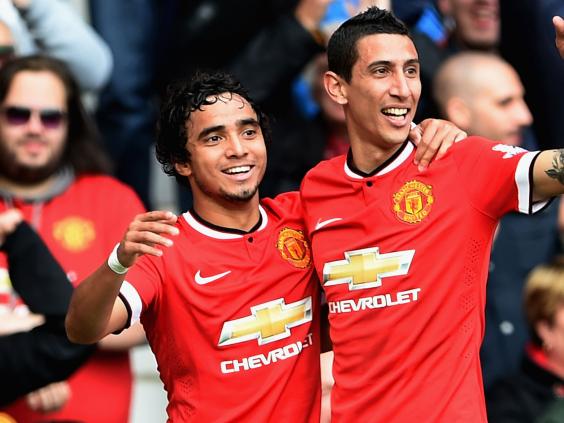 Everton had allowed United a comfortable start and Di Maria an imperious one. A string of the Argentinian's offerings from down the left had been spurned by Falcao and Juan Mata before he took matters into his own hand to put United ahead. It was a graceful, side-footed finish from the edge of the penalty area for a player who has now had a role in each of United's last six goals.
Martinez's players started slowly exploiting United's weaknesses though and when Luke Shaw's challenge from behind on Hibbert on the stroke of half-time gave them a penalty, Baines struck it weakly allowing De Gea to save to his right. Shaw had reached the ball but caught Hibbert in the aftermath.
The Everton manager was frustrated with referee Kevin Friend's refusal to stop play after Pienaar went down in the build-up to  United's second goal. But the latest in an early season series of indiscretions from  goalkeeper Tim Howard – racing out to make a skewed clearance which allowed Rafael to begin the move – was actually the biggest contributory factor.
"We have played very good for 45 minutes, sometimes for 50 or 60, but we have to do it for 90 minutes," Van Gaal reflected and you can  certainly understand his urgency. Manchester City and Chelsea – who both face United this month – can take encouragement from this chaotic finale. Chelsea, with Eden Hazard in particular, will believe they can find a profitable left flank when they arrive here in 20 days' time.
Reuse content