It's a big game for…
David De Gea: All those failed file conversions, those reams upon reams of legal documents, all that fax machine toner, all for nothing. Here we are, the transfer window has closed and David De Gea is still a Manchester United player.
After sitting out Manchester United's first four fixtures of this Premier League campaign, the Spaniard is likely to return for the visit of Liverpool and not a moment too soon. His stand-in Sergio Romero did not cover himself in glory against Swansea City, failing to keep out Bafetembi Gomis' winner with a tame left hand.
Despite dropping his best goalkeeper and all the bluster that followed, Louis van Gaal will undoubtedly be pleased to have him available for selection.
Premier League Power Rankings - Game Week 5
Premier League Power Rankings - Game Week 5
1/17 17) Dusan Tadic (Southampton) new entry

Had started the season slowly but showed he is getting back to last season's form with an excellent double as the Saints picked up their first win of the season against Norwich. He scored four goals and seven assists last season but the Serbian will want to improve on those totals in 2015-16. Last fixture: W - 3-0 - Norwich Next fixture: West Brom (a)

2/17 16) Bafetimbi Gomis (Swansea) new entry

Wilfried who? Jefferson Montero and Andre Ayew have taken much credit for the Swans' brilliant start but the powerful Gomis just keeps scoring. Nine goals in his last 10 Premier League matches stretching back to last season Last fixture: W - 2-1 - Man United Next fixture: Watford (a)

GETTY IMAGES

3/17 15) Manuel Lanzini (West Ham) new entry

Mark Noble would have been in this spot but the Hammers' captain was very harshly sent off at Anfield after a brilliant performance and will miss the next game. Lanzini looked quick and sharp all afternoon at Anfield, providing Dejan Lovren with the latest of his horror shows. Last fixture: W - 3-0 - Liverpool Next fixture: Newcastle (h)

Getty Images

4/17 14) Pedro (Chelsea) - down 3

The former Barcelona man has hit the ground running at Chelsea with a goal and two assists in his first two matches in Blue. But Chelsea have hardly been convincing in either match, not through Pedro's efforts, and he'll face what should be the toughest test of the three matches so far with a trip to an always imposing Goodison Park. Last fixture: L - 1-2 - Crystal Palace Next fixture: Everton (a)

GETTY IMAGES

5/17 13) Callum Wilson (Bournemouth) - up 3

The quick striker continues to prove he is cut out for life in the top flight with a spectacular goal to make it four in his last two matches. Wilson scored at Carrow Road last season in a 1-1 draw but these are the kind of games Eddie Howe will be looking at if the Cherries are to survive. Last fixture: D - 1-1 - Leicester Next fixture: Norwich (a)

GETTY IMAGES

6/17 12) Salomon Rondon (West Brom) - up 2

They were against just nine men for just under an hour but were pretty much the inferior side at the Britannia, as they failed to capitalise on the advantage and create real chances. But the Venezuelan is starting to show he could have been a very astute signing by Pulis with a goal and an assist in his two Premier League matches. Last fixture: W - 1-0 - Stoke Next fixture: Southampton (h)

Getty Images

7/17 11) Harry Kane (Tottenham Hotspur) - down 1

Had, and missed, his very best chance of the season when he raced through one-on-one. Looked tired, low on confidence and like he was thinking about it too much when he fired straight at Tim Howard. Sunderland is as good a place as any to get a goal - and Kane needs one soon Last fixture: D - 0- 0 - Everton Next fixture: Sunderland (a)

Getty Images

8/17 10) Yohan Cabaye (Crystal Palace) - up 3

It wasn't a vintage performance by the Frenchman who failed to get on the ball as much as he can do, but it was controlled as Palace defended stoutly against the might of the champions. Probably should have scored in the first-half but Alan Pardew's team have won three out of four in a brilliant start to the campaign. Another tough test to come. Last fixture: W - 2-1 - Chelsea Next fixture: Man City (h)

EPA

9/17 9) Eden Hazard (Chelsea) - down 2

Another very poor performance by last season's Player of the Year, who looks out of sorts and extremely fatigued. Chelsea will be hoping the international break affords him some rest - they desperately need him to get back to his best. Last fixture: L - 1-2 - Crystal Palace Next fixture: Everton (a)

Getty Images

10/17 8) Riyad Mahrez (Leicester City) - down 3

His brilliant start come to a grinding halt on the South Coast. After four goals in his opening three matches the winger was hauled off at half-time by Claudio Ranieri following an anonymous performance (though he was wrongly called offside and a goal should have stood). Last fixture: D - 1-1 Bournemouth (a) Next fixture: Aston Villa (h)

Getty Images

11/17 7) John Stones (Everton) - up 2

This kind of thing always seems to happen. Stones, the man whom Chelsea chased relentlessly throughout the transfer window, will next go up against the very club that wanted him so badly. Last fixture: D - 0-0 - Tottenham (a) Next fixture: Chelsea (h)

GETTY IMAGES

12/17 6) Sergio Aguero (Manchester City) - non-mover

A non-mover after a pretty low-key performance against Watford, where Raheem Sterling took the limelight after scoring his first goal for the club. Despite only scoring one in four this season, he remains the most dangerous striker in the division. Last fixture: W - 2-0 Watford Next fixture: Crystal Palace (a)

13/17 5) Jermain Defoe (Sunderland) - down 1

All jokes about personal assistants aside, Defoe remains Sunderland's best hope at staying up - and yet one of the best poachers in the division appears to be playing a deeper, more creative role. Defoe is a more rounded, and slower player, than he previously was, but his strength has never been creating for others - Dick Advocaat needs Defoe to be the one on the end of passes, not the other way round Last fixture: D - 2-2 - Aston Villa Next fixture: Spurs (h)

Sunderland AFC

14/17 4) Alexis Sanchez (Arsenal) - down 1

Not at his best against Newcastle but still very clearly Arsenal's most important player - Arsene Wenger's lack of transfer activity this summer only makes him more so. Last fixture: W - 1-0 - Newcastle Next fixture: Stoke (h)

Getty Images

15/17 3) Christian Benteke (Liverpool) - down 2

An afternoon to forget against West Ham, but this Liverpool team have so far looked better away from home, where the Belgian gets a bit more room to use his pace and power against defences high up the pitch. Old Trafford is next. Last fixture: L - 0-3 - West Ham Next fixture: Man United (a)

PA

16/17 2) David Silva (Manchester City) - non-mover

The best attacking midfielder by a mile in the division, Silva is in a league of his own in England. Sterling took the praise against Watford but Silva will be the man Palace need to stop first if they are to continue their great start to the season Last fixture: W - 2-0 - Watford Next fixture: Crystal Palace (a)

Getty Images

17/17 1) Wayne Rooney (Manchester United) - up 7

This is not a reflection of how well the captain has played this season, because he hasn't. At all. Will likely return to club football as England's all-time leading goalscorer (a rather hollow record as he has just one in World Cups), Rooney faces a massive question mark over whether he is the man to lead United from the front, or if he would be better off back in a deeper role. What better place to prove the doubters wrong (again) than by performing against his biggest rivals. Last fixture: L - 1-2 - Swansea Next fixture: Liverpool (h)

Getty Images
Best stat…
7: Both sides go into this fixture with seven points, following two wins, a draw and a defeat each in their opening four fixtures.
Remember when…
Danny Murphy liked playing at Old Trafford. The former Liverpool midfielder notched three winning goals there over the course of four seasons, becoming a real jinx for Sir Alex Ferguson's side.
Although his first strike was sweet enough, a free-kick that swung past a flailing Fabian Barthez, the best came just over a year later when he beat the Frenchman once more, this time with a perfectly-executed first-time lob.
Player to watch…
Anthony Martial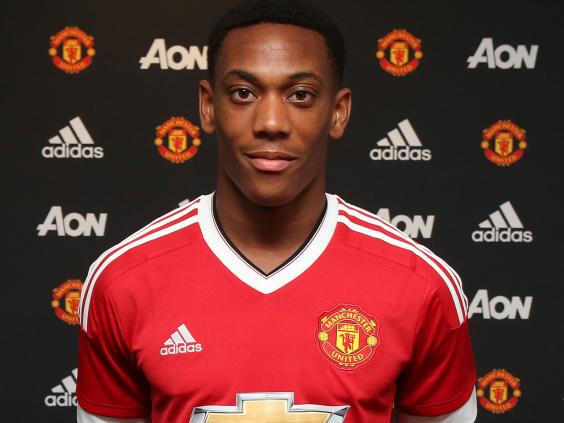 As De Gea settles himself for another year in Manchester, one young ma hoping to be around a lot longer is Martial. Even now that the deadline day dust has settled, it seems incredible that United parted with such a sum for the forward.
You could almost hear the joy in Monaco vice-president Vadim Vasilyev's voice as he admitted that when a Premier League club turns up with a potential transfer fee of £58m for a largely unproven player, "it's very hard to stop them." Indeed, why would you want to?
Martial, however, did not set his price and should be given the opportunity to live up to it. A winning goal against your new club's arch-old nemesis wouldn't be a bad start.
Past three-meetings…
Liverpool 1 (Sturridge) Manchester United 2 (Mata 2)
Premier League, March 2015
Manchester United 3 (Rooney, Mata, Van Persie) Liverpool 0
Premier League, December 2014
Manchester United 0 Liverpool 3 (Gerrard 2, Suarez)
Premier League, February 2014
Form guide…
Manchester United: WWDL
Liverpool: WWDL
Vital information…
KICK-OFF: 5:30pm, Saturday 12th September
TV: Live on Sky Sports 1 from 5.00pm, highlights on Match of the Day, BBC1, 10.50pm
The Independent has launched a new football app! Live scores, in-game stats, breaking news, videos and push notifications are just some of the many features. Use the links below to download and get more from Indy Football...
iPhone
http://ind.pn/iphonefootball
iPad
http://ind.pn/ipadfootball