Tony Bland was 22 when he died in March 1993, almost four years after suffering severe brain damage during the crush in the Leppings Lane paddock at Hillsborough in April 1989.
Just 18 at the time of the FA Cup  semi-final between Liverpool and Nottingham Forest, Bland survived the initial crush, but so severe were the injuries suffered by his brain, he spent the next 47 months in a persistent vegetative state before his parents successfully applied for a court order to enable their son to "die with dignity" through the withdrawal of life-prolonging treatment. As a result, Tony Bland became the 96th Liverpool supporter to lose their life in the Hillsborough disaster.
Roger Byrne Jnr never knew his father. His mother, Joy, gave birth in October, 1958, eight months after her husband, Roger, was one of eight Manchester United players killed – there were 23 fatalities in total – when the Airspeed Ambassador aircraft carrying Matt Busby's team back from a European Cup tie against Red Star Belgrade crashed on its third attempt to take off at a snowbound Munich-Riem Airport on 6 February. Roger Snr, the United captain, did not know that his wife was expecting their first child.
Tony Bland and Roger Byrne. Two men who lost their lives in wholly unrelated disasters before they had reached their prime. Both were personal tragedies, just like the other 95 victims at Hillsborough and the 22 other fatalities at Munich, yet the horrific loss of life in Sheffield and Bavaria  has become macabre material for those aiming to goad rival football supporters in a contest to decide who can cross the line most aggressively in the race to abandon decency and human values.
The Europa League round-of-16 tie between Liverpool and Manchester United should have showcased English football's two most successful clubs to the world, yet most of the headlines centred on the ugly side of the rivalry between the two cities.
As clubs, Liverpool and United are kindred spirits. They share successes and tragedies, a vast fan base across the globe, with each boasting honours' lists which are the envy of all their domestic rivals.
But those who pay to watch Liverpool and United despise each other and the bile spewed out before, during and after the two-legged tie was every bit as poisonous as the sectarian nonsense which has stained Old Firm rivalry in Glasgow between Celtic and Rangers for as long as anyone can care to remember.
United supporters, both at Anfield and Old Trafford, taunted their rivals with chants of "Murderers" and "The Sun was right, you're murderers", mocking those killed at Hillsborough and those who have campaigned for more than two decades to clear the names of the Liverpool fans in Sheffield on that day in 1989. There were also chants of "Justice for Heysel" and "Always the victims, it's never your fault", so it would be flimsy in the extreme for United supporters to suggest their songs had nothing to do with Hillsborough. A banner, saying simply "Murderers", with the date of the Hillsborough disaster, was draped over a bridge on the M602 in Salford on the approach to Old Trafford last Thursday evening.
Trouble at Old Trafford tonight when a Liverpool fan waved his flag in the home end. pic.twitter.com/6gtbsiWnOE

— Football Away Days (@AwayDays_) March 17, 2016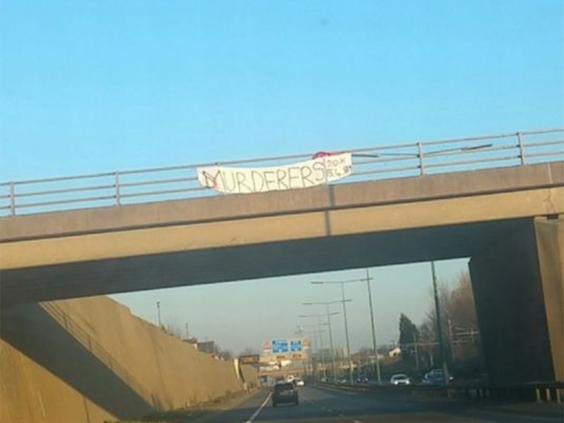 An hour before kick-off last week, a group of around 30 Liverpool supporters marched up Sir Matt Busby Way singing "Who's that dying on the runway? Who's that lying in the snow?" – brazenly goading thousands of United supporters into a reaction. That reaction ultimately came late in the game, when a scuffle broke out between rival fans after a Liverpool supporter unfurled a banner in the United section.
Uefa has since charged both clubs for the actions of their supporters although, inexplicably, only Liverpool face censure for the unsavoury chants by their followers.
Such is the melting pot between the two cities, located 35 miles apart, it is likely that some of those venting their bile across the lines of segregation were together again the following morning, laying tracks for the new Metrolink lines in Manchester or building new hotels and offices in Liverpool.
Many will insist such tribal animosity is football's problem – and that will undoubtedly be the accusation once again if, or when, England supporters in Berlin for Saturday's friendly against Germany stroll through Kastanienallee singing about two world wars and the Royal Air Force to a bemused local audience.
The Hillsborough songs and Munich chants are as likely to be heard along Deansgate in Manchester or outside the Liver Buildings as they are at Anfield and Old Trafford, so what can football do to rid itself of the problem that has crept back inside the stadiums?
In October 2012, Leeds United supporters glorified in the notoriety of Jimmy Savile by chanting "Jimmy Savile, he shags who he wants" during a game against Sheffield Wednesday, while Sol Campbell was forced to endure horrific abuse whenever he faced Tottenham Hotspur after leaving the club for Arsenal in 2001.
Football's misfortune is that it has become the vehicle for many to unleash their animal instinct for 90 minutes a week before returning to some kind of normality and respectability.
Those who chanted about Munich and Hillsborough regard it as a verbal kicking, an easy way to get under the skin of those they loathe the most, yet probably have no knowledge – or desire to learn – about the personal loss and tragedy of each victim of the disasters.
Perhaps the recent outbreak is simply because, without recent trophies or success to taunt their rivals with, they have chosen instead to scrape the barrel.
Whenever racist chanting breaks out in grounds, the culprits are rightly pursued and dealt with in a vigorous manner, yet mocking the deaths of those killed in disasters appears only to prompt shakes of the head and headlines about "vile chants".
As clubs, United and Liverpool have done all they can to eradicate the bitterness and hostility, but when tradesmen from Manchester take a perverse satisfaction from driving to a job in Liverpool with a copy of The Sun strategically placed on the dashboard of their van, what chance do the likes of Munich survivor Sir Bobby Charlton or Hillsborough campaigner Margaret Aspinall have when it comes to calling for sense and mutual respect?
It will be the same in Berlin this weekend. Events from the past, which many supporters are too young to have experienced, let alone remember, have become fair game in the stands and in the bars and streets outside. And football has no chance of stopping it.
Bilic should know no referee can get everything right
In the space of two games, West Ham United's manager, Slaven Bilic, has publicly criticised three decisions which have gone against his team: in playing Manchester United in the FA Cup and at Chelsea in the Premier League on Saturday.
Two involved diving and one a shove on goalkeeper Darren Randolph, which is perhaps ironic, considering that a Bilic dive, following the weakest of shoves by Laurent Blanc in the 1998 World Cup semi-final, led to the France defender being sent off and missing the World Cup final.
So Bilic should know that no referee can get everything right.
Europa League threatens a Manchester derby in China
Expect confirmation this week of Manchester United versus Manchester City in a pre-season friendly in China in July.
It is due to be Pep Guardiola's first game in charge of City, unless, of course, a Europa League qualifier gets in the way and hands one of the Manchester giants a less attractive – and lucrative – date in Lithuania or Moldova.
Reuse content