When Louis van Gaal leads his Manchester United side out in Miami to tackle Liverpool later tonight, he could well reflect on the fact that he may have been standing in the opposition dugout had Brendan Rodgers not beaten him to the Anfield hot-seat.
Van Gaal was a candidate to become Liverpool manager after Kenny Dalglish was sacked, and chief executive Ian Ayre even interviewed the Dutchman during his process of fining Dalglish's successor. The club, according to the Telegraph, had set their sights on appointing Van Gaal in a director of football-like mentor role, with a younger manager akin to Rodgers working under his guidance.
However, fate played out that Rodgers would take the job outright after agreeing to leave Swansea for the Reds, and Van Gaal had no interest in becoming a director of football.
Rodgers has since admitted that there was never going to be a situation where he would work with another manager, believing he had served his apprenticeship with Chelsea's academy before moving on to manager roles with Watford, Reading and the Swans.
"It was obviously something before I came in," said Rodgers recalling the process that led to him being confirmed as Dalglish's replacement. "I'm not sure how many people the club spoke to. But for me coming in, I was always going to work with a team of people, rather than a director of football.
Liverpool transfer targets: Who might they sign this summer?
Liverpool transfer targets: Who might they sign this summer?
1/4 Mohamed Diame

Mohamed Diame said he was on the verge of a move to Liverpool in 2012 but the dismissal of Kenny Dalglish scuppered the deal. The West Ham attacking midfielder has stated more recently that he wants to play for a bigger side. Having impressed last term with goals and assists to his name at Upton Park, a move to Anfield could be back on.

Getty Images

2/4 Mateo Kovacic

The last player Liverpool signed from Inter Milan, Philippe Coutinho, was rather successful. So it's no surprise Liverpool have been linked with rising star Mateo Kovacic. Th 20-year-old has a long-term deal at the San Siro and says he is happy to remain in Italy having joined in a £12.4m deal in 2013.

GETTY IMAGES

3/4 Mario Balotelli

AC Milan appear ready to sell the former Manchester City player and he's been strongly linked with a return to the Premier League. Arsenal were understood to be the front-runners in the chase for the striker but the departure of Suarez has seen Liverpool emerge as contenders.

Getty Images

4/4 Ezequiel Lavezzi

The Argentina international was linked with a move to Liverpool following the collapse of the move for Loic Remy. The PSG forward could be available due to the expected arrival of Angel Di Maria in the French capital. Lavezzi scored nine goals in 32 Ligue 1 appearances last term and has notched seven goals in 19 Champions League appearances since joining the club for £24m.

GETTY IMAGES
"I always think the manager is the technical director. He is the man who oversees the football development of the club, and I believe you should take on that responsibility when you are manager.
"I work best whenever I have clear communication lines with owners. My only failure – if you can call it that – was when I had something in-between at Reading, which was when I had a director of football.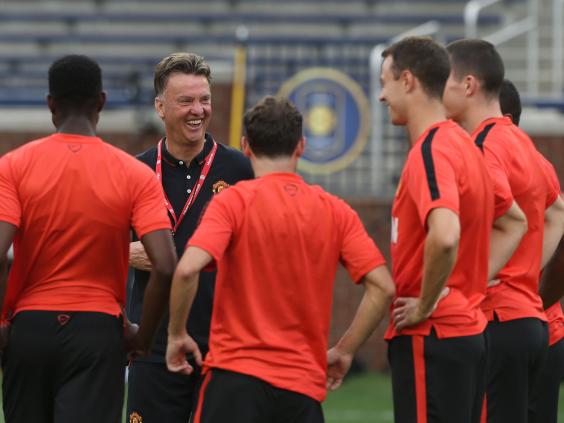 "One of my strengths is to communicate upwards, and if I can't do that, or if the message is diluted, then I don't work the same, and for me it was important that when I came in at Liverpool I didn't want those lines blocked.
"It's not that I can never work with one. But I felt it was important, with all the work that needed to be done, and the size of the job I took on, that I needed to have the full responsibility in order to do that job. And I think the owners backed that."
Video: The latest transfer news
Rodgers went on to relate to Van Gaal, given that the United boss helped nurture Jose Mourinho at Barcelona before 'The Special One' did the same for Rodgers at Stamford Bridge. The Northern Irishman believes he shares a similar role with his opposite number in the fact that they are both thinkers of the game, but insists that despite being significantly less experienced than 62-year-old Van Gaal, he can still get the better of him at the Sun Life Stadium.
"He's a very experienced manager, a very good manager and he's gone into them, and he'll make his mark," Rodgers added. "I've never met him before, but obviously I know of him through Jose, and I know he was very instrumental in mentoring Jose at Barcelona. I'm aware of the methods, I'm aware of how he works, and obviously he's had a very good career.
"I am looking forward to it in that respect. It was my study as a youth coach, and I'm very much into the tactics of the game.
"We played a variety of systems last season that went well for us, and Louis has come in and adopted the 3-5-2. He obviously had success at the World Cup with that, and is looking to roll it out at Manchester United, so yeah, it's not what you call two standard systems or two standard coaches, it's two coaches who are thinkers about the game.
"Obviously he has far greater experience than I have, and been around for so many years. But I have learned from the best, and that is what I have always done."