For Brendan Rodgers it was a truly Moyesian afternoon of mishap piled on humiliation, with an offside goal added to the equation just to heighten the sense of doom that this is a season going nowhere and a club in free-fall.
Last season, Rodgers came here and won by the same scoreline, one of those breezy, attacking performances from Liverpool that were commonplace after the turn of the year and which sent David Moyes deeper into despair. Now, nine months on, it is Liverpool for whom the pain seems endless, even on days like these when they created chances and yet opportunity eluded them at every turn.
This was not a vintage Manchester United performance by any measure, but the Louis van Gaal revolution rolls on with a sixth straight victory and a dogged pursuit of Chelsea and Manchester City. If the quality was at times low, the proverbial Sunday league pub team game predicted by Gary Neville, then it was United who remembered at the crucial moments who they were and the standards required.
In their times of difficulty they had the peerless David De Gea to rescue them. Liverpool had a defence that might just have been introduced to one another on the bus to the game: incoherent, disorganised and forced into another unfamiliar formation.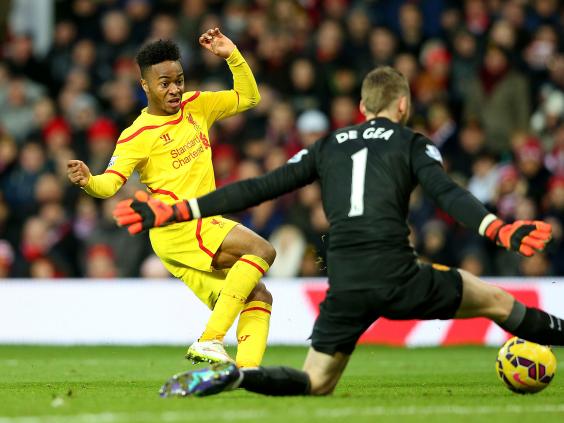 Rodgers' defenders may have been absolved of their errors were it not for the fact that their attack foundered every time at the hands of De Gea, the game's outstanding player. He made three crucial saves from Raheem Sterling within the first hour and then three more from the substitute Mario Balotelli in the second half, including one with the game at 2-0 that felt decisive.
In attack, United took the chances presented to them and rode their luck at times: Juan Mata's goal, the second of the three, was clearly offside. Afterwards, Rodgers claimed that his team had created more chances than they had when they won the corresponding fixture last  season and this time had come up against a goalkeeper at the top of his game. But there is more to Liverpool's demise than pure misfortune.
Van Gaal said that it had been his team's preparation for the specific challenges of playing Liverpool that had got them through. "It is not for nothing we have scored the way we did," he said. "You need luck but you can force the luck. We are forcing the luck now. That was not always the case at the start of the season."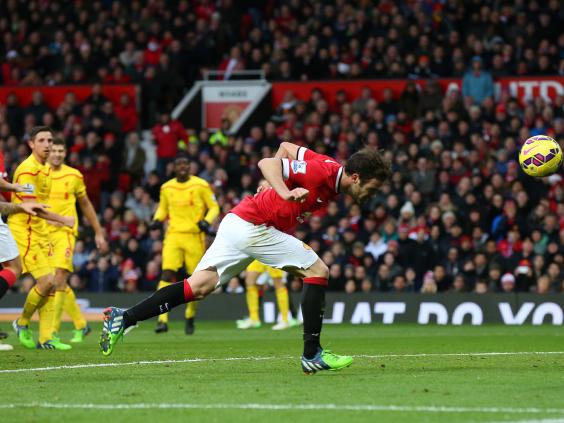 There were goals from Wayne Rooney and Robin van Persie too, and an accomplished performance at centre-back from Michael Carrick – and in the end it was enough. United's failing last season under Moyes was that mediocre performances produced nothing but disastrous results. For Rodgers now the problem is the same. After 16 games last season in the league, Moyes' United had 25 points. Liverpool currently have 21 at the same stage this season and while there were small signs of progress, the bigger picture for Rodgers is grim.
He dropped his struggling goalkeeper Simon Mignolet and selected Brad Jones, who will continue in goal for the foreseeable future – including the Capital One Cup tie away at Bournemouth on Wednesday – according to Rodgers. He picked a three-man defence but it was no better in that configuration and, to make matters worse, he lost Glen Johnson to a first-half injury.
The opening 45 minutes had been chaos at times, a match that looked like a compilation of out-takes between two teams trying to stage a serious football match. The ball was passed aimlessly, or into touch, or to an opponent more times than seemed feasible. There were offenders on either side but Marouane Fellaini stood out for the home team. Liverpool looked the more assured if anything.
Liverpool's first good chance fell to Sterling, played in behind Phil Jones by Adam Lallana, and his shot was saved by De Gea. Within 25 seconds of that, Liverpool were a goal behind, Antonio Valencia getting away down the right into space, slipping the ball through the legs of Joe Allen and breaking to the touchline. His cut-back to Rooney, deployed in midfield, was  dispatched perfectly.
Van Gaal had selected the teenager James Wilson in attack and in defence, an injury to Marcos Rojo in training meant that Jones was rushed back into the team. On 23 minutes, Sterling left Phil Jones looking like a man who had forgotten where he had parked his car, turning sharply towards goal and shooting at De Gea's near post. Again the goalkeeper saved.
Manchester United 3 Liverpool 0 player ratings
Manchester United 3 Liverpool 0 player ratings
1/24 David De Gea

How United have come to rely on him. Three brilliant saves from Sterling and two superlative ones from Balotelli made him United's best player. 9

getty images

2/24 Johny Evans

Still on the rutted comeback trail to full fitness, he was nevertheless the more assured of United's centre-back pairing. 6

GETTY IMAGES

3/24 Antonio Valencia

Tied Allen in knots and was allowed the freedom of the right wing to pick out Rooney for the first goal. 7

GETTY IMAGES

4/24 Phil Jones

A late replacement for Marcos Rojo, he looked off the pace and was booked in the first half for a flying swipe at Coutinho's legs but improved through the game. 6

GETTY IMAGES

5/24 Michael Carrick

Typically composed and elegant throughout, and quintessentially understated too. One backheel under pressure in the first half was a delight. 7

GETTY IMAGES

6/24 Marouane Fellaini

Gave the ball away too often throughout and was booked in the first half for a clumsy challenge. 5

GETTY IMAGES

7/24 Ashley Young

The winger has often appeared a salmon out of fresh water at United, but he helped consolidate United's lead with a cross nodded home by Mata. 7

GETTY IMAGES

8/24 Juan Mata

In exactly the right place as half time approached to convert Young's cross and set up Van Persie with the cutest of passes for the third goal. 8

GETTY IMAGES

9/24 Wayne Rooney

Influential. Composed side-foot finish on 11 minutes from a Valencia cut-back gave United the lead. 7

GETTY IMAGES

10/24 Robin Van Persie

Back to somewhere near his best and put gloss on a fine performance with the third goal. 8

GETTY IMAGES

11/24 James Wilson

Withdrawn for Herrera with 20 minutes to go after expending sweta but producing little inspiration. 6

GETTY IMAGES

12/24 Best of the Bench: Ander Herrera

Helped buttress the midfield after coming on for Wilson when United were 2-0 to the good but ceding possession and chances to their opponents. 7

GETTY IMAGES

13/24 Brad Jones

He had never conceded at Old Trafford before today, but this was a chastening experience. Could do nothing about the goals. 6

GETTY IMAGES

14/24 Dejan Lovren

Croatian was at fault as United made it 3-0 with wayward header. 4

GETTY IMAGES

15/24 Glen Johnson

Had little time to make an impact before he hobbled off with an injury to be replaced by Toure. 5

GETTY IMAGES

16/24 Martin Skrtel

Lost Van Persie for United's second goal, and looks a shadow of the granite-hard centre-back who once marshalled the Liverpool defence. 5

GETTY IMAGES

17/24 Jordan Henderson

Missed a presentable chance at the start of the second half when Sterling's cross found his head and failed thereafter to make a pinprick of an impact on the game. 4

GETTY IMAGES

18/24 Steven Gerrard

So nearly inspirational in midweek, Liverpool's captain could not summon the same spirit in a middling display. 5

GETTY IMAGES

19/24 Joe Allen

Unnerved and confused by Valencia and at fault for the first goal as the Ecuadorian burst past him to set up Rooney, his struggles to find any semblance of form this season continued. 3

GETTY IMAGES

20/24 Alberto Moreno

After a torrid opening half-hour, the Spaniard began to show his worth with forays towards the United box, almost getting in on goal only to be foiled by Valencia. 6

GETTY IMAGES

21/24 Adam Lallana

Anonymous as a ghost under an invisibility cloak, he was withdrawn at half time for Balotelli. 3

22/24 Philippe Coutinho

Grew into the game in the second half, but needs more movement ahead of him for his clever touches and passes to bear low-hanging fruit. 5

GETTY IMAGES

23/24 Raheem Sterling

Liverpool's main attacking threat but missed a trio of chances, most notably early in the second half when through on goal. Not a striker. 3

GETTY IMAGES

24/24 Best of the Bench: Mario Balotelli

His best performance in a Liverpool short so far. A clever flick almost set up Sterling before a thumping shot drew a fine save from De Gea. 6

GETTY IMAGES
Mata scurried around trying to get into the game to no avail until, five minutes before half-time he gambled on a late run to the back post and was rewarded with a cross from Ashley Young that skimmed Van Persie's head. Mata, unmarked and well offside, stooped down to head the ball in and with a confirmatory glance at the linesman embarked on his celebration.
It had been a half in which none of the big moments had fallen for Rodgers in spite of a performance that had deserved better. He brought on Balotelli for Lallana and his team created more chances, but found De Gea in superb form.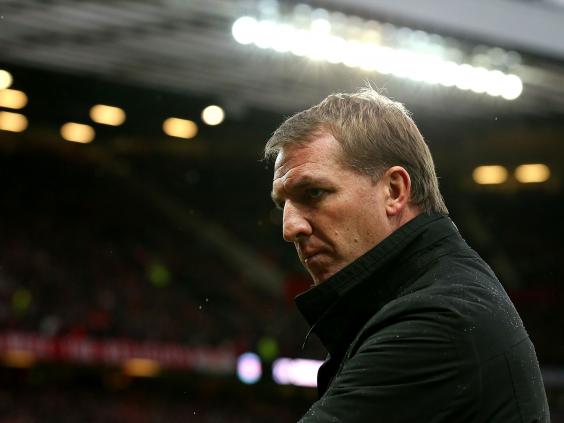 The United goalkeeper saved from Sterling for the third time on 51 minutes, after a mistake by Jonny Evans had allowed the Englishman a run on goal. De Gea disrupted Sterling's concentration and then got himself in front of the shot. The goalkeeper's best moment was still yet to come, though.
That was a save from a shot from Balotelli from seven yards that somehow De Gea pushed onto the bar. Earlier, Philippe Coutinho, Liverpool's best player, had skipped past Rooney, unwilling to risk a second booking, and slid the ball through to Sterling who was well-tackled by Phil Jones. Sterling had jumped back up to his feet and found Balotelli. De Gea's save felt like a turning point, and so it turned out.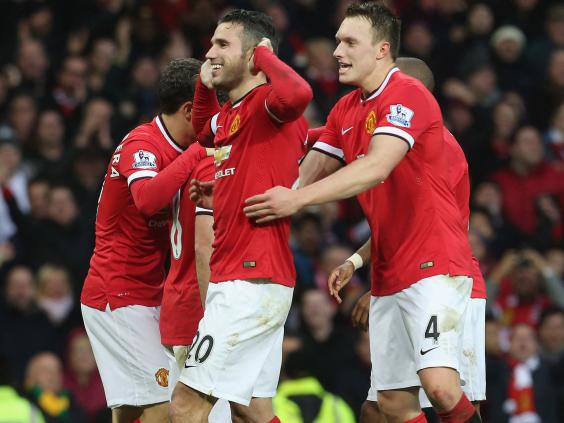 Four minutes later, Liverpool were undone on the counter-attack by United, who were aided by the calamitous defending of Dejan Lovren. Breaking out from defence, Mata slipped the ball out wide to Rooney whose cross was feebly cleared by the Liverpool defender. Given a second chance, Mata picked out Van Persie to his right and the third goal was dispatched.
At full-time, Sterling lay on the halfway line and pulled his shirt up over his face. It had been one of those games for him, and it has become one of those seasons for Liverpool.
Manchester United (3-1-4-2): De Gea; Jones (McNair, 89), Carrick, Evans; Fellaini; Valencia, Rooney (Falcao, 78), Mata, Young; Van Persie, Wilson (Herrera, 71).
Substitutes not used: Januzaj, Lindegaard (gk), Fletcher, Blackett.
Liverpool (3-4-2-1): Jones; Johnson (Toure, 26), Skrtel, Lovren; Henderson, Gerrard, Allen, Moreno (Markovic, 68); Lallana (Balotelli, ht), Coutinho; Sterling.
Substitutes not used: Lambert, Lucas, Mignolet, Can.
Referee: M Atkinson
Booked: Manchester United Fellaini, Jones, Evans, Rooney Liverpool Allen
Attendance: 75,331
Man of the match: De Gea
Reuse content