For the manager of a club in danger of losing its fifth straight Manchester derby, it was quite a statement. "I had more fear before we played Aston Villa than for City," said Louis van Gaal. He had earlier remarked that losing to Swansea twice in a season – which Manchester United have done – would be more embarrassing than losing to City twice in a season – which United might well do.
These are the kind of words no manager should utter before this kind of game. Ahead of last Sunday's Tyne-Wear derby, the Newcastle United manager, John Carver, talked endlessly of passion; of how he had sneaked in as a boy to Roker Park. Of how he wanted to punch Paolo Di Canio when the man managing Sunderland slid down the touchline at St James' Park. Of how satisfying it would be to push Sunderland further towards the abyss of relegation.
He was a Geordie and he knew this was the kind of language any Geordie put in charge of Newcastle would use, the words he would want to hear. It did him no good at all. Newcastle, in this game of games, managed one  shot. Their surrender was beyond abject.
For Van Gaal, a manager should look to take the passion out of a derby. It is easy to talk about passion, a pub team can have it. Coldly probing for a weakness in the champions of England, even a team that has just lost to Burnley and Crystal Palace, requires talent. "Any animal can run," he once said. "In this game you need a football and a brain."
What irritated him about United's 1-0 defeat at the Etihad Stadium in November was not that they lost but that they had played the bulk of the match with 10 men.
"I started our preparation with the red card – the red card of Chris Smalling," he said. "Controlling your emotions is part of the talent of a footballer. You need a lot of talents to be a professional footballer and one of them is that when you already have a yellow card you don't make a second foul to get another.
"I am always warning in these kinds of games that we have to control our emotion. We have had five red cards this season and that is unbelievable. It is a record in my career as a manager. That is not good."
Manchester United vs Manchester City combined XI
Manchester United vs Manchester City combined XI
1/11 GK: David De Gea

Joe Hart is getting back to his very best but the Spaniard has been the form goalkeeper in the Premier League this season. Behind a dodgy defence De Gea has performed heroics for Van Gaal on numerous occasions.

GETTY IMAGES

2/11 RB: Pablo Zabaleta

Zabaleta is not the guaranteed starter he once was, with Bacary Sagna playing more often since the turn of the year. We're not sure why as the Argentinian is far superior to the Frenchman and a real driving force for this team. Antonio Valencia is not a right-back and could be a weak link City wish to exploit.

Getty Images

3/11 CB: Martin Demichelis

Vincent Kompany is the big name absence from this combined XI. Obviously the Belgian is the best centre-back either side can field but he is performing nowhere near his best. Demichelis gets a bad rap but he has actually been pretty reliable for City, although he is prone to the odd clanger.

4/11 CB: Marcos Rojo

Chris Smalling's recent form would have seen him in this team but injury while on England duty means he remains a doubt. Phil Jones is too unreliable leaving Rojo as the only other option. He has been decent if not outstanding since his arrival and Van Gaal desperately needs an upgrade at the position.

Getty Images

5/11 LB: Daley Blind

Looks much more effective as a left-back than he does in the middle of midfield, the Dutchman is a stout defender and good going forward. Both Gael Clichy and Aleksandar Kolarov have severe limitations, especially on the back-foot.

6/11 RM: Juan Mata

How he was out of the side for so long will remain a mystery. Mata might be weak and a bit of a liability defensively but he is one of the cleverest and most gifted players in the world. Jesus Navas has shown flashes but never really impressed for a long spell since his move to City.

Getty Images

7/11 CM: Michael Carrick

You don't know what you've got until it's gone. Carrick has his share of critics but the stats speak for themselves; United have lost 29 per cent of their games with Carrick out of the team and only seven with him in it. Yaya Toure scored just his second goal of 2015 on Monday and is one of the biggest disappointments of the season considering his great form last year.

Getty Images

8/11 CM: Ander Herrera

After a perplexing spell out of the team, Van Gaal has finally decided that Herrera is his best midfield option. Offers drive, great vision and combative tackling next to Carrick and more than capable of chipping in with a goal. Fernandinho can be good on his day but again lacks any kind of consistency.

Getty Images

9/11 LM: David Silva

Manchester United's first priority will be to stop the brilliant Spaniard - do that and you are halfway to beating City. Ashley Young is Manchester United's most improved player this season and a real threat on the left but Silva is a maestro.

Getty Images

10/11 ST: Sergio Aguero

Aguero scored 19 goals before his injury and only four since returning. The goals have dried up and so has City's title threat. Despite his desperate form and lack of fitness he is still one of the best around. Marouane Fellaini had found his worth as a bruiser for Van Gaal but he too has limitations.

GETTY IMAGES

11/11 ST: Wayne Rooney

Since he moved back up front he has six goals in his last eight matches and has proved to Van Gaal just what he was missing. Rooney is in red hot form and will be Manchester United's main goal threat on Sunday. Edin Dzeko has struggled all season and Wilfried Bony has been injured since his arrival.

Getty Images
From the moment as the young manager of Ajax he thrashed Feyenoord 5-0 in their own stadium, the  De Kuip, in the semi-finals of the Dutch Cup, Van Gaal's record in the matches that matter has been very good.
In his three seasons at Barcelona, he lost only once to Real Madrid and that towards the end when his relationship with the men who ran the Nou Camp and the people who reported on the club was frayed beyond repair.
Some managers become overwhelmed by the sheer scale and meaning of the Clasico. "Catalonia is a country and FC Barcelona is its army," Bobby Robson remarked before one of them. By March 1998 Robson had been shunted aside to become in his words "the best paid scout in football" and his successor, Van Gaal, was leading them to the title that had been just beyond this Englishman abroad.
They were playing Real Madrid during a presidential vote of no-confidence when Van Gaal knew that should the incumbent Josep Nunez lose to the insurgents campaigning under the banner of the Blue Elephant, he would be sacked and replaced by his great enemy, Johan Cruyff.
The tension was crushing. Barcelona won easily, 3-0, in front of 115,000. "This has been one of my best days ever," he said. "Firstly, because of the victory over Madrid and secondly because the president won the election – although I have to say we did a better job than he did." He announced he would henceforth wear a tie with an elephant pattern "because elephants have always brought me luck". After that, any derby would seem small beer.
The loss to City in November was explained away. "That was another Manchester United," he said, as if it were nothing to do with him.
It featured Angel Di Maria in support of Robin van Persie. Neither will play at Old Trafford tomorrow. Van Persie is fit but not fit to play the kind of football Van Gaal wants. Di Maria, the most expensive footballer in the Premier League, is not playing well enough, neither is Radamel Falcao, who costs Manchester United £265,000 every inactive week.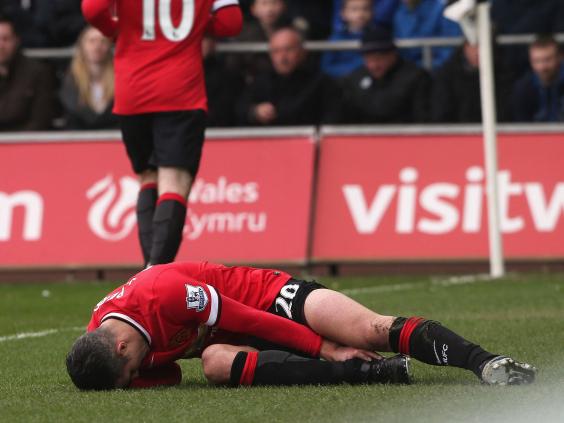 Carver is steeped in the lore of the most famous Tyne-Wear derby of them all, the rain soaked night in August 1999 when Ruud Gullit dropped Alan Shearer, a team sheet that became a suicide note. Gullit lasted a few days after the defeat.
Carver would never have dropped Shearer, Van Gaal probably would have done. The Newcastle captain's form had been atrocious. When earlier in the season, he was asked if he could contemplate leaving out Di Maria, a man whom a club, not until then noted for its largesse, had paid £60m for, Van Gaal said that the money people earned was "not interesting for me".
It seemed at the time like an answer designed to parry a difficult question but he meant it. "It is all about the team and the system," said Winston Bogarde, who was part of his young Ajax side that overcame the fabulous talents of Milan in the 1995 European Cup final. "He is not scared of the big decisions. He looks at his players, he judges them and then he adapts."
Van Gaal likes adaptable footballers. He likes men such Ashley Young, who has filled in as a wing-back or a forward; Marouane Fellaini, who has played almost everywhere in Van Gaal's midfield – men whose lifespan at Old Trafford was supposed to be measured in months.
"I don't think you can make a team from money," he said yesterday. "When Manchester City come in for a player, they have to pay more than a smaller club. That is our football world.
"No, I believe in managers and teams who believe in each other. That is what we call a process and when the process is good every year you improve your selection [squad]. At the end of the process you are number one.
"Jose Mourinho is doing that now. If I am well informed, he did not win anything last year. Now, he is winning the title. I will try to do that also."