The Romans would have regarded it as an omen. On Easter Sunday, a vast pall of smoke hung over the Etihad Stadium as a fire from a nearby chemical plant belched out of control. A 6ft wall of foam, caused by water from the fire engines mixing with detergents inside the building, swept up the Ashton Canal, which runs alongside the stadium. It looked like the end of somebody's world.
Twenty-four hours or so later, it was the end of Manchester City as champions of England. Selhurst Park, scruffy and worn at the edges, was an appropriate place for their faltering season to collapse completely. It is a corner of south London utterly removed from the sleekness and ambition of the Etihad campus, which, at a cost of £200m, boasts an academy stadium with 7,000 seats, training pitches, a sixth-form college and a leisure centre amid the abandoned pubs and battered housing of Beswick, the deprived heart of east Manchester. With revenues of £310m (up £79m in four years) they are the seventh richest club in the world.
Domestically, no club has won more than the four trophies City have brought to the Etihad Stadium in the past four years. Were they to win at Old Trafford this afternoon, it would be their fifth successive triumph in a Manchester derby. And yet the feeling is the money should have brought more, a lot more. For the second time in three seasons the team with a wage bill that is the envy of Europe have followed a title-winning season with one in which they win nothing, a campaign characterised by a series of vapid performances in which they were beaten by teams earning a fraction of their millions. The question is who is to blame?
Manchester United vs Manchester City combined XI
Manchester United vs Manchester City combined XI
1/11 GK: David De Gea

Joe Hart is getting back to his very best but the Spaniard has been the form goalkeeper in the Premier League this season. Behind a dodgy defence De Gea has performed heroics for Van Gaal on numerous occasions.

GETTY IMAGES

2/11 RB: Pablo Zabaleta

Zabaleta is not the guaranteed starter he once was, with Bacary Sagna playing more often since the turn of the year. We're not sure why as the Argentinian is far superior to the Frenchman and a real driving force for this team. Antonio Valencia is not a right-back and could be a weak link City wish to exploit.

Getty Images

3/11 CB: Martin Demichelis

Vincent Kompany is the big name absence from this combined XI. Obviously the Belgian is the best centre-back either side can field but he is performing nowhere near his best. Demichelis gets a bad rap but he has actually been pretty reliable for City, although he is prone to the odd clanger.

4/11 CB: Marcos Rojo

Chris Smalling's recent form would have seen him in this team but injury while on England duty means he remains a doubt. Phil Jones is too unreliable leaving Rojo as the only other option. He has been decent if not outstanding since his arrival and Van Gaal desperately needs an upgrade at the position.

Getty Images

5/11 LB: Daley Blind

Looks much more effective as a left-back than he does in the middle of midfield, the Dutchman is a stout defender and good going forward. Both Gael Clichy and Aleksandar Kolarov have severe limitations, especially on the back-foot.

6/11 RM: Juan Mata

How he was out of the side for so long will remain a mystery. Mata might be weak and a bit of a liability defensively but he is one of the cleverest and most gifted players in the world. Jesus Navas has shown flashes but never really impressed for a long spell since his move to City.

Getty Images

7/11 CM: Michael Carrick

You don't know what you've got until it's gone. Carrick has his share of critics but the stats speak for themselves; United have lost 29 per cent of their games with Carrick out of the team and only seven with him in it. Yaya Toure scored just his second goal of 2015 on Monday and is one of the biggest disappointments of the season considering his great form last year.

Getty Images

8/11 CM: Ander Herrera

After a perplexing spell out of the team, Van Gaal has finally decided that Herrera is his best midfield option. Offers drive, great vision and combative tackling next to Carrick and more than capable of chipping in with a goal. Fernandinho can be good on his day but again lacks any kind of consistency.

Getty Images

9/11 LM: David Silva

Manchester United's first priority will be to stop the brilliant Spaniard - do that and you are halfway to beating City. Ashley Young is Manchester United's most improved player this season and a real threat on the left but Silva is a maestro.

Getty Images

10/11 ST: Sergio Aguero

Aguero scored 19 goals before his injury and only four since returning. The goals have dried up and so has City's title threat. Despite his desperate form and lack of fitness he is still one of the best around. Marouane Fellaini had found his worth as a bruiser for Van Gaal but he too has limitations.

GETTY IMAGES

11/11 ST: Wayne Rooney

Since he moved back up front he has six goals in his last eight matches and has proved to Van Gaal just what he was missing. Rooney is in red hot form and will be Manchester United's main goal threat on Sunday. Edin Dzeko has struggled all season and Wilfried Bony has been injured since his arrival.

Getty Images
The manger: Manuel Pellegrini
Manuel Pellegrini is what they call in Spanish football a "Mister", a gentleman. Bobby Robson was a Mister, brought into Barcelona to soothe the club after a year of savage infighting that scarred Johan Cruyff's last year at the Nou Camp while they waited for Louis van Gaal to become available. Pellegrini's contract expires in 2016, at the same time as Pep Guardiola's runs out at Bayern Munich. It is not a coincidence and it is one of the reasons he is likely to survive the season. Carlo Ancelotti will not take a year-long contract to keep Guardiola's seat warm.
Pellegrini's task was to repair the fabric of the dressing room after the divisiveness of Roberto Mancini and make City a force in the Champions League. The first has been accomplished rather better than the second.
According to Manchester City's kit man, Les Chapman, Pellegrini invariably says good morning when coming into training "which makes a change". When he managed Villarreal, he insisted that the club should have an extra bonus payment for the people who worked at El Madrigal.
He is not a football obsessive in the way that Arsène Wenger or Rafael Benitez are. No man who abandoned football to help the  reconstruction of Chile in the wake of the 1985 earthquake that left two million homeless could be. There is his tennis, his golf, his books. It had been more difficult to find a golf course this season: "But I keep my own life," he said. "You must continue to have a normal life."
He is not one for great speeches, although in that he is not alone. Before Sergio Aguero snatched the title from United on the last day of the season, Mancini went to the chapel of St Bede's College, where the club's academy students are educated, to pray. Then he went to the dressing room, where he said  almost nothing. "You need a little motivation in the dressing room," said Pellegrini. "But you need to be careful about an excess of   motivation, especially in a derby. It is important to have a cold  mind even though you might have a hot heart."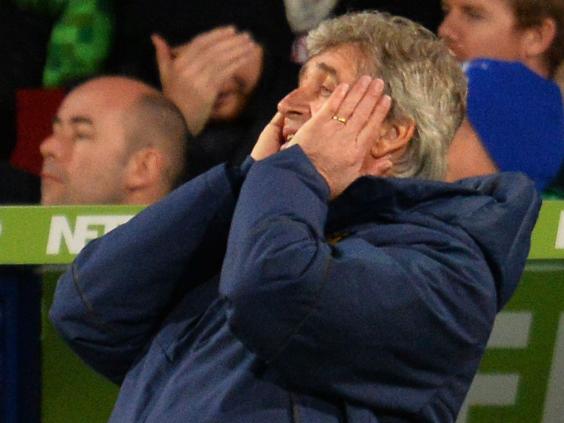 Pellegrini's most important footballer is not the club captain, Vincent Kompany, but the man he operates alongside. Martin Demichelis has played for him at River Plate, Malaga and now Manchester City. "I owe Manuel Pellegrini everything," said Demichelis in the run-up to the derby. "When he talks to you, he makes you feel important and you want to repay that. It was very different when I was at Bayern Munich with Louis van Gaal. From the moment he stepped into the dressing room things began to rot. I had a contract for another three years but I had to leave, I couldn't stand it."
The gravest charges made against Pellegrini is that he has stubbornly clung to a 4-4-2 formation that was shredded by Barcelona and Liverpool and that does not win the obvious games. This season City have lost at home to Stoke, Newcastle, CSKA Moscow, Middlesbrough and away to Burnley and Crystal Palace.
When he managed Real Madrid, who had spent £200m on players that summer, they were knocked out of the Copa Del Rey by a third-division side, Alcorcon, whose highest-paid player earned £4,500 a year, an income he supplemented by working as a pizza chef.
It was said the Real Madrid president, Florentino Perez, never spoke to him again. Should he lose the Manchester derby, there will not be too many conversations left to have with Khaldoon al-Mubarak.
Director of football: Txiki Begiristain
"You wouldn't have the balls." So climaxed the most important conversation of Txiki Begiristain's life, the one in which the Barcelona director of football told Pep Guardiola that he rather than the favourite, Jose Mourinho, should take over at the Nou Camp. It was the making of them both.
The principal reason for hiring Begiristain is that he has a direct line to the world's most sought-after coach. However, in his role of City's director of football,  Begiristain has been spectacularly unsuccessful. When Jorge Valdano did the same job at Real Madrid he calculated that three of every five transfers fail. Begiristain does not even have that average.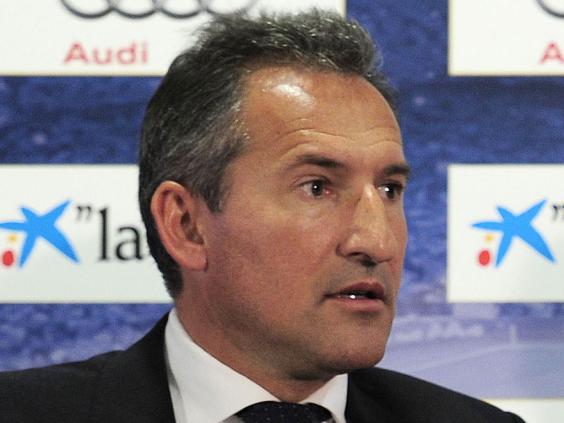 When Mancini won the title in 2012, he asked for Javi Martinez as a holding midfielder. He got Javi Garcia and Jack Rodwell, neither of whom was remotely equipped for the task. Fernandinho has flourished but City paid Shakhtar Donetsk a vastly inflated £30m for his services. Another £64m secured Eliaquim Mangala, who proved unable to secure a first-team place (largely because Pellegrini would not drop Martin Demichelis), and Stevan Jovetic, who was not included in City's Champions League squad.
In all Begiristain has provided Pellegrini with 10 footballers at a collective cost of £136m. Aside from Fernandinho, only Demichelis (who cost £3.5m) and Frank Lampard, who cost nothing, have proved value.
Begiristain now presides over the Premier League's oldest squad. The men who will take on United this afternoon will essentially be the men that Mancini managed. The failure to negotiate a new contract with James Milner, described by one leading Premier League manager as "the single most underrated player in the league" seems astonishing. Milner has played in every position for City bar centre-half and goalkeeper and has learned Spanish to fit in with the culture of the club.
THE PLAYERS
When he was running Barcelona, Begiristain had a rule of thumb that contracts should be short, incentivised and given on merit. That rule has been largely abandoned at the Etihad Stadium. Four more years for Yaya Touré, Aleksandar Kolarov and Edin Dzeko, all approaching 30. Bacary Sagna, 32, is paid £100,000 every week. Those four with the longest, flabbiest contracts, have produced some of City's worst performances.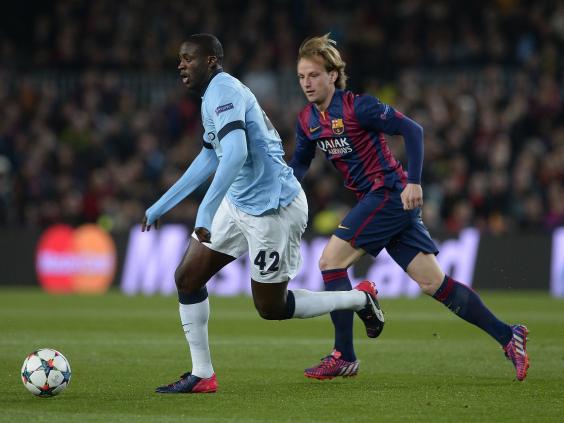 They have won two games in 2015 with Sagna in the side – against Sheffield Wednesday and Leicester. Dzeko has proved the flattest of flat-track bullies. Five of his six goals have come against Newcastle (thrashed 5-0), Hull and Sheffield Wednesday (beaten 7-0). Touré, whose contract is worth £45m over its duration, has spent the past two months flirting with Inter Milan.
After the 1-0 defeat at Burnley, Pellegrini admitted his players' minds might have been on the  upcoming fixture with Barcelona, where they suffered the most one-sided 1-0 defeat in Champions League history. For the second successive season they were knocked out of the FA Cup by a Championship side scoring twice at the Etihad. Pellegrini's greatest complaint about his players is that they do not have the movement or take the risks to break down a side with men behind the ball. Many of those same players were on the pitch when they needed two goals in five minutes against QPR to win the Premier League.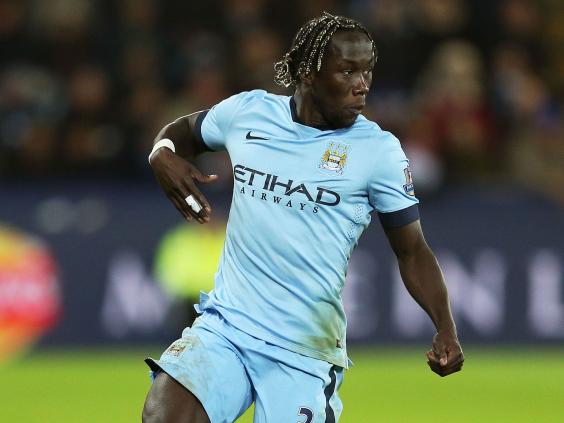 That precious indefinable quality, the will to win, seems to have dulled. City had 32 minutes to pull back a one-goal deficit against Stoke, 29 against Burnley and 42 to score twice against Crystal Palace. They lost the lot. You imagine Manchester United, in their pomp, would have won every one.
Additional reporting by Mark Critchley and Alex Taylor
Manchester Utd v Manchester City is on Sky Sports 1, kick-off 4pm
Reuse content