There is no mistaking the gentle hum of a satisfied full-house at Old Trafford, a noise that acknowledges victory is assured, the universe is in its proper order and the only quandary for the locals is whether to nip to the car early and risk missing the last goal in a rout.
Most Manchester United victories at Old Trafford over the years of Sir Alex Ferguson's domination of English football were not the spine-tingling last-minute heroics that feature most prominently in the season-end montages. Rather those victories were comprehensive demolitions of the opposition that were over often before half-time and were a simple expression of the club's easy supremacy. Today was that kind of day for United.
Led by Angel Di Maria, the stand-out player in a team that scored four within the hour, United, as far as their fans were concerned, felt like United again. It helped that all they had in their path were a Queen's Park Rangers team who looked like they could not wait for the ordeal to be over, but when one considers the vicissitudes of the last 12 months this was the kind of reassurance that the home support desperately craved.
Di Maria scored the first, and Ander Herrera the second, part of a fine performance from the midfielder who looked much more the part. So too, Daley Blind and Marcos Rojo, who made their debuts in the starting XI and have timed their arrivals nicely. This was the game to make your United debut in. Next month Chelsea come to Old Trafford, and by then Louis van Gaal will hope that his £151m worth of investment are well bedded in.
There was also a debut for substitute Radamel Falcao, whose touchline warm-up precipitated a standing ovation around most of Old Trafford. He came on for Juan Mata, another goalscorer, and might have had a goal when Rob Green could not hold a shot from Blind. The QPR goalkeeper, who had a miserable afternoon, managed to block the Colombian's follow-up.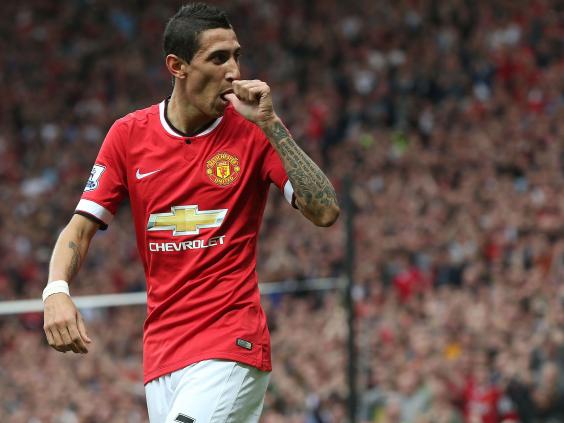 It is a long time since the welcome at Old Trafford has been as fervent and unreserved for a new signing as Falcao, but he is the kind of player that makes this club feel good about itself and its status again.
Manchester United 4 QPR 0 player ratings
Manchester United 4 QPR 0 player ratings
1/22 David de Gea

Was found wanting in the first half after very nearly being caught out by Matty Phillips. Did well to save from Armand Traore in the second period, however. 7

2/22 Rafael

Posed a considerable threat throughout the match down the right flank and broke effectively. A good outlet for United. 7

3/22 Marcos Rojo

Slotted into the Manchester United backline with ease. Looked decent with the ball at his feet and showed a willingness to get forward. 7

4/22 Tyler Blackett

Perhaps a misfit on a teamsheet of Galacticos, the young defender didn't look out of place in Louis van Gaal's side. 7

5/22 Jonny Evans

Needed to be alert to a QPR counter attack in the first half but had precious little to do. 7

6/22 Angel Di Maria

Showed the ambition and ability to really trouble a poor QPR side at Old Trafford. His goal had an element of luck about it but his quality is undeniable. A man of the match display. 9

7/22 Daley Blind

Cut a composed figure at the heart of Manchester United's midfield and showed the Red Devils supporters exactly what they've been missing of late. 8

8/22 Ander Herrera

Took his goal really well and linked Manchester United's defensive midfielders up with the more attacking players brilliantly. 8

9/22 Wayne Rooney

Seems more mature with the captain's armband on. The England man put in another decent shift and grabbed himself an impressive goal too. 7

10/22 Robin van Persie

While the Dutchman always poses a considerable threat, he looks out of sorts at the moment. 6

11/22 Bets of the bench: Radamel Falcao

Didn't have long to make his mark but showed enough drive to enthuse the Old Trafford regulars. 7

12/22 Rob Green

Any goalkeeper who concedes four goals isn't going to score too highly. Made a number of decent saves which keeps his score respectable. 5

13/22 Mauricio Isla

Was brought to the club to give QPR a threat down the flank but continues to struggle in English football. 5

14/22 Steven Caulker

While the former Cardiff City man didn't do a great deal wrong, he went missing for large periods. 5

15/22 Rio Ferdinand

Would have had dreams last night of scoring the winner against his old club but was easily overrun by the new United talent. 5

16/22 Clint Hill

Taken off at half-time, his deflection took Angel di Maria's cross into his own net. A poor afternoon. 5

17/22 Junior Hoilett

Made little impact on the game but shouldn't let it get him down. These aren't the games which count for Rangers. 5

18/22 Niko Kranjcar

Showed glimpses of class but, like many of his team-mates, he failed to make his mark. 5

19/22 Sandro

Didn't look match-fit at times and subsequently delivered a lukewarm performance on his debut. 5

20/22 Leroy Fer

Returned to the Premier League with QPR after relegation with Norwich City. Did little to suggest he will avoid that fate again. 5

21/22 Charlie Austin

A dangerous player at QPR's disposal but was left isolated for large periods. 6

22/22 Matty Phillips

Was bitterly unlucky not to score in the first half after David de Gea's error but it wasn't to be. 6
If Van Gaal was minded quietly to drop that 3-5-2 system then this a day like this was the perfect opportunity to surreptitiously file it away for good. Moments before kick-off the United manager announced that he did not have the personnel available to play his favoured three-man defence, and was going to back to the four-man option that every one of his players know best.
Who would have thought that an injury to Phil Jones could have had such a momentous effect on one man's tactical philosophy?
So it was that a much more orthodox United lined up with Rojo at left-back and Blind as the deepest lying midfielder in a diamond with Mata at the tip of it. To the right was Herrera, arguably United's best player of the first half and Di Maria on the opposite side. The most explosive moments came from the Argentine, and United scarcely moved out of QPR's half.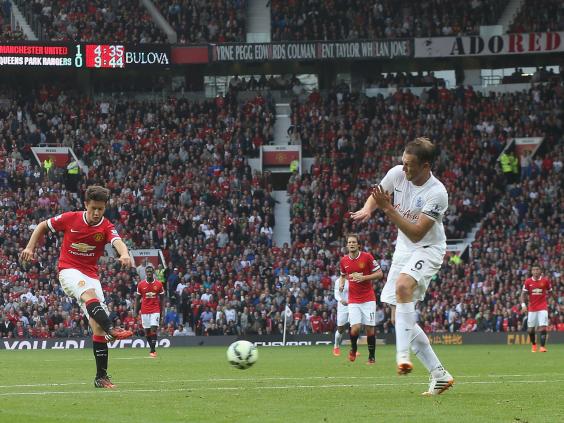 From United, here was a presentation for Rio Ferdinand seconds before kick-off, delivered by Sir Bobby Charlton, and a very warm-hearted burst of applause for the man who played 12 years at the club. He took up his position in the centre of QPR's defence and awaited the onslaught.
In their darkest times over the last year, the problem for United has not simply been losing games at Old Trafford it has been that they have been out-played at home. This time there was never any doubt of that as they pursued the game in the best traditions of the club. The new boys looked hungry; the older ones energised and the goals just a matter of time.
The first was a free-kick from the right from Di Maria that travelled too far unchecked across the Rangers' area, bounced once and nestled in the far corner. United had lift-off but it was not as if there was a sense of anxiety about the place. By then they could not have been more dominant.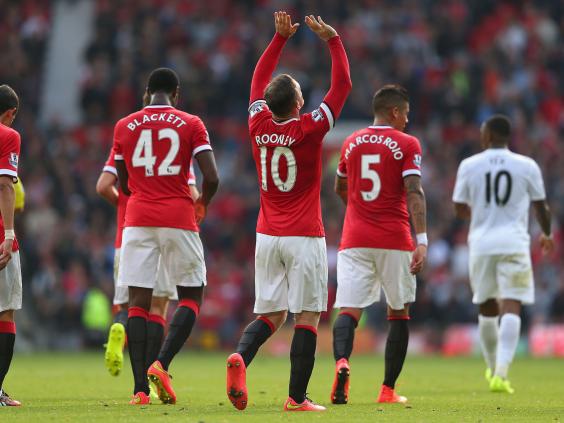 For their part QPR only contributed to their own helplessness by giving the ball away at every conceivable opportunity. Their only sight of goal before the break was a mistake by David De Gea outside the area that allowed Matt Phillips a shot which he snatched at. Jonny Evans threw himself in to block the ball which was not struck hard enough. De Gea would later save with his feet from Niko Kranjcar in the second half when QPR fashioned their first proper attack.
The second came from Herrera, a well-placed right-foot shot across Green. The Spanish midfielder passed the ball well all afternoon and not just in a tidy fashion but with an emphasis on keeping his team moving forwards at all times. Di Maria had made the running down the left and found Rooney who had teed the shot up for Herrera after his first effort was blocked.
The third for United arrived just before half-time, struck by Rooney with his right foot on the near side of Steven Caulker who had anticipated a shot whipped around him and had set himself for the block accordingly. Each goal had been struck quickly and imaginatively. United went in for half-time with a spring in the step.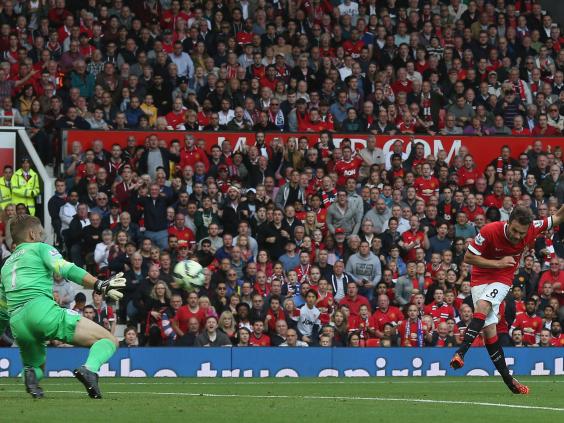 The Kranjcar shot aside, Rangers got little better in the second half and United came after them again. Mata and Rooney could not put the finishing touch to a ball in from Di Maria on 53 minutes, and then just on the hour came the fourth. Either Di Maria did a good job of disguising a ball from the left into the area or he just failed to get any loft on it. It fell to Mata who was unmarked at the back post.
There was no goal for Robin van Persie, who, of all the stars in Van Gaal's team, had the least of the action. He hit one shot on the volley straight at Green after Di Maria's chip into the box. There was a time when a quiet day for Van Persie would have spelled trouble for United but this is a different team now. There are alternatives, and Van Gaal's players certainly performed as if the comfort zone was gone for good.
Manchester United (4-1-2-1-2): De Gea; Da Silva (Valencia, 67), Evans, Blackett, Rojo; Blind; Di Maria (Januzaj, 83), Herrera; Mata (Falcao, 67); Rooney, Van Persie
Substitutes not used: Shaw, Lindegaard (gk), Fletcher, Pereira.
Queen's Park Rangers (4-1-4-1): Green; Isla, Caulker, Ferdinand, Hill (Traore, ht); Sandro (Henry, 73); Phillips, Fer, Kranjcar, Hoilett; Austin (Vargas, 58).
Substitutes not used: McCarthy (gk), Onuoha, Zamora, Taarabt.
Booked: Manchester United Van Persie
Referee: P Dowd
Man of the match: Di Maria
Rating: 8
Attendance: 75,355
Reuse content