Achieving anything quietly is hardly possible before a crowd of 109,318 – the largest for any soccer match in the United States, but Manchester United added to the subtle sense of conviction that is building around how the future will look under Louis van Gaal.
Extravagant claims about beating the European champions must be qualified by the fact that Real Madrid started the game with only one of the new age galacticos they have assembled and a second, Cristiano Ronaldo, arriving to deliver theatre rather than football 20 minutes or so before the end. But the United players are clearly intuiting the kind of football van Gaal wants to create and an undefeated coast-to-coast United States journey gives them back more of the confidence which drained away last season. Now for a final on Monday in Miami against Liverpool – those most inveterate of foes who have taken their European place. The match will offer a commentary on which of these two quick-passing sides are furthest along the road. A rebuilt Liverpool have two years' head start.
It's been nothing less than a salvation tour for Ashley Young, reborn into a player with a purpose, now that Louis van Gaal wants wing-backs who can attack and defend as the lynchpins of his system. The first half provided more evidence of who might come to the United fore now, with Darren Fletcher's short and long pass distribution illustrating that the Dutchman has an asset which David Moyes could never call upon. Fletcher's tour is another part of the wall that Tom Cleverley has to climb. His second half appearance lacked any great conviction, once again.
But Young's two goals – taking his tournament total to four – affirmed his status as a potential man of the future. His defensive responsibility was not tested greatly and he allowed his opposition right winger - Daniel Carvajal – to get in ahead of him on one cross. But he took his place in the five-man line which forms when United are out of possession and attacked dangerously
His first goal was the product of a beautifully arranged move in which Fletcher, Wayne Rooney, Fletcher again and Danny Welbeck processed the ball rapidly across the edge of the Spanish box for Young to dispatch first time, right footed into the corner after 20 minutes. The second, after 37 minutes, was a carefully guided cross from the left which Rooney rose to flick his head onto but missed, allowing the ball to spin on and bounce in off the right hand post. It was eventually announced as Rooney's goal but the striker credited immediately to 29-year-old Young.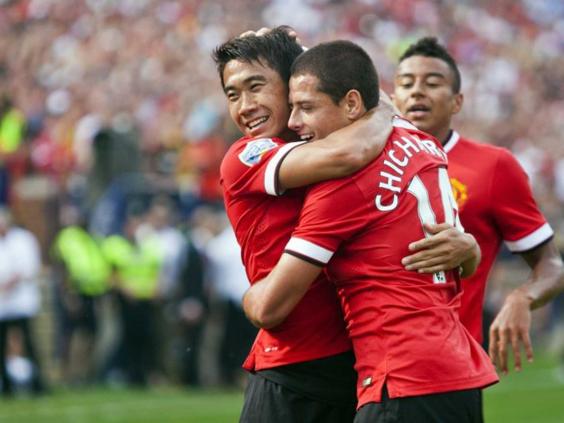 The Madrid defence was weak and of real pre-season quality. Rooney was unchecked as he ran behind the centre halves to receive a quickly worked free kick by Mata and the Spaniard achieved the same result when Rooney returned the favour. Neither man could seize the opportunity.
The only threatening presence for Carlo Ancelotti was Gareth Bale. He skinned Michael Keane on the first of two occasions and was clumsily pulled down to the turf by him for a penalty. He took the kick to equalise United's first goal and an overhead kick from Isaco's cross shortly afterwards affirmed his declaration that this pre-season will be easier than his last.
For United, Wilfried Zaha's arrival as a first half substitute for Danny Welbeck - who limped off three minutes before the break – built on the suspicion that Javier Hernandez is not one for the future at a van Gaal-shaped United. Zaha did not pose the same threat he had against Internazionale in United's third game of the tour. His decisions were chaotic and wild when opportunity knocked. Hernandez got the goal which finished the game, getting his head onto a well flighted cross from Shinji Kagawa at the far post, but he was unable to seize others opportunities. There was poor contact on one shot, after Shinji Kagawa - another substitute – put into his path – and a frustrated thump of the turf after he failed to connect with a cross from Jesse Lingard. Van Gaal wants more than a six-yard goal poacher.
United could reflect on a game which they dominated, creating ten chances in a second half when their myriad substitutions did not have a material affect on their display. Now for Florida - but not before van Gaal has put them through a Sunday morning training session.
Manchester United (3-4-1-2): De Gea; M Keane, Jones, Evans (Blackett HT); Valencia (Lingard 62), Fletcher, Herrera (Cleverley HT), Young (Shaw HT); Mata (Kagawa 62); Rooney (Hernandez 62), Welbeck (Zaha 42)
Real Madrid (4-1-2-3): Casillias; Arbeloa, Pepe, Ramos, Nacho; Alonso (de Tomas 55); Illarramendi, Modric; Carvajal, Isco, Bale
Man of the match Young
Match rating 7/10.
Attendance 109,318.