It was a reality check after the emphatic 7-0 opening win in California and though Louis van Gaal has now achieved what he failed to accomplish at Bayern Munich or the Dutch national squad – two opening wins – he said that the altitude and the heat must explain what he considered to be Manchester United's failure to produce the passing game he wants.
He criticised the organisers of this tournament for staging this fixture in the early afternoon – temperatures reached 31C – but said his players' performance was poor too. "I think we don't play a good match because I don't know, maybe the height of the stadium, the air... All my good passers failed today," he said. "That's not normal. The ball was bubbling every time. I think that when you see Mata and [Ander] Herrera and [Shinji] Kagawa they are best passers and everything went wrong. It is in the air."
Local organisers here said that TV scheduling for FOX Sports explained the afternoon kick-off. "We are not used to this hot weather," he manager said. "I don't think it's very wise. American has a top sport climate and then you have to play football at the right time. I'm sorry to say that."
The altitude - 5,280ft - is hardly overwhelming and behind the public explanations there will be private deliberations about what is missing in this squad, tempered surely by the evidence that Wayne Rooney is responding very strongly to his Dutch philosophy. Van Gaal said last night that he wouldn't single out players but he could not resist agreeing with the suggestion that the beautifully weighted Rooney ball from his own area, which Juan Mata eased down to score, was an example of a football brain at work. "He did it with his brain and Mata was running with his brain at the right moment."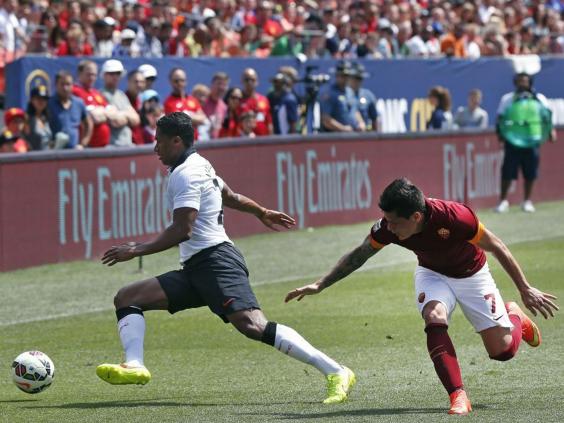 The midfield will be the source of deeper contemplation. Tom Cleverley could have wished for better conditions to be given an audition than temperatures of 31C. Early days, but he struggled to convince that he is the cerebral, quick, ball playing midfielder that is always a contingent part of a van Gaal midfield. He conceded possession on at least three first half occasions and his struggles to control the centre was part of a difficult opening for United. Van Gaal has said before the game that Cleverley would be one of only two players to play the full 90 minutes and it was a disappointment for him to depart after 69 minutes. 
There was also a vulnerability at the back. The Italians twice exposed the 20-year-old centre half Tyler Blackett in an elementary way, with balls over the top from Salih Ucan and Mehdi Benatia which sailed over the defender's head.
Ucan's ball fell for striker Mattia Destro whose clipped shot over young goalkeeping debutante Sam Johnstone seemed destined for the net before the ball's exaggerated bounce in front of goal took it over the bar. Van Gaal would not have been impressed to see Tyler beaten a second time and it took the calm presence of Jonny Evans, one of those who in these early days seems to be growing into the van Gaal philosophy, to instil some calm. Two blocks from Evans were required to expel dangers that Blackett and Cleverley caused.
United's wing backs Antonio Valencia and James Reece were struggling to make inroads either – van Gaal was clearly indicating to them during a mid-half drinks break that they must push on more – and only Rooney was displaying that ability to play with "brains not legs" which the Dutchman had talked about before the match.
But then that triumvirate which van Gaal's new 3-4-1-2 system is designed to bring the best from ignited into life with three goals in a nine-minute game changing period which Rooney orchestrated. His first striker was a ripper, a thumping right-foot shot into the top left hand corner of the net, but his contribution to that Mata second was – if anything - even finer. His clipped ball into the left hand channel was taken down by Mata with one right-foot touch and, after one bounce, clipped left-footed in off the left hand post, over the head of advancing goalkeeper Lukasz Skorupski.
Quick movement created the penalty which Rooney converted for his fourth goal of the tour and 3-0. Ander Herrera's incisive flick on to Danny Welbeck caused panic in the area. Destro fouled, the Englishman.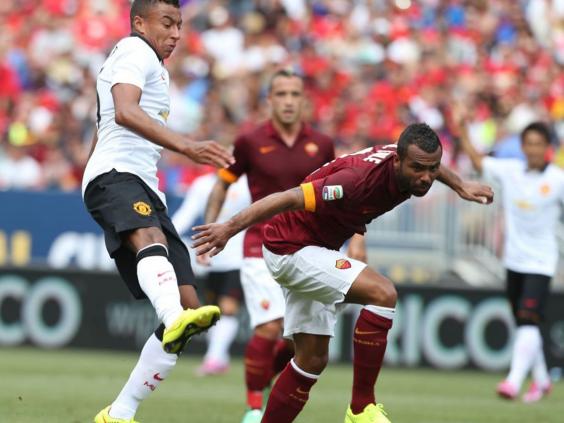 Van Gaal made nine changes after the interval as he had in the 7-0 win over La Galaxy but the consequences were different on this occasion. Chris Smalling stood at the centre of the re-constituted defence, with Blackett and Michael Will Keane either side of him and the edifice – perhaps predictably - did not look strong. The first goal that van Gaal's United have conceded was a wonder-strike, with echoes of David Beckham, Wimbledon, 1996. Miralem Pjanic spotted Ben Amos five yards off his line and unravelled a shot from just inside his own half which sailed over his head into the net. The manager was not impressed with Amos. Asked if he thought the goalkeeper should have kept it out, he replied:  "What do you think? I am nearly 63 years old and I run when the ball is [in the air for] four seconds [when it flies] from fifty metres," he said.
United threatened sporadically but struggled for sustained quality in possession and needed Amos to rescue them when Marco Borriello, one of Roma's substitutes, won a back post header against Ashley Young, operating as right wing back, and Leandro Castano's took the ball on as an overhead kick, forcing Amos to palm against the post. Keane's handball two minutes from time conceded the penalty, converted by Francesco Totti, which created a tense finale, but United held out.
Van Gaal, who said there no malign reason why he has not given Wilfried Zaha any football yet, ended the game answering a question on whether he felt there should be a boycott of Russia's 2018 World Cup, because of the Malayasian Airlines Flight MH17 disaster. "No I don't want to interfere in politics. We are sportsmen I think that's a different kind of profession," he replied. There is currently plenty more to preoccupy him.
Manchester United first half team (3-4-1-2) Johnstone; Jones, Evans, Blackett; Valencia, Cleverley, Herrera, Reece; Mata; Rooney, Welbeck.
Second half team (3-4-1-2) Amos; M Keane, Smalling, Blackett; Young, Clevereley (Hernandez 69), Kagawa, Shaw;  Lingard; Nani, W Keane Nani.
AS Roma Skorupski; Calabresi (Somma HT), Benatia, Romangnoli (Pjanic HT), Emanuelson (Cole HT); Ucan, Keita; Iturbe (Ljajic HT), Paredes (Nainggolan HT), Florenzi (Totti 68); Destro.
Attendance 54,117.
Match rating 6/10.
Man of the match Rooney.
Reuse content