Sunderland confirmed today that they will appeal against Wes Brown's controversial red card at Old Trafford on Saturday. The appeal is for wrongful dismissal. The club have until 1pm tomorrow to lodge their case.
Brown was dismissed for a foul he did not commit, after John O'Shea impeded Manchester United's Radamel Falcao in the penalty area. Referee Roger East ignored O'Shea's pleas of guilt and insisted Brown depart.
The referees' body Professional Game Match Officials Ltd said on Saturday night that East thought Brown, as well as O'Shea, had fouled Falcao but television footage clearly showed O'Shea was the only culprit.
Sunderland manager Gus Poyet was perplexed. "I think the players are confused," he said. "Wes thinks the referee sent him off because he made contact with Falcao. But the referee saw something that didn't happen."
As it stands, Brown will miss Sunderland's crucial relegation battle at Hull City tomorrow night. If they win their appeal, though, he will be available and the automatic suspension will not be transferred to O'Shea as East insisted it was not a case of mistaken identity.
Wayne Rooney scored from the resulting penalty, the first of two goals to settle a low-quality match, and said in support of Brown: "I think it was a penalty but I just don't think it was Wes. Falcao was in between the two of them and the referee hasn't seen which way it was.
"Maybe you could argue that he shouldn't have given a penalty if he hasn't seen who it was. His linesman was there as well so one of them should have seen it. It was tough but I would imagine [the red card] will get rescinded."
Mistaken identity became a theme of the game, so unrecognisable was Angel Di Maria as the £59.7m winger United bought from Real Madrid. The fifth most expensive transfer of all time was taken off after enduring a miserable 45 minutes and looks a different player from the one who scored that sublime lob at Leicester in September.
Louis van Gaal was correct to withdraw Di Maria, though there are questions for the Manchester United manager to answer as to why the Argentinian's form has flat-lined.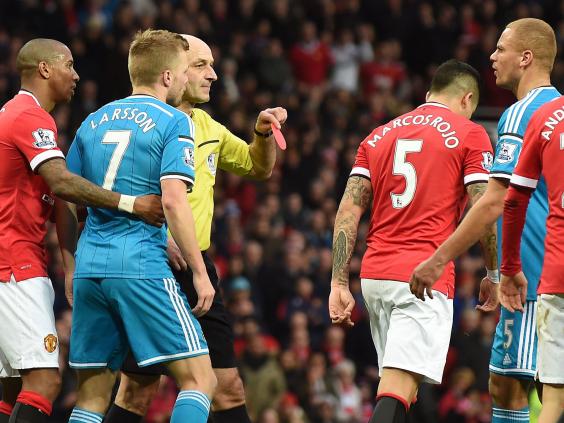 Rooney came to his colleague's defence, saying: "Today was one of those days that every footballer has. He is a great player, he has shown that, and you don't lose your talent overnight. He has got a lot of experience and I think he will figure it out. We all have to do that sometimes.
"There is nothing worse than when everyone keeps going on to you."
Poyet was also supportive. The fellow South American spoke of the difficulty of adapting to English football and said of Di Maria: "In the beginning he made a big impact; he came with adrenalin and expectation and went through the first five games in an incredible manner. Then he started picking up one or two injuries and then things started to settle down.
"Then he could see that it was a change of system and a change of style – a different style and a different team than he came from. Now he has different responsibilities. A lot has changed for him."
Reuse content