Liverpool striker Mario Balotelli has been fined £800 and banned from driving for 28 days after being caught speeding at 109mph on the M62 motorway.
The Italian (pictured above at training on Thursday) was pulled over just after midnight on 3 December last year at Tarbock, near Liverpool, driving his £240,000 left-hand drive Ferrari F12 Berlinetta.
The 24-year-old was due at Wirral magistrates court on Friday, having been convicted in his absence last week, but did not appear, with his solicitor Mike Hogan telling magistrates he had not received the summons, according to the Wirral Globe, as he had been having issues with his mail because of a move to a new home in Formby.
The first Balotelli knew of the date was when he received an adjournment notice, Mr Hogan said.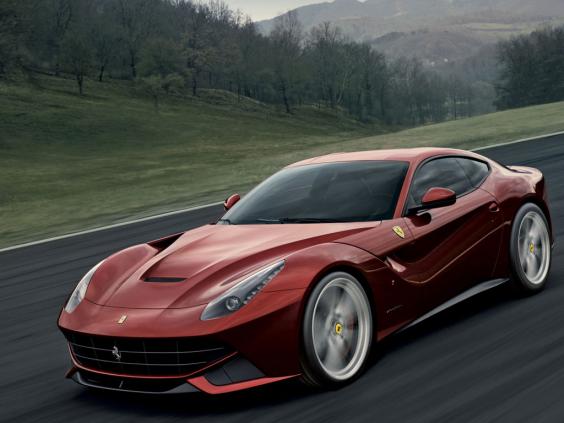 The court heard that the Ferrari's speedometer is in kilometres per hour and the striker had not been aware how "very quickly the speed crept up" - 109mph is approximately 176kph.
Along with the £800 fine and ban, the striker, reported to be on £110,000-a-week, was also ordered to pay an £80 victim surcharge and £100 court costs; Mr Hogan asked the court for 28 days for payment to be made.
Balotelli was said to have been co-operative with police and would have entered a guilty plea had he known about the first date.
"It wasn't a case of him simply ignoring an important document sent by the court," Mr Hogan said.
"Had he received the summons in the first place he would have pleaded guilty on his first appearance. Mr Balotelli has asked me to apologise.
"The police officers pulled him over just after midnight. He may have been in a rush to get home and very quickly the speed crept up. There's no suggestion that he makes a habit of doing this."
Premier League flops of the season
Premier League flops of the season
1/11 Wojciech Szczesny - Arsenal

The Arsenal goalkeeper could very well find himself on the lookout for a new club in the summer after losing his first-team place to David Ospina this season. An inconsistent first half of the campaign came to a head when he was at fault for both goals in the 2-0 defeat to Southampton on New Year's Day. But the real scandal came when he was caught smoking in the showers after the game, and immediately dropped by manager Arsene Wenger. He has been limited to FA Cup appearances only since the incident, although that could yet lead to an FA Cup final appearance later this month.

Getty Images

2/11 Kyle Walker - Tottenham

The Tottenham defender had the difficulty of heading into the season with a serious injury that kept him out of action until December, but 2015 has seen him slip down the England pecking order as well as see questions asked of his form at White Hart Lane. Having emerged as a bright talent at right-back once he broke into the Spurs first team, he has failed to push on a fulfil that promise, and the lack of options on the right available to Mauricio Pochettino is harming Walker as he is not being challenged for a place in the first team.

GETTY IMAGES

3/11 Vincent Kompany - Manchester City

Kompany hasn't been the worst defender in the Premier League this season, but due to the high standards he has set in recent years, he has fallen below expectations. A recurring groin injury has hampered his year, and he was pushed hard in this side by his Manchester City colleague Eliaquim Mangala whose £42m transfer has been nothing short of a calamitous decision, but Kompany took the shirt on a basis that he has been the form defender in the Premier League for some time until this season.

Getty

4/11 Dejan Lovren - Liverpool

There were a few eyebrows raised when Liverpool shelled out £20m to Southampton last summer to sign Lovren, but his first season at Anfield must go down as a failure. The Serbian centre-back fell out of the first team as Brendan Rodgers shuffled his tactics and elected three at the back – which didn't include Lovren.

GETTY IMAGES

5/11 Filipe Luis - Chelsea

He's set to pick up a Premier League winners' medal in his first season in England – but only just. The former Atletico Madrid left-back has made just 12 appearances in the Premier League this season, seven of which were starts. Having arrived in a £16m deal, the hope at Chelsea was that the Brazilian would strengthen the first team, but he has had to play second fiddle to Cesar Azpilicueta and has not matched the high expectations of him this season.

GETTY IMAGES

6/11 Steven Gerrard - Liverpool

It was supposed to be Gerrard's swansong, the year Liverpool built on last season's runner-up spot and finally ended the career-long wait to Gerrard's first Premier League trophy. Instead, it will be most remembered for Gerrard being sent-off 38 seconds after coming off the substitutes' bench in the defeat to Manchester United. While the former England captain's worth to Liverpool Football Club has been unrivalled, this season has seen him struggle for consistent form given that he is no longer able to carry Liverpool singlehandedly.

GETTY IMAGES

7/11 Jack Wilshere - Arsenal

Injury plays a big part in Wilshere's selection, but then it seems to play a big part in his career, too. At the age of 23, the hope was that he would be closing in on a half-century of international caps, having made his England debut in 2010, but he has been severely hampered by time away from the game and now finds his Arsenal future under threat. With the Gunners looking to bring in a big name player each year, Wilshere's poor season could see him made expendable in the near future. He's made just nine Premier League appearances this season, the last of which came against Manchester United in November, and he won't look back on 2014/15 with too much fondness.

Getty Images

8/11 Yaya Toure - Manchester City

The driving force behind Manchester City's two Premier League titles to date, Toure has looked a little over the hill this season, sparking talk of a move away from the club at the end of the season. The stats show a dramatic drop-off this season, with last term's haul of 20 goals in 35 games dwarfing his record this season of eight goals in 26 matches. City's fall away in the title race can be represented through Toure's form, and when you assess the 2014/15 season for the club, you might as well take a look at Toure to see just how much of a disappointment this year has been.

GETTY IMAGES

9/11 Angel Di Maria - Manchester United

Arriving in England as the Premier League's most expensive player in its history is a large bill to feel, but Di Maria hasn't come close to showing his best. He made a solid start to life at Old Trafford, but has not performed since the turn of the year and has even seen himself dropped from United's first-team in recent weeks. A haul of just four goals come at nearly £15m per goal, and the outlay simply hasn't been worth it this season.

GETTY IMAGES

10/11 Mario Balotelli - Liverpool

What can you say about Mario Balotelli? Having burst on the scene with endless amounts of potential, Balotelli has found himself caught up in headlines off the pitch more than he has on it. With Brendan Rodgers admitting he took a £16m "gamble" to sign the Italian last summer, one goal in 16 league appearances shows that's a gamble that hasn't paid off in the slightest.

GETTY IMAGES

11/11 Radamel Falcao - Manchester United

It doesn't take a genius to realise that Manchester United are not even going to consider activating the £43.2m clause in Falcao's contract that will make his move to Old Trafford permanent. The Colombian striker looks a shadow of his former self, and while the knee injury that kept him out of the World Cup last summer could be the cause of his slump, United still shelled out nearly £20m for a season-long loan of a man who has spent most of his time on the United bench. Sadly, a player with the talents of Falcao will go down in history as one of the worst signings in the Premier League.

Getty Images
In January, it was reported that the Italian international, with no previous convictions in the UK, was being chased by Italian authorities over £8,000 worth of unpaid speeding fines.
Mr Hogan added: "Mr Balotelli will have to take this on the chin but he does have a clean record.
"Any disqualification, whether he was a footballer or not, would cause an inconvenience.
"He is in a fortunate or unfortunate position of being something of a celebrity. The loss of his ability to drive would have an impact on his privacy."
Reuse content