Liverpool manager Brendan Rodgers has said that Mario Balotelli was in fact the designated penalty taker when he stepped onto the pitch - and that the reaction to the row has been blown out of proportion.
Balotelli scored the winning goal in the 1-0 Europa League win against Besiktas on Thursday night but was involved in a disagreement with Reds vice-captain Jordan Henderson about who would take the spot-kick.
Speaking as a television pundit, Liverpool captain Steven Gerrard called the Italian striker "mischievous" and "disrespectful", but Rodgers said Balotelli was right to take the penalty.
"There has probably been a lot more of a drama been made out of it than it actually was," said Rodgers. "With the players who were initially on the pitch last night Jordan was our nominated taker.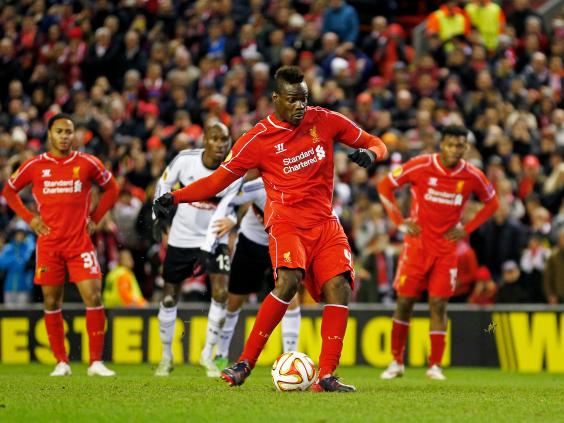 "But if Jordan and Steven and Mario are on the pitch at the same time we would normally have Steven and Mario as the penalty-takers.
"History shows he (Balotelli) has scored nearly 30 penalties in big games so he is an outstanding penalty-taker, but none of them were on (at the start) so you have to nominate someone.
"Jordan was happy enough to take it but he gave it to Mario."
Since 2009-10, Mario Balotelli has been one of the best penalty takers in Europe's top five leagues (Premier League, La Liga, Serie A, Ligue 1, Bundesliga), scoring 14 of his 16 spot kicks.
Eden Hazard (17), Ryad Boudebouz (15) and Dimitar Berbatov (10_ have not missed in the last five years, while Cristiano Ronaldo has scored a whopping 41 and missed just three during that time.
Henderson and Balotelli, as well as Daniel Sturridge, were all involved in a discussion over who would take the penalty - Rodgers said he would deal with it in-house and that it wasn't a problem.
"That is my job to manage that, it is what I do behind the scenes every day," he added. "You see from the way the team has been playing recently the respect and commitment they show for each other.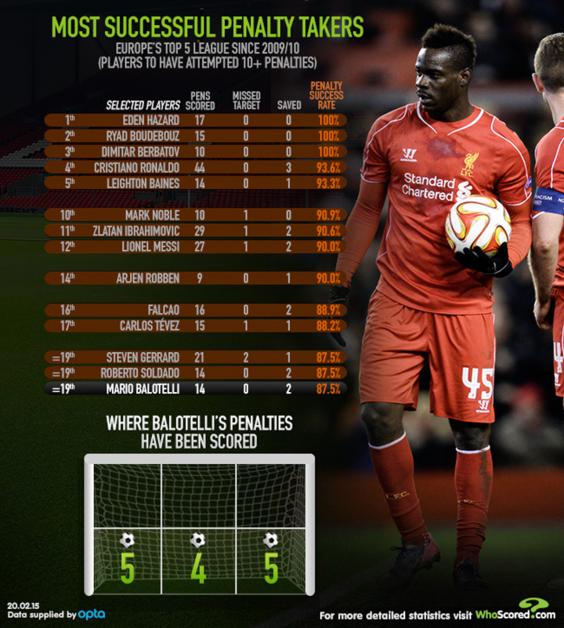 "I always assign responsibility every single game and I think this is the first time that has reared its head. I think there was a bit of a kerfuffle around it because they just wanted to make sure he (Balotelli) was happy to take it but that was it really.
"The only thing I would say on it is I don't like the etiquette - you don't like to see four or five players around a football looking to take it.
"It was maybe more the etiquette which was not as we would have liked but we got the end result."
Henderson's role in the affair has been criticised by some who claim it portrays him as weak, allowing Balotelli to step in ahead of him.
Rodgers admits authority is something which comes with experience but he supports the England midfielder in the job he is doing - even if he has again raised doubts about whether he will get the job full-time when Gerrard leaves for Los Angeles Galaxy in the summer.
Asked what Henderson needs to add gravitas to his on-field persona the Reds boss said: "Just time. People see him as that automatic next captain but that is not necessarily the case.
"He is a young player and you have to go steady with Jordan. Everyone is trying to catapult him into the next Steven Gerrard and he is not that.
"I have said it many times he is not that type of player. Jordan is a real honest boy, a hard-working player, a great team player.
"Steven is a totally different player to that. He (Henderson) is still young but it is not automatic he will be the next captain but at this moment in time, when Steven doesn't play, he is working that role very well."
The fact Balotelli actually scored the penalty and Liverpool won the first leg of their last 32 tie has almost been lost in the fall-out.
However, the Italian has now scored four times in four different competitions since his £16million summer move from AC Milan, including two winners and an assist for the winner in his last three matches.
"He wants to contribute. It has been a difficult time for him here but he knows what he needs to do to have an impact on the team," added Rodgers.
"Whether he starts or comes off the bench it is important he has that but that will come with working in training every day."
Additional reporting from PA
Graphic via WhoScored. For more detailed statistics and player ratings visit WhoScored.com or download the WhoScored app
Reuse content