Phil Neville may have been harsh in his criticism of Mario Balotelli for not celebrating his goal against Tottenham, but he may have a point without fully understanding it himself. The fact is Balotelli doesn't celebrate his goals by smiling.
Take his edge-of-the-box strike for Manchester City that prompted the famous 'Why Always Me' T-shirt against their fierce rivals, or his goal against England during Italy's 2-1 World Cup victory last summer. They are probably two of Balotelli's most important goals of his career, and yet he didn't smile once.
The Italian plays a physical game when he's at his best that can sometimes see him fall on the wrong side of the law when it comes to the referee. With this in mind, perhaps it's not a surprise to see Balotelli appearing to be on edge when he scores. Then again, maybe he just doesn't like going berserk like some in the Premier League.
Liverpool 3 Tottenham 2 - player ratings
Liverpool 3 Tottenham 2 - player ratings
1/22 LIVERPOOL: Simon Mignolet

Will be disappointed that he got beaten by Kane's sub-par finish but made up for it with a spectacular save from Eric Lamella as Spurs searched for a reply. Not to blame for Tottenham's second. 6

2/22 Emre Can

A mixed bag defensively, but helped his team press forwards in the second half. Created a number of attacks by breaking forwards. 7

Getty Images

3/22 Martin Skrtel

A strong performance in the centre, Skrtel remains the lynchpin of the Liverpool defence. 6

Getty

4/22 Mamadou Sakho

Was having a decent game until he ended up on his backside as Harry Kane slotted home Tottenham's first. Followed that up with a rugby tackle on Dembele that earned him a yellow card. 5

Getty

5/22 Alberto Moreno

His passes weren't particularly sharp on the day and the majority of Liverpool's chances were created by his fellow midfielders. 5

Getty

6/22 Steven Gerrard

Hung back for the most part leaving the attacking duties to Philippe Coutinho, but took his penalty well. 7

7/22 Jordan Henderson

Was an effective bridge between the defense and attack as Liverpool broke forwards. 6

Getty

8/22 Lazar Markovic

Nice attacking performance, he created a good number of chances for his teammates and his low, driven shot had enough on it to beat Hugo Lloris. 8

Getty Images

9/22 Jordon Ibe

Rewarded Brenden Rogers faith in him with another fine performance in his second successive start. Showed pace, strength and dribbling skill which stretched the Tottenham defence. 8

Getty Images

10/22 Philippe Coutinho

Displayed his usual craft as he produced a number of good opportunities for his attackers. Divided the midfield work well with Steven Gerrard. 7

Getty Images

11/22

Looked lively from the off and was denied by the sprawling Hugo Lloris on a number of occasions. Almost scored a delightful back-heel but his effort cannoned off the post. Earned Liverpool the penalty. 7

Getty Images

12/22 From the bench: Mario Balotelli

Came on and snatched the game for Liverpool. It was a simple, simple finish, but he timed his run well and was in the right place at the right time. 7

Getty Images

13/22 Kyle Walker

Liverpool's efforts were focussed down the opposite flank so Walker was quiet on a day where he didn't offer much to the attack. 6

Getty Images

14/22 Eric Dier

Part of the calamity that saw Sturridge go close a handful of times. Looked nervy at the back and was very lucky not to give away a second penalty after dangerous sliding challenge on Sturridge. 6

GETTY IMAGES

15/22 Jan Vertonghen

5 Gave the ball away to Markovic for the first goal with a lapse of concentration in an up and down performance. Didn't look assured whenever Liverpool got the ball near the goalmouth. 5

Getty Images

16/22 Danny Rose

What a bad day for left-back. Jordon Ibe had free reign down the right flank and Danny Rose could do nothing to stop the 19 year old's frequent jaunts through the defence. Tripped Sturridge and gave away a penalty in a poor performance. 4

Getty Images

17/22 Nabil Bentaleb

Had his moments providing some link-up play but his defensive work was a liability. 5

Getty Images

18/22 Ryan Mason

Had a torrid time of it. He left his defence exposed on a number of occasions and hit a several poor passes. 4

GETTY IMAGES

19/22 Mousa Dembele

Harry Kane casts a big shadow, and Dembele displays much less energy than his strike partner, but the Belgian forward showed good instincts to nick an equaliser for Spurs. 6

GETTY IMAGES

20/22 Christian Eriksen

Keeps producing for Tottenham's attack and his build up play was excellent as usual. Hit another well-struck free kick that led to Spur's second goal. 7

GETTY IMAGES

21/22 Harry Kane

It's easy to run out of superlatives for the young striker. It's becoming a surprise not to see his name on the score sheet, and he took his finish with aplomb, albeit with a pinch of fortune. He then provided the assists for Spur's second goal and looks every bit of England's best striker. 8

Getty Images

22/22 From the bench: Paulinho

Couldn't inspire a fight-back from his tired teammates and picked up a yellow card for his troubles. 5

Getty Images
Having agreed to follow his former Inter Milan manager Roberto Mancini to Manchester City, Balotelli was announced as their latest signing on 12 August 2010. Was he delighted to move to the Premier League? Well, you can decide for yourself from the picture, but at least he looks slightly happier than Aaron Lennon did when he joined Everton on transfer deadline day.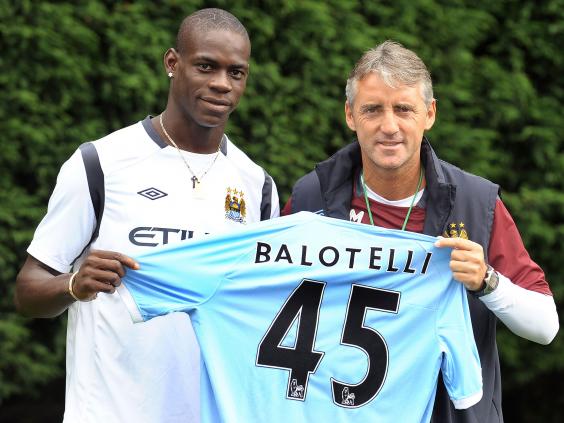 It wasn't long before Balotelli was scoring a hat-trick for City as he put three goals past Aston Villa in December of that year. Instead of celebrating as any normal striker would tend to – perhaps pick up the ball they would be taking him and run to the fans to soak up the adulation – Balotelli simply looked around him while holding up three fingers. Yes, Mario, three goals.
When Balotelli netted the winner against Manchester United in October 2011, he famously revealed a shirt that simply read 'Why Always Me'? He went on to explain that with the help of City kit ,an Les 'Chappy' Chapman, he wore the shirt to respond to recent events that had seen him fall under the spotlight for the wrong reasons.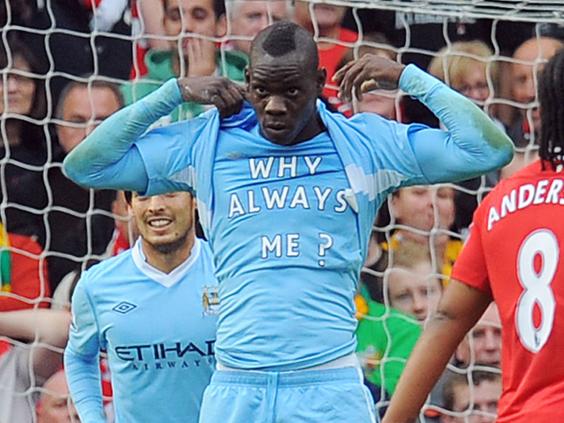 Having returned to Italy for a brief spell, Balotelli was soon back in the Premier League, but his wait for a first league goal went on and on and on until Spurs came to Anfield last night. Had his time away from the English top flight taught him how to celebrate? Not a chance. Balotelli simply turned to his right, embraced the delighted Adam Lallana and returned to the halfway line for kick-off, before disappearing down the tunnel as soon as the final whistle was blown.
But fear not, for Balotelli soon posted a picture on his Instagram page with a big grin on his face, claiming that he was smiling for the fans that continued to believe in his ability and skill despite his run of poor form.
Reuse content