Liverpool continued to adjust to life without Luis Suarez with a 1-0 victory over Olympiacos in Chicago courtesy of Raheem Sterling's early strike.
Last season's Premier League runners-up lost £75m Suarez to Barcelona earlier in the summer but have since strengthened with the likes of Rickie Lambert, Adam Lallana and Lazar Markovic.
Brendan Rodgers, the Reds boss, has called for his side to continue playing with the attacking urgency which saw them hit the back of the net on 101 occasions last term.
Markovic, signed from Benfica for £22m, showed reassuring signs of promise as Liverpool eased to a comfortable victory in the United States.
Rodgers' men made a breathless start to the match after being buoyed by the news that £20m Dejan Lovren was set to become the latest recruit to arrive from Southampton.
Video: Liverpool in training
Sterling, who impressed during the tail end of last season, opened the scoring after just five minutes after dashing into the Greek side's box and converting following an almost comical passage of play involving his England teammate Daniel Sturridge.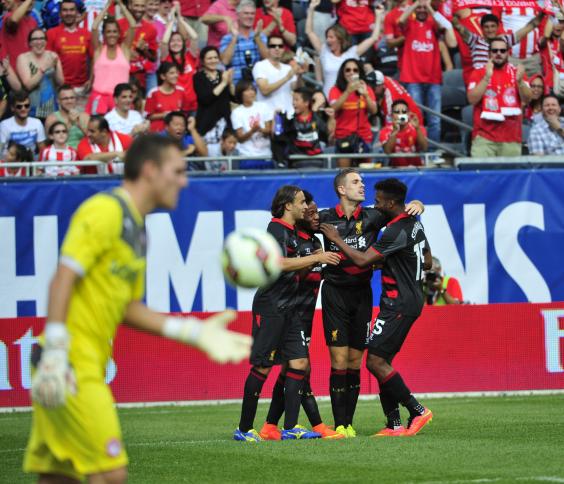 The former Chelsea and Manchester City forward watched on as his mistimed effort deflected off Eric Abidal and fell straight into Sterling's path.
While a few more goals could, and probably should, have followed for the Reds, Rodgers will have been enthused by the trickery shown by his attacking players.
Playing in 28 degrees, the Anfield club pressed relentlessly as Markovic showcased his abilities down either flank.
Olympiakos, on the other hand, offered little menace and were lucky to only concede a solitary goal.
While Gevorg Ghazaryan's crossbar-shaking drive in the 50th minute had the Premier League side worried momentarily, it cannoned to safety.
Top 10 most expensive players ever
Top 10 most expensive players ever
1/10 Gareth Bale - £86million

Tottenham to Real Madrid (2013) - Bale became the world's most expensive player ever when he made the switch from Spurs to Spain.

GETTY IMAGES

2/10 Cristiano Ronaldo - £80m

Manchester United to Real Madrid (2009) - Ronaldo smashed the record transfer fee when he left Old Trafford.

GETTY IMAGES

3/10 Luis Suarez - £75m

Liverpool to Barcelona (2014) - The Reds cut ties with Suarez after the 2014 World Cup making a £50m profit.

Barcelona FC

4/10 Neymar - £71.5m

Santos to Barcelona (2013) - The Brazilian finally completed his long awaited move to Europe after a complex deal.

Getty Images

5/10 James Rodriguez - £63m

Monaco to Real Madrid (2014) - After a superb World Cup showing, the Colombian became Real's latest big money signing.

6/10 Zlatan Ibrahimovic - £59m

Inter Milan to Barcelona (2009) - The Swed only spent two seasons at the Nou Camp despite his mammoth price-tag.

GETTY IMAGES

7/10 Kaka - £56m

AC Milan to Real Madrid (2009) - The Brazilian joined in the same summer as Ronaldo but failed to make a real impact at the Bernabeu.

GETTY IMAGES

8/10 Edinson Cavani - £55m

Napoli to PSG (2013) - The Uruguayan's deal made him the most expensive player ever purchased by a French team.

Getty Images

9/10 Zinedine Zidane - £53m

Juventus to Real Madrid (2001) - Became the world's most expensive player when he moved to the Bernabeu and more than paid it back, particularly with his spectacular goal in the 2002 Champions League final against Bayer Leverkusen.

10/10 Radamel Falcao - £51m

Atletico Madrid to Monaco (2013) - The newly funded Monaco signalled their intent by signing the Colombian.

Getty Images
The 36,170-strong crowd had come to see Liverpool, though, and there were enough positives for them to take away from this pre-season clash.
After the game, Rodgers said: "I'm evaluating the fitness of the players but I was delighted with the team.
"We will get sharper but at the minute we are building up the resistance. Our passing was crisp and precise and I was also pleased with how we defended. Overall I was delighted."
The Reds boss also praised Sturridge, who has a larger burden to carry this season, and was excited by the impact Markovic had made on the game.
"I have seen a difference in Dan and I think he's ready to be the main man,' he added. 'He has come back from the World Cup looking really sharp. Markovic looked exciting and Sterling was a joy to watch."
Reuse content