Mesut Ozil insists Arsenal can learn from their Champions League humiliation at the hands of Bayern Munich and come back stronger.
The Gunners were thrashed 5-1 home and away to exit 10-2 on aggregate last month, crashing out at the last-16 stage for the seventh year running.
That result, along with a string of underwhelming domestic displays which have left them seventh in the Premier League, has seen pressure mount on Arsenal manager Arsene Wenger.
Arsene Wenger's worst Arsenal defeats
Arsene Wenger's worst Arsenal defeats
1/8 AC Milan 4 Arsenal 0, Champions League last 16 first leg, 2012

Another last-16 elimination, and another example of the tie being over before the second leg. A Robinho brace and goals from Kevin Prince-Boating and Zlatan Ibrahimovic meant Milan took a hefty lead back to the Emirates. The Gunners won that 3-0 but it was too little, too late.

Getty Images

2/8 Manchester City 6 Arsenal 3, Premier League, 2013

Arsenal were top of the league at the time but were blown away by City to close the gap to three points. Slack defending cost them and even when Per Mertesacker headed in a late consolation goal to make it 5-3, Yaya Toure still had time to score a sixth.

Getty Images

3/8 Bayern Munich 5 Arsenal 1, Champions League Group Stage, 2015

Yes, remarkably, Tuesday night was is not even the second time Arsenal have lost 5-1 to Bayern. In last season's Group Stage, Robert Lewandowski, David Alaba, Arjen Robben and two Thomas Muller goals saw to an embarrassing night for Wenger.

Bongarts/Getty Images

4/8 Liverpool 5 Arsenal 1, Premier League, 2014

Liverpool were rampant three years ago and stormed into a four goal lead inside the opening 20 minutes at Anfield, including two goals from centre-back Martin Skrtel. Raheem Sterling made it five with Mikel Arteta's penalty a mere consolation.

Getty Images

5/8 Tottenham 5 Arsenal 1, League Cup semi-final second leg, 2008

A humiliating scoreline – made all the worse by it being against the Gunners' most bitter rivals. The defeat cost them a place in the League Cup final as Nicklas Bendtner and Emmanuel Adebayor nearly violently clashed on the pitch.

Getty Images

6/8 Manchester United 6 Arsenal 1, Premier League, 2001

Dwight Yorke bagged a first-half hat-trick at Old Trafford as United raced into a 5-1 lead by the break. Teddy Sheringham added a late sixth as the Red Devils went 16 points clear at the top of the Premier League.

Getty Images

7/8 Chelsea 6 Arsenal 0, Premier League, 2014

Not the best way for Wenger to celebrate his 1000th game in charge of Arsenal. Chelsea were 3-0 up inside 17 minutes in a game which also saw Kieran Gibbs sent off in a case of mistaken identity with Alex Oxlade-Chamberlain.

Getty Images

8/8 Manchester United 8 Arsenal 2, Premier League, 2011

Wayne Rooney grabbed a hat-trick to help inflict Wenger's biggest defeat as Arsenal boss. It was made all the worst as it was by a Manchester United team with a midfield of Tom Cleverley, Anderson, Nani and Ashley Young.

Getty Images
The Frenchman's contract expires in the summer and it is still unclear whether he will sign a new deal at the Emirates, while Germany midfielder Ozil and forward Alexis Sanchez have just over a year remaining on their existing deals and have been linked with moves away.
However, while admitting that Arsenal's humbling at the hands of the German champions was a career low point, Ozil also sees it as a chance for the Gunners to improve.
"The devastating loss at Bayern Munich this season is undoubtedly one of the darkest hours of my footballing career," Ozil says in his book 'Gunning for Glory', which is being serialised in the Mail on Sunday. "It's in the top five of the most humiliating defeats I've suffered.
He added: "The fact is, we all failed. We were all bad! We played a game that held a mirror up to our faces.
"It was a performance we can't just brush aside. No, we have to learn our lessons from it. We all have to ask searching questions of ourselves and accept responsibility for the defeat. All the players, all the trainers, even the management. Because this fiasco also represents a great opportunity!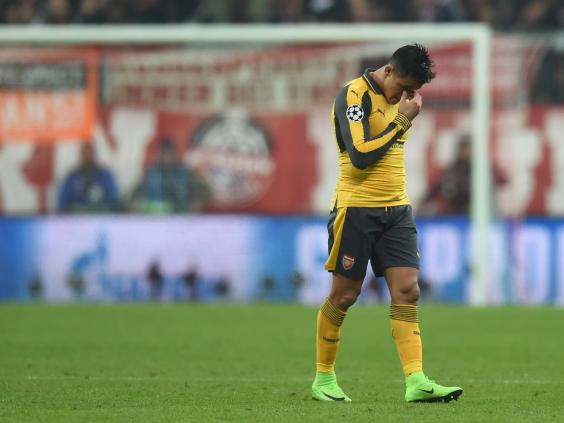 "In my footballing life I've often fallen flat on my face and been knocked to the ground. But I've always got up again and won victories and titles following the defeat ... this defeat by Bayern will produce something good at the end, too."
PA
Reuse content