Michael Laudrup has claimed he was sacked by email just six hours after shaking hands with Swansea chairman, Huw Jenkins, about his continued employment.
Coming after Rene Meulensteen sacking by Fulham – finally confirmed late tonight – Laudrup's account of his "silly" and "incredible" departure this month illustrates the high-handed treatment dished out to Premier League managers – especially by clubs worried about the costly threat of relegation.
Laudrup, who guided Swansea to a League Cup triumph at Wembley a year ago this week – the club's first major trophy – said at a specially convened press conference at a Heathrow hotel that it felt like "I have taken a lot of knocks to the head" and revealed he had not received a detailed explanation of the board's decision until nine days after his exit.
Swansea were 12th in the Premier League and still in the Europa League and FA Cup on 4 February when Laudrup was sacked. They had won just one of their 10 previous league games and were two points above the drop zone, with the catalyst for his exit coming in the week prior to the 2-0 defeat to struggling West Ham on 1 February.
Jenkins asked the manager to consider changing his backroom staff but Laudrup refused. The request was repeated at a meeting three days after the West Ham game. Laudrup said: "On the Tuesday before training I had a meeting about the change of staff. I said it would be a big mistake to talk about this at this moment because it was in the week before one of our most important games, the Cardiff one."
He added: "We ended up saying we have to stay together, we shook hands and he [Jenkins] says, 'Thank you very much because you want to help the club'.
"Later that afternoon, while I'm talking on the phone, I receive a mail where it says that due to breach of contract, with immediate effect, my deal is terminated. It was just a few hours after we shook hands and, of course, I'm very, very confused.
"I called and I said, 'What is going on?' after we shook hands and everything, but he said, 'Yeah, after thinking' – it was a little difficult to hear what was said.
"I said, 'By the way, what does breach mean?' and he couldn't explain that. He didn't really know. While I'm on the phone, my wife is saying that things are already on the internet, that I've been dismissed."
Defender Garry Monk took over as acting manager and Laudrup confirmed that he had not refused to bring the club stalwart in to join his coaching staff. He revealed he would take legal action if the compensation on the 18 months of his contract is not paid up and said he had been left in the dark about the reasons for his dismissal for over a week.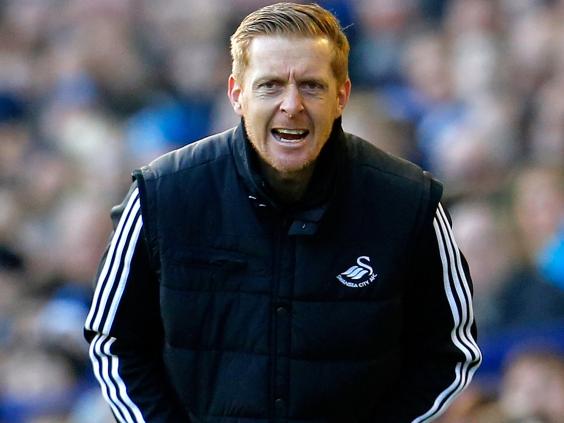 "I had to wait nine days for a letter that said a lot of very silly things, which I can't reveal," Laudrup added. "I was just blocked.
"The League Managers' Association rang me to tell me that, unfortunately, I am not a special case. Clubs are using things like this. If we cannot find a solution we will have to take the legal way."
Swansea declined to comment, but at the time of Laudrup's sacking Jenkins  said the decision was taken to provide "a stable environment at the club to allow us to get back to basics".
Reuse content