Scoring freely, conceding nothing, Chelsea's perfect storm of form rolls on. Antonio Conte's emerging team have now won six in a row and sit top of the Premier League as they prepare to face Tottenham at home and Manchester City away in the next two games.
It was 1-0 here, but it is 17-0 over the past six league matches. It is now ten league goals for Diego Costa, while it is approaching ten hours since someone scored past Thibaut Courtois.
The last player to do so was Arsenal's Mesut Özil, who made it 3-0 before half-time a week after Liverpool had won at Stamford Bridge. But that was in September. It feels a long time ago.
In the second half of that Arsenal match, Conte switched his side to 3-4-3 and Courtois has not been beaten since.
Against a determined, if offensively limited Middlesbrough, it was 78 minutes before Courtois was forced into serious activity. He fell to his left to parry an improvised volley from Alvaro Negredo, who was otherwise isolated and ineffective. 
Boro puffed a bit at other moments – Adama Traore and Gaston Ramirez firing over when well-placed - but Chelsea came through relatively untroubled. 
Four minutes before half-time, Costa gave them the points with a sharp volley, a predator's goal. This was the third consecutive game he has scored and, tellingly, Costa is scoring away from home – at Watford (the winner), Swansea (equaliser), Hull, Southampton and now Middlesbrough (winner).
Middlesbrough vs Chelsea player ratings
Middlesbrough vs Chelsea player ratings
1/22 Middlesbrough: Victor Valdes - 7 out of 10 out of 10

He made a number of crucial saves throughout, and in regard to the goal, he was left helpless following a defensive error. It was a good performance from him today.

2/22 Antonio Barragan - 6 out of 10

Looked very promising from the start, with his diagonal through balls causing problems for the Chelsea defence.

3/22 Calum Chambers – 7 out of 10

Made a number of vital clearances that saved his side at times, looked strong in his tackles and worked well from the back out.

4/22 Ben Gibson - 5 out of 10

It was a mediocre performance from Gibson today. He worked hard, but was wasteful in possession at times.

5/22 Fabio - 5 out of 10

There was a feeling of confidence about his performance today, and it showed in his movement and passing. However, he was going missing at times.

6/22 Adama Traore - 7 out of 10

His pace caused Chelsea problems when he charged at them. He's a powerful player with an eye for attacking and this should have been used to more of an advantage for Boro.

7/22 Adam Forshaw - 6 out of 10

His work rate was faultless today and he really appeared to find his feet as the game progressed.

8/22 Adam Clayton – 5 out of 10

He showed glimpses of brilliance when on possession, but was quiet for the majority.

9/22 Marten De Roon - 6 out of 10

He was a battler throughout and used possession well. However, he was clumsy in a few of his tackles which was unnecessary. 6 out of 10.

10/22 Gaston Ramirez - 6 out of 10

He was a key element to the Middlesbrough attack, but aside from this he was persistently giving away fouls.

11/22 Alvaro Negredo – 5 out of 10

Aside from his late chance which tested Courtois, it was a relatively quiet performance by a man of such high standards.

12/22 Chelsea: Thibaut Courtois – 6 out of 10

He had very little to do today, except one late strike from Negredo.

13/22 Cesar Azpilicueta – 5 out of 10

Looked dangerous going forward, but gave away a number of silly fouls.

14/22 David Luiz – 6 out of 10

He was very physically strong today and done well in the air.

15/22 Gary Cahill – 6 out of 10

It was a classic Cahill performance today. Played well, tackled well and used possession well from the back.

16/22 Victor Moses – 8 out of 10

His impact on the team is phenomenal. He's quick, clever on the ball and an absolute powerhouse – great game for him today.

17/22 N'Golo Kante – 7 out of 10

He worked well with Moses, creating numerous chances and deliveries into the danger zones.

18/22 Nemanja Matic – 6 out of 10

He was at the heart of a number of Chelsea attacks today. His passing was faultless, but was caught out of position occasionally.

19/22 Marcos Alonso – 6 out of 10

Made a few bad decisions when in possession, but aside from that he worked well today and created a few chances.

20/22 Pedro – 7 out of 10

His work rate was faultless and he came very close to getting himself on the scoresheet, only to be denied by the crossbar.

21/22 Diego Costa – 8 out of 10

His goal was an example of his true poaching nature as he pounces on the first Boro mistake. Great performance all round from him today.

22/22 Eden Hazard – 7 out of 10

He created a number of chances throughout and was a key element to the Chelsea strikeforce.
No wonder Conte is calling Costa "one of the best strikers in the world" and "our reference point". The Italian is also delighted that the Brazilian-Spaniard's behaviour has improved. Costa has not been booked in this six-game run.
So there were reasons for Conte to smile afterwards, and he did, not least when asked if he could have foreseen this run when trailing 3-0 at Arsenal.
"It wasn't simple to believe," Conte said, "after two defeats against Liverpool and Arsenal, that we'd win six in a row and without conceding any goals. Chelsea weren't favourites to fight then, so it's difficult now to completely change opinion."
He then continued to talk his way out of questions about title challenges, but he knows his team is thriving.
Chelsea have played better than they did here, and a 1-0 lead is always vulnerable. But then Victor Valdes in the Boro goal has settled in on Teesside and provided a barrier to repel Eden Hazard, Victor Moses and Pedro.
Had Valdes not also thwarted Marcos Alonso 22 seconds into the second half, then it could have been a much more convincing victory in terms of goals.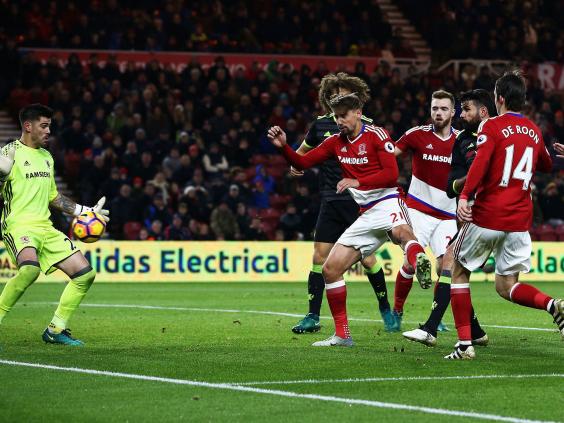 Valdes parried Alonso's low drive and Calum Chambers nipped in to clear before Pedro could slide in the rebound.
Boro could not have recovered from a second then. Ultimately, they could not cope with Costa's strike just five minutes earlier.
It stemmed from a disputed Hazard corner. Alonso jumped with a clutch of red shirts and in the crush, the ball hit Chambers' back. Spiralling into space and dropping, all stood and watched apart from Costa. He was on the move and smacked a tasty six-yard volley beyond the hesitating Valdes.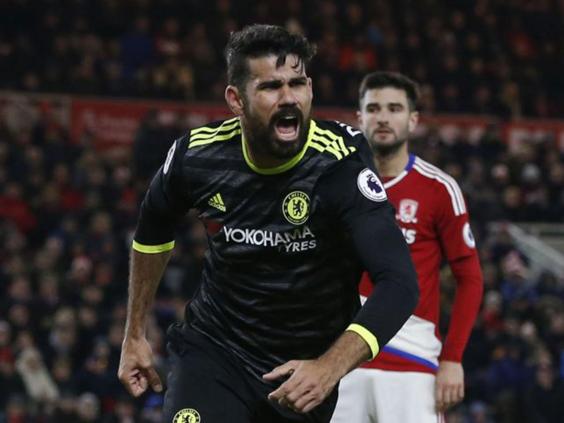 Boro were winded. Had Aitor Karanka's team got to half-time at 0-0 they would have felt very much involved. Conte praised Boro's defensive organization and frequently the home side had ten men behind the ball. Their aim was clearly to stay competitive as long as possible.
Yet Hazard and Moses made headway down the flanks nevertheless as Chelsea probed and probed, and in the second half, as the game expanded, further chances came. From one delightful and unselfish headed Costa knockdown on 63 minutes, Pedro crunched a volley against the crossbar with Valdes beaten.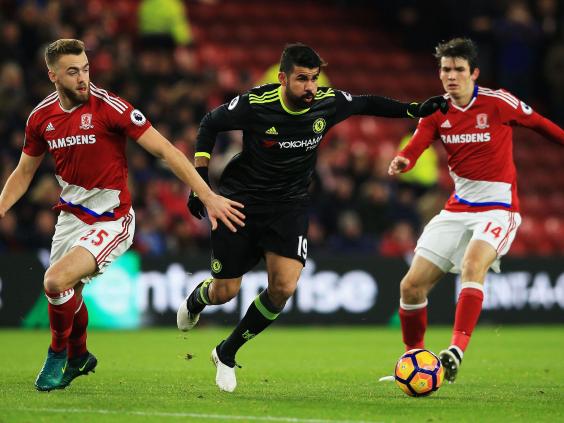 Middlesbrough tried to engineer some forward thrust but as Conte was to say: "In this period, it is difficult to play against Chelsea."
"This period" now extends to Spurs at Stamford Bridge on Saturday. It could well be a defining period for Chelsea.
Teams
Middlesbrough (4-1-4-1): Valdes; Barragan, Chambers, Gibson, Fabio (Downing 71); Clayton (Fischer 73); Traore, De Roon, Forshaw (Leadbitter 89) Ramirez; Negredo. Subs not used: Guzan, Bernardo, Rhodes, Nsue
Chelsea (3-4-3): Courtois; Azpilicueta, Luiz, Cahill; Moses (Ivanovic 89) Kanye, Matic, Alonso; Pedro (Chalobah 80) Costa, Hazard (Oscar 90). Subs not used: Begovic, Fabregas, Terry, Batshuayi
Referee: J. Moss
Reuse content