Crystal Palace appointed Neil Warnock as manager on Wednesday, and in doing so co-chairman Steve Parish has made the pragmatic choice.
Warnock knows the club, having been in charge before, has recent experience of the Premier League, and will not radically overhaul Tony Pulis's team or tactics. Which is a good thing because, after two Palace defeats this season, the 65-year-old veteran needs to hit the ground running, beginning with Saturday's match at Newcastle United.
By a quirk of the fixture list Warnock's second stint begins where the first one began to founder. On 26 January 2010 Warnock's Palace boarded a plane to Tyneside for the next day's match against then Championship leaders Newcastle. Palace were on the fringe of the play-off places and Warnock fancied their chances of promotion.
By the time they landed the Eagles were facing a relegation battle. While the team were in the air the club had been put into administration. The penalty, a 10-point deduction, sent them plunging down the table.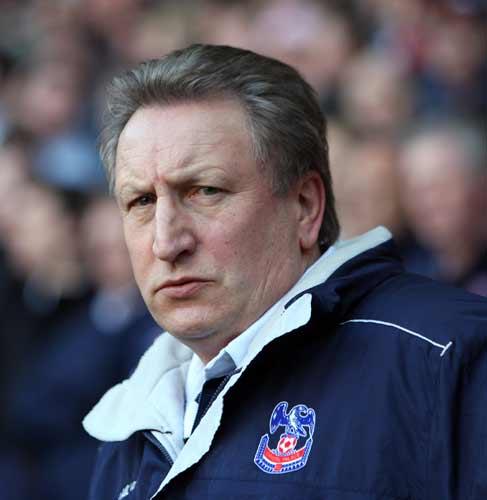 The impact of administration was instant. The coach driver dropped the players at their team hotel, then turned to Warnock and told him he would not be returning to take them to St James' Park the next day, or back to the airport afterwards, as the coach company feared they would not be paid. Faced with the prospect of arriving for a major game in a fleet of taxis Warnock handed over his own credit card.
Then the administrator rang and ordered him not to play Victor Moses as he was the squad's most valuable player and they could not risk him being injured. The pair soon clashed as Warnock resisted attempts to sell players such as Nathaniel Clyne and Darren Ambrose for cut-price fees. He won those battles but the grind and insecurity of being in administration meant that when Queen's Park Rangers came calling a few weeks later Warnock was receptive.
That is the history to Warnock's return. To some Palace supporters he was a manager who, despite tight financial restrictions, took a limited team into the promotion play-offs once and threatened to do so again. To others he walked out on a sinking ship. First responses to the Croydon Advertiser included one fan writing "the legend returns", another threatening to rip up his season ticket.
To judge from Warnock's reception when he has returned to Selhurst Park with QPR and Leeds United, most fans will be welcoming. Many, though, will wonder if he is the right man to save Palace from the drop. Warnock has managed three times in the top flight: Notts County (1991-92), Sheffield United (2006-07) and QPR (2011-12). County and United were relegated while Warnock was fired by Rangers in the January with the team one place off the drop zone.
This is not very encouraging, but on each occasion the team was newly promoted and Warnock had been given little cash to strengthen. QPR never fell into the bottom three under Warnock, but were relegated a year later despite heavy spending by his successor, Mark Hughes.
The desire to finally keep a team up in the Premier League is one of the reasons Warnock has come out of what appeared a comfortable retirement in Cornwall. Another is that, having last worked 17 months ago at Leeds (where he was one of several managers to fall foul of budgetary restrictions and background politics), he has missed it. So much so he even came close to joining Huddersfield Town earlier this month.
Warnock has a young family, but not that young, His children are now teenagers – an age when many start spending more time with their friends than their families. This makes the thought of commuting from London to the West Country more amenable, and his family already have some roots around Palace's Beckenham training ground, having lived there full-time during his previous spell at the club. Nevertheless, it is a surprise that he has agreed a two-year deal, rather than one to the end of the season.
Warnock will be given cash to spend, though finding the right players will not be easy close to Monday's transfer deadline. He can be expected to buy British if possible, or at least players with experience of the English game who should settle quickly. Parish is known to be a big fan of former striker Wilfried Zaha. Julian Speroni and Paddy McCarthy remain from Warnock's first time while peace has been made with another player, Jason Puncheon, who had a public, Twitter-related falling out with Warnock last season.
It is a sensible choice tactically. Warnock and Pulis have a similar approach. Both like teams who are organised, hard-working and do not take risks in defence. Unlike at Old Trafford, there should not be a long bedding-in period while the squad adapt to a radically different approach.
Glenn Moore is joint author with Neil Warnock of 'The Gaffer: The trials and tribulations of a football manager'
--
Neil Warnock's managerial career
1980-81 Gainsborough Trinity
1981-86 Burton Albion
1986-89 Scarborough
1989-93 Notts County
1993 Torquay United
1993-95 Huddersfield Town
1995-97 Plymouth Argyle
1997-98 Oldham Athletic
1998-99 Bury
1999-07 Sheffield United
2007-10 Crystal Palace
2010-12 Queen's Park Rangers
2012-13 Leeds United
2014- Crystal Palace
The 65-year-old has won promotion seven times as a manager, including twice with Notts County. He led Scarborough to the Conference title in 1986-87 and QPR to the Championship title in 2010-11. His Huddersfield side also reached the Football League Trophy final in 1994,  losing to Swansea.