Manchester United manager Louis van Gaal expects the battle for Champions League qualification to go right down to the wire.
Van Gaal says his team are involved in a "rat race" with Arsenal, Tottenham, Liverpool and Southampton for the last two Champions League qualification places.
United sit fourth in the standings, one ahead of Southampton and two ahead of Liverpool, who lead Spurs by four points - although the north Londoners have a game in hand.
Van Gaal agrees with Arsene Wenger's claim that the contest will still be alive when United and Arsenal take on Hull and West Brom respectively on the last weekend of the season - although he does not know whether the Arsenal manager was right when he said 72 points would be enough to secure a top-four finish.
Manchester United summer signings - assessed
Manchester United summer signings - assessed
1/6 Ander Herrera (£29million)

A long-term target for the club, Herrera finally arrived from Bilbao for nearly £30m, United's first move of the window. The Spaniard has had a couple of injury problems of his own but, inexplicably if you ask fans, has not found favour under Van Gaal. The midfielder, classy on the ball and strong in the tackle, looks a good player whenever he plays, but has only started six Premier League matches. Hit or Miss? MISS

GETTY IMAGES

2/6 Luke Shaw (£30m)

Struggled with fitness (and perhaps weight) issues at the start of the season, feeling Van Gaal's wrath. Had to wait until the end of September to make his first start for his new team. Clearly talented the England teenager has grown in confidence and gained the confidence of his manager; Shaw is now a starter on the left when fit. HIT

Getty Images

3/6 Marcos Rojo (£16m)

Another who has struggled with injury problems, Rojo has only started 10 matches this season. Has been inconsistent and erratic in his performances and has a long way to go to reach the level of the men he replaced, Nemanja Vidic and Rio Ferdinand. MISS

GETTY IMAGES

4/6 Angel Di Maria (£59.7m)

The British record signing started his United career fantastically, looking like a player worth all the money that was paid for him. But sadly for the club he has picked up a series of injuries that have limited him to just 131 minutes of action since the end of November. United know they overpaid for him, but he will come good when fit. MISS

GETTY IMAGES

5/6 Daley Blind (£14m)

When Blind started his first couple of games, fans and pundits wondered if the club had found a new midfield linchpin. But Blind was then injured and Michael Carrick returned in great form, leaving a those same fans and pundits wondering what the fuss over the Dutchman was about. His versatility will come in handy in the future, however. MISS

Getty

6/6 Radamel Falcao (£6m loan)

The biggest disappointment of them all, Falcao arrived on an expensive loan deal that United are now hesitant of extending. The Colombian star has played well in spots, but he was bought for his goals and has produced just three of them in his 13 matches. Still far from full fitness or his very best, a permanent deal will not happen unless Monaco lower their £43m asking price, or the striker begins to find the kind of form that made him one of the world's best. MISS

Getty Images
"I don't think of how many points (it will take), but he is more experienced in the Premier League so I want to believe him," the United manager said.
"But it is going to the last week, I know that."
If Wenger's estimate is right, United will have to win seven and draw one of their last 11 matches.
That will be no easy task given that they have to face five of the other six teams in the top seven before the end of the season.
The Red Devils host Spurs, Manchester City and Arsenal and they also have to travel to Chelsea and Liverpool.
United may have only lost twice in 21 matches but some fans have been unhappy with the slow pace of their play. And during the 2-0 win over Sunderland on Saturday, United fans booed when Jonny Evans played the ball back to goalkeeper David de Gea.
Van Gaal understands the supporters' frustrations but insists passing back to the goalkeeper is sometimes not the worst option for a defender.
"You have to give credit of your doubt to your player and you have to support him," Van Gaal said.
"When you make a mistake in defence it is more or less always a goal against. You have to see that also, the fans have to see that.
"But I agree with the fans that we don't have to use so much the goalkeeper, because I have seen also moments where we can play a higher tempo without interfering with the goalkeeper, but the goalkeeper is also the 11th player."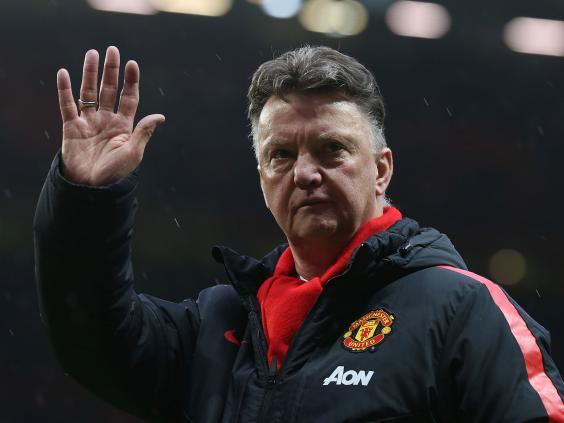 United have received a boost after it emerged their midfielder Ander Herrera will not have to go to Spain to testify in a match-fixing trial until the end of the season.
Herrera is one of 41 people who could be called to appear as witnesses in a case relating to Primera Division matches involving his former club Real Zaragoza towards the end of the 2010-11 season.
The case was due to begin on Thursday, but Press Association reports it has now been put back until June.
Herrera strongly denies any wrongdoing and has vowed to co-operate with the authorities in Spain on the matter.
PA
Reuse content