If anyone at Arsenal had any doubt how broken the club now is they were slapped with a reminder at 10.30pm last night. It was just a few yards' walk from the away dressing room door at Selhurst Park to Arsenal's waiting Ellison's coach. But it was long enough for the Arsenal fans, too angry to leave, to unload their fury on the players and on Arsene Wenger himself.
This was the night when the full extent of the decay and damage to the club's vital wiring was revealed.  The fans, clearly, have given up on the manager and on the players. "You're not fit to wear the shirt" is the deepest criticism a crowd can make and they aimed it at plenty of the players last night. Only Alex Oxlade-Chamberlain dared to go all the way over to the livid away end at full-time.
Just as worrying is the fact that the players have also given up on the manager. Ian Wright tweeted after the game that the dressing room was "lost" and that is certainly how it looked. Not for the first time there was little resistance to the prospect of an embarrassing loss. Because the players know that when that happens Wenger will get the blame before they do.
Arsenal's dirty dozen
Arsenal's dirty dozen
1/12 January 31 - LOST 2-1 v Watford (H)

With some big games on the horizon, Arsenal were shocked as goals from Younes Kaboul and Troy Deeney set the Hornets on their way with Alex Iwobi's reply not enough for the hosts.

Getty

2/12 February 4 - LOST 3-1 v Chelsea (A)

With Antonio Conte's Blues on fire this was always going to be difficult for Wenger and his side and they were blown away as Marcos Alonso, Eden Hazard and former Arsenal favourite Cesc Fabregas scored - Olivier Giroud hit an injury-time consolation.

Getty

3/12 February 11 - WON 2-0 v Hull (H)

An unconvincing win over the relegation-threatened Tigers proved to be just a short period of respite, the three points were sewn up courtesy of an Alexis Sanchez brace.

Getty

4/12 February 15 - LOST 5-1 v Bayern Munich (A)

Hopes of ending a six-year run of being eliminated from the Champions League at the round-of-16 stage were all-but ended in Bavaria as Arjen Robben, Robert Lewandowski, Thiago (2) and Thomas Muller all scored. Sanchez grabbed Arsenal's away goal.

Getty

5/12 February 20 - WON 2-0 v Sutton (A)

Another unspectacular win against non-league Sutton in the FA Cup, goals from Lucas Perez and Theo Walcott were enough for the Gunners to keep their hopes of winning silverware this season alive.

Getty

6/12 March 4 - LOST 3-1 v Liverpool (A)

A return to league action and a return to defeat as Jurgen Klopp's side proved too good for Arsenal at Anfield. Danny Welbeck scored the consolation for the visitors but Roberto Firmino, Sadio Mane and Georginio Wijnaldum wrapped up the win for the Reds.

Getty

7/12 March 7 - LOST 5-1 v Bayern Munich (H)

Despite performing better against their German counterparts in the return leg, Walcott's goal was cancelled out by Lewandowski, Robben, Douglas Costa and an Arturo Vidal brace - Arsenal suffered a humiliating 10-2 aggregate loss, the biggest for an English side in the Champions League.

Getty

8/12 March 11 - WON 5-0 v Lincoln (H)

Another non-league challenger dispatched in the FA Cup to send Arsenal into the last four; Walcott, Giroud, Sanchez and Aaron Ramsey helped themselves to goals alongside a Luke Waterfall own goal.

Getty

9/12 March 18 - LOST 3-1 v West Brom (A)

With pro-Wenger and anti-Wenger planes flown over the Hawthorns, the latter would have left feeling more vindicated as Craig Dawson scored twice and Hal Robson-Kanu added a third off the bench. Sanchez had earlier equalised for the visitors.

Getty Images

10/12 April 2 - DREW 2-2 v Man City (H)

Wenger's side showed resolve to fight back twice and take a point against their top-four rivals, with Walcott and Shkodran Mustafi equalising strikes from Leroy Sane and Sergio Aguero.

11/12 April 5 - WON 3-0 v West Ham (H)

With some fans staying away from the opening of this London derby to protest against Wenger, Arsenal eventually showed they had the class to beat a West Ham side bereft of confidence themselves - Mesut Ozil, Walcott and Giroud got the goals.

Getty

12/12 April 10 - LOST 3-0 v Crystal Palace (A)

Any positivity was short-lived as Sam Allardyce's Eagles soared to a comfortable victory in south London. Former Tottenham man Andros Townsend opened the scoring before Yohan Cabaye struck and a Luka Milivojevic penalty rounded off yet another forgettable night for Arsenal.

Getty
At any other club, losing the players and the fans would be the end of the manager. But Arsenal are different. They value stability so much that they insulate themselves from the ups and downs of form and fans. Which is fine as long as the time is functioning, but not when it is in freefall.
Wenger's light accountability to Stan Kroenke, not exactly a regular at the Emirates, has allowed the manager to shape the club precisely as he wants it. Kroenke is happy enough as long as the money keeps rolling in, which is why a new two-year deal has been on the table for Wenger for months.
But the club does not want to appear passive in the fact of a crisis. There is emphasis on a summer of change in the coaching, scouting and academy areas, as they look for a serious new name to replaced unpopular departed academy head Andries Jonker. Arsenal have made plenty of changes in the last few years, not least to their facilities and their data analytics department. Wenger believed that Leicester City's title triumph in 2016 showed the value of marginal gains in football and hoped Arsenal could replicate that, which is why this season has been such a disappointment.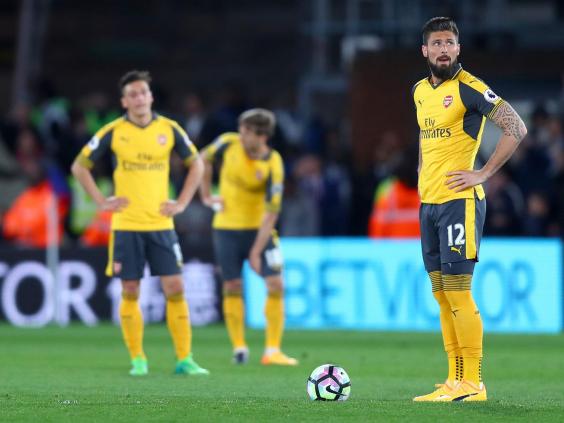 And yet no support staff, coaches or even new players matter half as much as the manager. There is only one real lever that Arsenal have to pull here, and it concerns Wenger. The club say that they will take a "mutual" decision with Wenger on his future, which they expect to be at the end of the season. They do not want it to look like Wenger has a job for life no matter how bad things get, even if some Arsenal fans feel that is the case.
Arsene Wenger's worst Arsenal defeats
Arsene Wenger's worst Arsenal defeats
1/8 AC Milan 4 Arsenal 0, Champions League last 16 first leg, 2012

Another last-16 elimination, and another example of the tie being over before the second leg. A Robinho brace and goals from Kevin Prince-Boating and Zlatan Ibrahimovic meant Milan took a hefty lead back to the Emirates. The Gunners won that 3-0 but it was too little, too late.

Getty Images

2/8 Manchester City 6 Arsenal 3, Premier League, 2013

Arsenal were top of the league at the time but were blown away by City to close the gap to three points. Slack defending cost them and even when Per Mertesacker headed in a late consolation goal to make it 5-3, Yaya Toure still had time to score a sixth.

Getty Images

3/8 Bayern Munich 5 Arsenal 1, Champions League Group Stage, 2015

Yes, remarkably, Tuesday night was is not even the second time Arsenal have lost 5-1 to Bayern. In last season's Group Stage, Robert Lewandowski, David Alaba, Arjen Robben and two Thomas Muller goals saw to an embarrassing night for Wenger.

Bongarts/Getty Images

4/8 Liverpool 5 Arsenal 1, Premier League, 2014

Liverpool were rampant three years ago and stormed into a four goal lead inside the opening 20 minutes at Anfield, including two goals from centre-back Martin Skrtel. Raheem Sterling made it five with Mikel Arteta's penalty a mere consolation.

Getty Images

5/8 Tottenham 5 Arsenal 1, League Cup semi-final second leg, 2008

A humiliating scoreline – made all the worse by it being against the Gunners' most bitter rivals. The defeat cost them a place in the League Cup final as Nicklas Bendtner and Emmanuel Adebayor nearly violently clashed on the pitch.

Getty Images

6/8 Manchester United 6 Arsenal 1, Premier League, 2001

Dwight Yorke bagged a first-half hat-trick at Old Trafford as United raced into a 5-1 lead by the break. Teddy Sheringham added a late sixth as the Red Devils went 16 points clear at the top of the Premier League.

Getty Images

7/8 Chelsea 6 Arsenal 0, Premier League, 2014

Not the best way for Wenger to celebrate his 1000th game in charge of Arsenal. Chelsea were 3-0 up inside 17 minutes in a game which also saw Kieran Gibbs sent off in a case of mistaken identity with Alex Oxlade-Chamberlain.

Getty Images

8/8 Manchester United 8 Arsenal 2, Premier League, 2011

Wayne Rooney grabbed a hat-trick to help inflict Wenger's biggest defeat as Arsenal boss. It was made all the worst as it was by a Manchester United team with a midfield of Tom Cleverley, Anderson, Nani and Ashley Young.

Getty Images
There are still eight more Premier League games for Arsenal to play this season, as well as the end of the FA Cup campaign. If Arsenal somehow turn it around, finish fourth or even win the FA Cup then there is no doubt that Wenger would stay, the club having found a perfect moment to soften what would still be taken as bad news by most fans.
But what if things go the other way? Arsenal still have to play Tottenham and Manchester United and when they host Everton on final day it could well be a play-off to decide who finishes sixth and who finishes seventh. Throw in a defeat to Manchester City in the cup semi-final and there would simply be no manageable moment for Arsenal to announce the deal.
Under those circumstances, Arsenal would like to be able to say 'no' as well as 'yes' when the season ends. They would like flexibility, or at least the appearance of it. They do not want to look as if their minds are already made up and are impervious to the reality that is getting worse every week.
Ultimately for all of the talk of transformation and transition Arsenal only have two options when the season ends, and only one of those is tenable. But do they have the nerve?
Reuse content