The former Tottenham Hotspur manager Tim Sherwood is on the brink of being appointed as the new West Bromwich Albion head coach following the sacking of Alan Irvine. Sherwood, 45, is in talks with the club and is the first choice of chairman Jeremy Peace. He was offered the job in the summer before Irvine was appointed but could not reach agreement on personal terms.
Although Sherwood's managerial record extends only to 28 games in charge of Tottenham last season, winning 14 and drawing five, he previously earned glowing references as head of football development and has been linked with many top-flight vacancies since he was sacked by Spurs in May.
However, the job he faces at West Bromwich is a difficult one, in trying to turn around a poor run of seven defeats in nine games which has left the team just one point above the bottom three in the Premier League table and cost Irvine his job on Monday night.
He will also have to win over supporters whose level of hostility towards Irvine eventually forced the hand of a chairman who had hoped to delay his decision on the 56-year-old in the hope of a revival by the team.
There was huge opposition from fans from the moment Irvine was appointed in June as he was sacked at both his previous clubs, Preston and Sheffield Wednesday. Now Albion are looking for their fourth manager in just over 12 months – following Steve Clarke, Pepe Mel and now Irvine – to try to avoid relegation to the Championship for the first time in five seasons.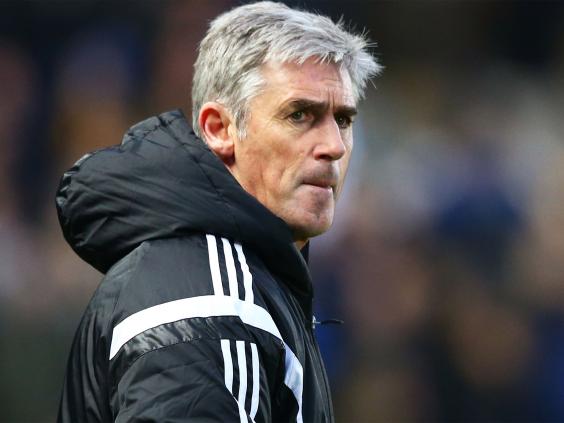 Staying up was still possible, according to caretaker manager Rob Kelly. "I work with the players every day. I see the qualities they've got. We can survive, absolutely," he said.
The next match is on New Year's Day at West Ham, with Irvine's assistants Kelly, Keith Downing and Dean Kiely expected to take charge. Although Downing and Kelly were booed along with Irvine after Sunday's 2-0 defeat at Stoke, Kelly remained upbeat about what the new manager can expect to find.
"It's a great job, a good job," he said. "If you're the manager or head coach of any Premier League club it's challenging. But they're good players."
He also believed that the manager's departure will not affect the team at West Ham. "They had a lot of respect for Alan," Kelly added. "He's a terrific person, a terrific man, and an excellent coach... but they're professional people so we get on with our jobs. We will do that at West Ham."
As for the season so far, he said: "It's been frustrating because in all of the games we've been competitive. Apart from Swansea, when we conceded a couple of early goals, we've been in all the games. The performances have been of a standard where the results could have been better.
"Anyone who saw our first half at Stoke, our second half at Manchester City, large spells at QPR...our performances have generally been good. We've got to look at the positives and keep to that level."
Meanwhile, the club insisted that reports suggesting their highly rated striker Saido Berahino is set to join Liverpool in a £23m move were "entire fabrication", while Tottenham are also understood to be looking elsewhere in January.
Title-winner: Tim Sherwood's career
Born 6 February, 1969,  Borehamwood
Playing career
1987-89 Watford
1989-92 Norwich City
1992-99 Blackburn Rovers
1999-2003 Tottenham
2003-04 Portsmouth
2004-05 Coventry
Three caps for England
Trophies
Premiership 1994/95
First Division 2002/03
Managerial career
2013-14 Tottenham (Win percentage: 50)
Sherwood captained Kenny Dalglish's Blackburn side to the Premiership title in his third season at Ewood Park. He was was cup-tied for Tottenham's 1999 League Cup win before playing in the 2002 final loss to his old side Blackburn. Also won three England caps under Kevin Keegan in spring of 1999.