Just when Papiss Cisse thought all his pre-season worries were over after the 'Wonga' dispute, Nike managed to get his personalised new boots wrong by misspelling his name as "Sisse".
The striker was in the headlines when he refused to wear Newcastle's new shirts for this season, due to the money-lending company Wonga appearing as the main kit sponsor. Cisse felt this was against his religious beliefs, as Cisse is a practicing Muslim.
The Senegalese international was allowed to leave the club's pre-season training camp in Portugal, but he was later pictured in a casino appearing to be gambling. His agent refuted the allegations, insisting that his client was not a gambler.
However, the dispute was settled this week, with the Magpies star admitting he consulted his Islamic teachers over the matter before agreeing to wear the kit, quashing rumours that he was pressing for a move away from the club.
His team-mates have not turned down the chance to share the joke of the latest incident though, with Sammy Ameobi releasing the picture on his official Twitter account.
The picture came with the caption: "Well that's awkward... #sisse".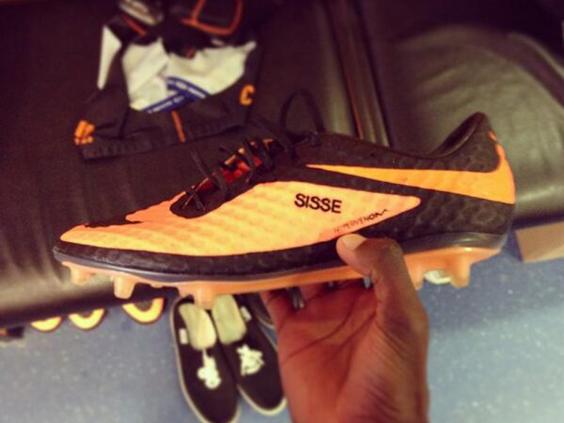 It is not the first time Cisse had had his name mispronounced in public though, after Joe Kinnear's famous radio interview last month in which he called him "Sissy" while speaking to TalkSPORT.
Cisse is in good company though, as earlier this week Everton managed to release an official club replica shirt for their loaned Barcelona forward Gerard Deulofeu, although they managed to spell his name "Deufoleu".
He is not the first though, with Manchester United misspelling the names of David Beckham, Ole Gunnar Solskjaer, Tomasz Kuszczak and Anderson throughout the years.