Alan Pardew knew it would not be easy from day one. "I've had a lot of texts from managers saying, 'You must be mad going in there'," he revealed after taking over as Newcastle United manager on 9 December 2010.
Two days earlier, owner Mike Ashley had fired Chris Hughton, though the spectre of Pardew had been hanging over him for two months.
Pardew's return to management after a four-month break following his dismissal at Southampton, saw him become the sixth different manager to run Newcastle during Ashley's tenure as club owner, which was just three-and-a-half tempestuous years old. Sam Allardyce, Kevin Keegan, Joe Kinnear, Alan Shearer and Hughton had all worked for Ashley and left in various states of annoyance.
Pardew knew it would be a tough job, particularly following Hughton. "It's difficult because it's fairly obvious the players and fans had tremendous respect for Chris and the fact he's gone has caused something of a stir," he said at his unveiling.
An initial poll of Newcastle supporters showed that only 5.5 per cent backed the appointment. The Newcastle dressing room, which in the eyes of some at the club, was becoming too powerful, was another problem to be faced.
There was a link between Pardew and the then managing director, Derek Llambias and the PR operator Keith Bishop, that suggested he would be offered a tad longer than the previous quintet, but few foresaw his reign would outlast all five put together.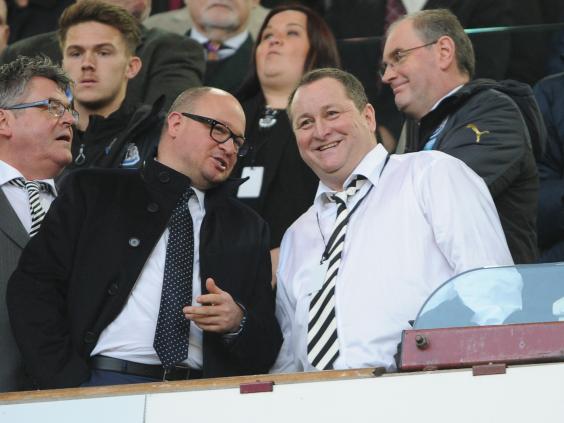 Pardew had, however, shown courage on his first day as manager. Neither Lambias nor Ashley faced the media. Instead, the new manager sat on his own in the media suite at St James' Park as the lights flashed and the questions whirred. It was a hostile and lonely introduction to life on Tyneside, emotions he has encountered since, at particularly white-knuckle periods of his four-year tenure.
After that, he had to meet the Newcastle captain, Kevin Nolan, and try to get a dressing room on board. He managed that. There was a first game against Liverpool at St James' Park, for which he walked alone down the tunnel for a Saturday tea-time kick-off and faced the blinding lights of cameras against a brooding Tyneside skyline. Newcastle won 3-1 that day. Nolan, Andy Carroll and Joey Barton, three key allies of Hughton, scored.
He built a new team based around Demba Ba and Yohan Cabaye that fought for its life, flirted with the Champions League, and eventually finished fifth. It won him the Premier League manager of the year and LMA manager of the year. Newcastle, incredibly, did not strengthen their squad that summer. Pardew, who signed an eight-year contract, carried the can, and amidst a Europa League that was seen as a distraction in certain areas of the club, flirted with relegation as Newcastle reached its quarter-final stage.
Relegation remains Kryptonite to Ashley and his sports shops, and Pardew's position looked precarious before safety was assured at Queen's Park Rangers.
The trauma of last season is fresher in the memory: Joe Kinnear's return, another climb to fifth, the sale of Cabaye, the headbutt, a third successive defeat to Sunderland, the slide into mediocrity and a final game of the season when he could not even stand in the St James' Park technical area because of fan abuse.
Through each, Ashley did not budge. A careless television interview last November, when Pardew was critical of the owner, came as close as anything to costing him his job. Another dreadful run at the start of the season brought repeated calls for his head. Ashley, who would have to pay £5m in compensation to sack Pardew, stood firm.
Together they will share a most unlikely fourth anniversary next week. "It's credit to the owner, and also credit to me because I've had to dig in a few times," Pardew said yesterday. "I think we both knew that when we signed that long contract, there were going to be difficult days as well as good days for us both. Me and Mike don't really have too much communication, but when we do, it's really constructive."
Newcastle are three places higher than they were when he arrived. In one way at least, it remains a fairly static club.