Antonio Conte may have surpassed Jose Mourinho as a manager, but the old master showed that he still had his genius instinct for a soundbite on Monday evening when he responded to Chelsea fans. "Judas is still number one," he said, showing a gift with words many journalists would kill for.
And yet for a man so astute at playing the media, Mourinho has a habit of appearing remarkably tone deaf.
Twice this week Mourinho has leaped to the defence of Paul Pogba, as any good manager would for one of his players who was taking criticism. But the shield he has built for Pogba has been one made of money.
On Monday night he said that Pogba should ignore his critics because "they will never ever earn 10 per cent of what he does". He returned to the topic on Wednesday morning, saying that criticism came from those who were beneath him, because of the "need [for] every coin to survive".
Firstly, the fact that multi-millionaire Champions League winner Frank Lampard was one of Pogba's most outspoken critics this week somewhat weakens that line of thinking. 
Secondly, what does that say about whose voice Mourinho thinks is valuable and whose is not? What does it say about what he thinks Pogba values, and what he feels is the best way to get through him? What sort of a message does it send to Manchester United fans, many of whom would see one per cent, not 10 per cent, of Pogba's salary as a distant dream. It is the type of bubbled thinking too often found at the top end of the game.
Chelsea vs Manchester United player ratings
Chelsea vs Manchester United player ratings
1/22 Thibaut Courtois – 7 out of 10

Didn't see much action but when called upon to stop from Rashford he was equal to it.

Getty Images

2/22 Cesar Azpilicueta – 6 out of 10

A fairly quiet evening, especially after the sending off, but did his job perfectly as always.

AFP/Getty Images

3/22 David Luiz – 6 out of 10

Had his hands full with Rashford until the red card but an easier task after that, although did sell himself to the teenager to easily in the second half.

REUTERS

4/22 Gary Cahill – 6 out of 10

Rashford gave him a few problems but nothing he was unable to deal with as Chelsea's defence remained in control.

AFP/Getty Images

5/22 Victor Moses – 6 out of 10

Had a good battle with Young and a few efforts on goal that missed the target.

AFP/Getty Images

6/22 N'Golo Kante – 8 out of 10

Was put under a lot of pressure from the start by United but coped well to keep his metronomic style of play ticking over. Scored a cracking goal from outside the area to give Chelsea the lead.

AFP/Getty Images

7/22 Nemanja Matic – 6 out of 10

Sat back and helped break up any attacks and also on help cover any counter attacks that United looked to launch.

AFP/Getty Images

8/22 Marcos Alonso – 5 out of 10

A quiet game, with most of the action coming down the right-hand side, but backed up Hazard well.

Getty Images

9/22 Willian – 7 out of 10

Made a habit of dragging defenders out of position as he drifted inside and drew a number of fouls in the hotly contested match.

Man Utd via Getty Images

10/22 Eden Hazard – 7 out of 10

Was rarely allowed to get up to speed as United chopped him down at every opportunity. Came close on a number of occasions and brought out a lovely turn to get passed Jones.

Getty Images

11/22 Diego Costa – 5 out of 10

Strangely calm in a game which threatened to boil over during the first half and missed a glorious chance to double Chelsea's lead.

AFP/Getty Images

12/22 David De Gea – 7 out of 10

Made two amazing point-blank saves from Cahill and Hazard in the first half to keep United in it when Chelsea threatened to take a first-half lead.

AFP/Getty Images

13/22 Antonio Valencia – 6 out of 10

Started very brightly offensively but the red card changed his role to aid the defence.

Man Utd via Getty Images

14/22 Phil Jones – 5 out of 10

Made a number of stupid fouls on Hazard and should have been booked in the lead up to Herrera's red.

AFP/Getty Images

15/22 Chris Smalling – 6 out of 10

Marshalled the back four well during a tough time when they came under siege in the first half.

AFP/Getty Images

16/22 Marcos Rojo – 6 out of 10

Went close with an early header and had a good contest with Costa – even if it may have overstepped the line on occasions.

AFP/Getty Images

17/22 Matteo Darmian – 6 out of 10

Was dragged out of position on a number of occasions by Willian.

Getty Images

18/22 Ander Herrera – 3 out of 10

Sent off after 36 minutes for two fouls on Hazard. The first was justified, but the second looked slightly harsh, although very stupid.

Getty Images

19/22 Paul Pogba – 5 out of 10

His usual quiet self in the big games. Yet to establish himself against one of the top teams, which he will ultimately be judged upon.

AFP/Getty Images

20/22 Ashley Young – 5 out of 10

Played almost as a wing-back, despite having Darmian behind him. Had a good battle with Moses until he hacked him down in frustration.

Getty Images

21/22 Henrikh Mkhitaryan – 5 out of 10

Sacrificed by Mourinho after Herrera's red card but didn't really get into the game prior to that.

Getty Images

22/22 Marcus Rashford – 7 out of 10

Ran relentlessly and looked sharp despite his illness. Gave Chelsea's defenders a tough time and nearly scoring after a mazy solo run.

AFP/Getty Images
Of course Mourinho is right to defend his player and help him to believe in himself. Pogba has been victim of some unfair criticism and yes, his salary and fee, both at market rates, have been used against him. There is a discussion to have about why so many people are upset at the sight of a young rich black man, as Raheem Sterling found before Pogba.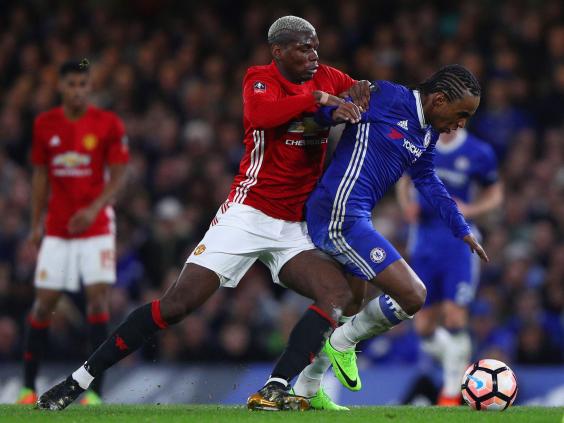 But this is not what Mourinho was getting at this week. He said that money should be an insulation from criticism, and that those that have it do not need to listen to those who do not. Not a message in keeping with the traditional values of his club.