Pep Guardiola has admitted Manchester City "are far away" from challenging the likes of Real Madrid in the Champions League because they cannot yet manage big-game situations.
City crashed out of Europe at the Round of 16 stage at the hands of Monaco, despite taking a 5-3 lead into the second leg – only to lose 3-1 late on after seemingly abandoning defending.
Manchester City fell 2-0 down at half-time in the second leg but only needed an away goal to confirm safe passage to the last eight – which Leroy Sane provided.
Manchester City players who could leave this summer
Manchester City players who could leave this summer
1/16 Sergio Aguero

The scorer of arguably the most important goal in the club's history, its third highest-scoring player of all-time and arguably still Guardiola's best striker, and yet he could leave this summer. That Aguero's long-term future is in doubt is a sign of how far Guardiola is prepared to go to rebuild his ageing squad.

2/16 Yaya Toure

Toure's departure would be less controversial than Aguero's, what with his contract up at the end of the season, but it would still mark the end of an era at the Etihad. The Ivorian may have made his way out of exile earlier this season, but several poor performances against fellow top six sides have suggested that he lacks what Guardiola is looking for from a central midfielder.

3/16 Vincent Kompany

The third member of City's established 'spine' who looks to be on the way out. The truth is, with an injury record like the Belgian's, any player would struggle to justify being kept on the books. Kompany does, however, have several things in his favour. His popularity at the club, not to mention among the supporters, cannot be easily dismissed and his contract will only expire in 2019.

4/16 Joe Hart

Hart's goose was cooked last summer and chances of return to City's first team are remote, especially after an indifferent loan spell in Torino. There will, no doubt, be plenty of interest in his services from other Premier League clubs, but offers may only come from further down the table.

5/16 Pablo Zabaleta

A terrific servant since arriving in 2008, Zabaleta's exit has been confirmed. He played his last game at the Etihad in a 3-1 victory over West Bromwich Albion.

6/16 Gael Clichy

The second of three experienced full backs for whom time is running out. Again, a new deal has not been mooted and a departure is likely, bringing Clichy's six-year stay to an end. Clichy does, however, have the advantage of having played more than both Zabaleta and Sagna this season, making 30 appearances for Guardiola's side in total.

7/16 Bacary Sagna

Completing the full-back set is Sagna, who at 34-years-old is the eldest of the trio. In November, the Frenchman revealed that City were yet to open negotiations over a new deal and reports suggest little has changed since.

8/16 Kelechi Iheanacho

Having started the season with hopes of pushing Aguero for a regular starting place, Iheanacho has arguably suffered most from Gabriel Jesus' arrival. If Aguero stays, it leaves the Nigerian youngster well down the pecking order and potentially looking for first-team opportunities elsewhere.

9/16 Willy Caballero

Caballero's chances of a contract extension have been boosted since he was promoted to starting status following Claudio Bravo's struggles. Even so, the former Malaga stopper will need to put in composed performances from now until the end of the campaign to fully win Guardiola over and earn an extended stay.

10/16 Jesus Navas

A frustrating player at the best of times, this summer may finally see time called on Navas' underwhelming Etihad career. The winger's contract expires this summer and City have shown little intention of renewing terms. A return to Sevilla could be on the cards for the once-notoriously homesick Spaniard.

11/16 Fabian Delph

Another player whose season has been disrupted by injury, Delph faces an uncertain future as the season draws to a close. West Bromwich Albion and Newcastle United have been linked with the England international, who may ultimately find himself crowded out by City's other midfield options.

12/16 Fernando

Only five Premier League starts for the Brazilian this season suggests he does not figure in Guardiola's long-term thinking, at least not as regular. Like Delph, it is difficult to see where he slots in, especially if City enter the market for midfield options this summer.

13/16 Eliaquim Mangala

Only five Premier League starts for the Brazilian this season suggests he does not figure in Guardiola's long-term thinking, at least not as regular. Like Delph, it is difficult to see where he slots in, especially if City enter the market for midfield options this summer.

14/16 Samir Nasri

Impressive displays on loan at Sevilla, despite being pock-marked by the 'Drip Doctors' scandal and a sending off against Leicester, could earn Nasri a respectable move come June. The Frenchman has sold his home in Cheshire as he prepares to permanently sever his City ties.

15/16 Wilfried Bony

Bony was sent out on loan to Stoke City last summer but his struggle for minutes in Staffordshire led to him openly questioning Mark Hughes' methods. The Ivorian will have to begin the search for another new club upon his return to City in the summer.

16/16 Jason Denayer

Still yet to make a senior appearance for City, Denayer has spent the season on loan at Premier League strugglers Sunderland, and done so without distinction. Another loan, or perhaps a permanent transfer, look likely as the defender remains tied to his parent club until 2020.
However, a 77th-minute Tiemoue Bakayoko goal dumped them out on away goals, leaving a furious Guardiola lamenting his side's inability to close out games.
Monaco have since take a 3-2 first-leg away lead from Borussia Dortmund in the quarter-finals and when asked where City were in comparison to the teams challenging in the Champions League, Guardiola did not mince his words.
"We are far away," he said. "Not in terms of the quality, in terms of how they play situations.
"We had that in the Monaco game and we cannot forget how good they are after what they did in Dortmund. We were able to score six goals in two games and we are out.
"It's about how you live and handle the situation. For that you need experience. Hopefully we got that experience there and it'll help us next season."
Manchester City are currently fourth in the Premier League but are on course to finish in the top four, despite the challenges from Manchester United and Arsenal.
And Guardiola stressed just because they exited this year's edition at an early stage, doesn't mean they don't deserve to be there next season.
"We need to qualify for next season," he added.
"Not all the magnificent teams are in the quarter-finals. A lot of them are not there. They even went out in the first stage. A lot of amazing teams will be out in the quarter-finals and huge teams. For example, two years ago Juventus went to the final in Berlin. This season, they're amazing. Last season, they went out in the quarter-finals in the last minute against Bayern Munich.
"The Champions League is so demanding. The people don't believe you're out but a lot of situations happen."
City's resurgence into the Champions League place has coincided with Sergio Aguero's return to form after being dropped in favour of Gabriel Jesus and Guardiola put the Argentine's recent goals – five in his last five Premier League games – down to his better understanding of the tactics.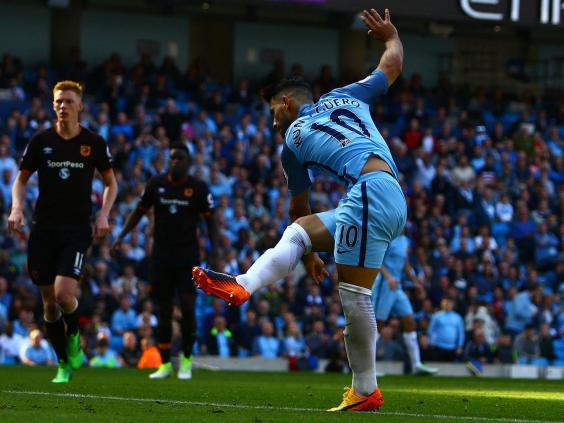 "I said many times that he's involved in the game. My feeling before that he was just waiting to score a goal. Now he's involved in the game. Not just the defensive part - he's helped us a lot - but he is doing all he can do in our process to create chances. That's why.
"There are no complaints about what he has done after the injury for Gabriel Jesus.
"Maybe now he understands better what we're looking for. He's trying and that is what I want. When he misses chances, always you can improve, but we've no complaints."
Reuse content