Like most goalscorers, Peter Crouch can recall every single goal in detail, from the 95 he has in the Premier League right back to the first of his professional life more than 14 years ago at Loftus Road which, it would be no exaggeration to say, was the launch of his career as a footballer.
Now 34, and five short of joining the 24-strong club of players to have scored 100 Premier League goals or more, Crouch can joke about that night at Queen's Park Rangers in September 2000 when he finally achieved lift-off. It was his seventh appearance for the club and when Gerry Francis told him to warm up, with QPR 2-0 down to Gillingham, it would be fair to say there was not universal enthusiasm in the stands about his impending introduction.
In fact, his confidence was so low at the time that he was starting to worry whether he would ever make it as a professional footballer in the Championship and elsewhere the jury was out on this unusual 6ft 7in teenager with the delicate frame and unassuming air.
"As I was warming up I could hear a fan saying, 'What are you bringing him on for?' Or something along those lines!" Crouch recalls. "I came on and one of my first touches, I chested it down and volleyed it into the corner. When I chested it I actually slipped, and I remember hearing the groan from the fans in that split second, and then I just lashed it in. I felt my confidence grow. I was on the road then."
He made the equaliser for Chris Kiwomya and ended the season with 12 goals, the club's Player of the Year trophy and a move to ambitious Portsmouth, the second of eight transfers in a career  during which he has been traded for fees totalling more than £43m. There are very few 34-year-olds still leading the line for Premier League clubs and very few like Stoke City's No 25 who, when we meet at the club's training ground, retains such a great enthusiasm for the game.
Throughout his career Crouch has experienced some jolting lows and soaring highs. For all the goals for England and in the Champions League there has been the sudden end to his international career and his departures from Liverpool and then Tottenham. Yet the consistent factor is that he has always scored goals and he has found stability at Stoke, where he has stayed longer than at any other club.
His most recent goal, against Hull City last month, equalled Alan Shearer's Premier League record of 46 headed goals and pretty soon, perhaps even against Crystal Palace on Saturday, you imagine that Crouch will rise above yet another defender and make that record his own. He spent much of his early career being told his heading was not good enough for someone of his height, so has the recent record given him a degree of satisfaction?
"I didn't think too much about people who didn't believe in me. It hasn't really affected me. When I equalled Alan Shearer's record for the headed goals it did creep into my mind  …  you know, I always remember people hammering me about my heading. I was thinking, 'I have just scored the most goals ever in the Premier League with my head. And there were people saying I couldn't head the ball!' I was just thinking to myself, 'How bad do they look now?'"
But there is no animosity, because Crouch would be the first to admit that he had to work on it. "I was always quite technical as a player but when you are the size I am if you are crap in the air it is going to look bad." When I ask him for the strongest influences, he brings up the Spurs youth coach Des Bulpin and also Les Ferdinand, who was a striker at the club when Crouch was there as a teenage trainee.
"Les was a player I really looked up to. He was such a top man. A fantastic player but someone you could speak to as well. I was a young player and no one had heard of me. I remember him sticking up for me a few times and then also there was the heading. When I came back to Tottenham [in 2009] he was a coach with the academy lads but he would take me for the odd heading session. I was already on my way. I had been signed for £9m!"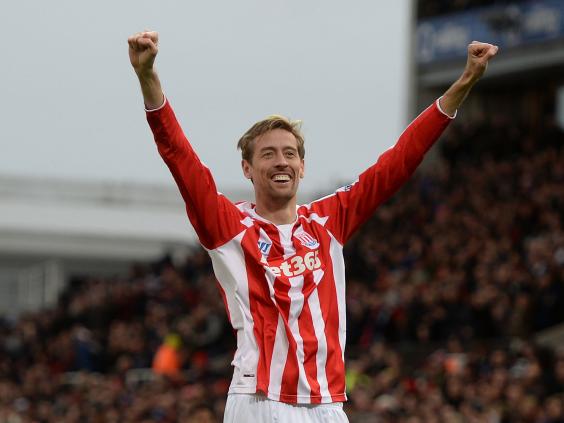 Ferdinand is on 149 Premier League goals, eighth on the all-time list and, realistically, a bit far off for Crouch to catch even with two more seasons on his Stoke deal, but there should be time to take him into the 100-club.
"I'll be honest, you hear people saying 'I'm not worried about personal achievements' and all that and, of course, it is all about the team. But the 100 Premier League goals is definitely one I have had my eye on, especially because of the names that are in it. Shearer, Robbie Fowler, Andy Cole. They are all household names. Sky Sports even do a programme on it.
"I just think that'd be a proud moment. I'm proud I have been around this long playing in the top league. There was a time, certainly early on in my career, when I thought I would never get there and now I am close to getting 100 Premier League goals."
As for the headed goals record, he expects that to stand for a long time. "The way the game is played these days heading seems to have gone out of fashion. I remember some of the greatest teams, certainly the Manchester United teams, and you look at the great wingers … how many crosses they used to put in and how many headers they scored."
It has been a feature of Crouch's game that he has always played as if he enjoys it and even now he deliberately pauses over the sentence as he describes the elation of scoring a goal "The best. Feeling. In the world." He does not do sulky goal celebrations and as a kid it was Paul Gascoigne he loved more than any prototype big centre-forwards. Yet, as he looks back on his career, he is old enough now to admit to a few regrets.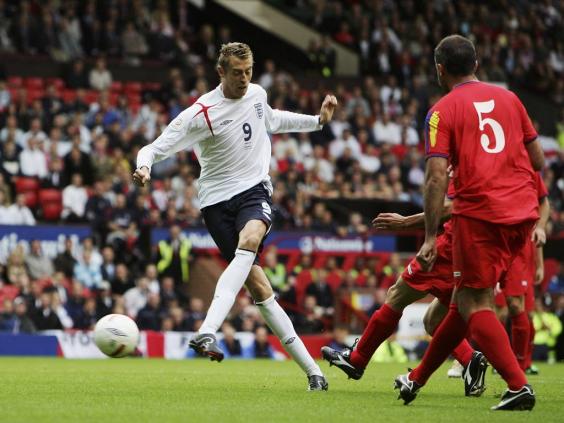 It is no secret that his relationship with Rafa Benitez soured to the extent that he felt no option but to leave Liverpool in the summer of 2008, three years after Benitez had signed him and then kept faith through an  18-game goalless run. In January 2013, when Benitez was being barracked by some Chelsea fans as the teams came off at half-time during a game at Stoke, Crouch, a sub that day, put an arm around his former manager.
"I do like him," Crouch says. "He was brilliant for Liverpool. He had some strange ways, like when I came back from England having scored he wouldn't play me for three games. Rather than just letting a forward go out full of confidence and score goals he was trying to bring me down a peg or two. I just didn't need that. I am not the sort of character to get carried away. His rotation was a bit mental but I still think he lived and breathed football. He is a very good manager and a good man.
"I felt like I had to leave because I was told that Benitez was maybe looking to get rid of me but if I had dug my heels in a little bit… [Fernando] Torres was playing up front and [Steven] Gerrard was just behind and they were on fire. No one was going to displace them.
"I was always going to play second fiddle and I understood that happens at a big club. Then Torres got injured, [David] Ngog and [Andrei] Voronin were playing and I was thinking if I had stayed… you're playing for such a big club and that doesn't come round often. Even now when you look back it is very hard to replicate what you have at that kind of club. Maybe I should have hung around a bit more and maybe I would have got my chance."
At 34, some of the names he played with feel like they belong a long way in the past – Steve Morrow at QPR, Robert Prosinecki at Portsmouth – and Crouch himself recalls a young Harry Kane joining first-team training with Spurs. As with his own career, he sees how Kane was improved by the hard work Ferdinand and Tim Sherwood put into him. "They worked him every day. They saw something in him." Nothing without hard work and belief, as Crouch himself knows well.
My other life: Watching unsigned bands and crowd-surfing!
He scored the winner for Stoke City against Arsenal on 6 December and, hours later, Peter Crouch was caught on mobile phone video crowd-surfing at a Kasabian concert at Brixton Academy, in south London.
"I like the music and I know the Kasabian boys, Tom and Serge," he says. "I was standing at the side of the stage, quite reserved all evening. And then Abbey's [Crouch's wife] brother John [Clancy] said he was going to get in for the last one.
"So we made our way into the middle, we were getting pushed around and enjoying it. Then someone lifted me up and I thought, 'It's either try to get back down or stay up there and enjoy it.' I went for the second option. I got pushed to the front – like where the screaming teenagers have to be pulled out at a Britney Spears concert. I saw phones out and thought, 'Oh no, I am going to be seeing this again.' I had just scored against Arsenal and we had beaten them so it was a good time to do it.
"John, Abbey's brother, is in a band, Judas. I like going around watching them. I have really got into watching the unsigned bands. They play mad venues like the Sugarmill in Stoke and all sorts of underground, grimy places.
"I saw Catfish and the Bottlemen early on and The 1975 – John supported them when they were no one. Catfish are flying now. I still have a picture of them at a day festival performing to my little girl and no one else! It is good to see the journey and, hopefully, Judas will be there one day."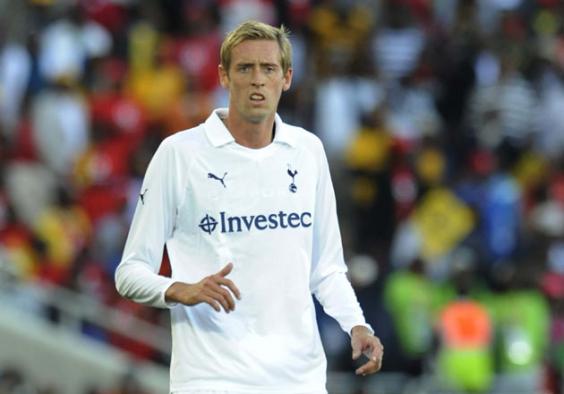 My top five favourite goals...
1 For Stoke against Manchester City
(24 March 2012)
I thought I had goal of the season but Papiss Cissé won the official Premier League award for that goal against Chelsea. I was gutted!
2 For Liverpool against Galatasaray
(27 September 2006)
This was the best of the scissors-kick goals I have scored.
3 For Liverpool against Arsenal (third of three)
(31 March 2007)
The sequence of goals went right foot, header and then left foot, which I liked the best.
4 For Portsmouth against Stoke
(5 October 2008)
There was a scissors-kick for Liverpool against Bolton but the one I like better was this one for Portsmouth. It was in the lost, Setanta years so you don't see it much!
=5 For Tottenham against Manchester City
(5 May 2010)
Just for the sheer enjoyment of qualifying for the Champions League and what it meant to everyone.
=5 For Tottenham against Milan
(15 Feb 2011, below)
… having said that, maybe the Milan one at San Siro. Let's put those two on a par.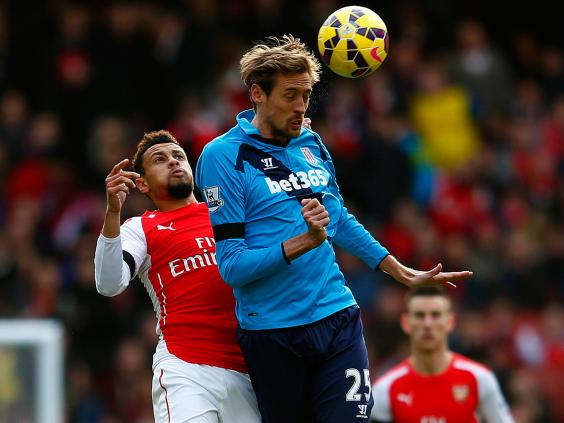 Premier League headed goals...
46 Peter Crouch, Alan Shearer
45 Dion Dublin
40 Les Ferdinand
38 Dwight Yorke
Reuse content