England's clubs return to Champions League competition this week hoping to improve on last season's chastening experience in which none of the Premier League quartet reached the semi-finals. Indeed, only two emerged from the group stages and it was not difficult to ascertain why.
Defensive problems were the cause. In the 24 matches played by Arsenal, Chelsea, Manchester City and Manchester United, 35 goals were conceded – an average of one-and-a-half each game for each team. While there are always exceptions – notably Manchester United's gung-ho 1999 Champions League winners – as a general rule, teams that ship goals are unsuccessful. 
This has usually been the case with England's European representatives. In the golden era of 2006-09 when the Premier League provided three Champions League semi-finalists for three successive seasons, Manchester United, Arsenal, Chelsea and Liverpool conceded 50 goals in 72 group stage matches between them. All four always emerged from their groups.
In the four subsequent years, England's entrants have conceded at more than a goal-a-game, shipping 105 in 96 matches. As a result clubs have been knocked out at the group stages on five occasions, including Manchester City twice. Only two teams have reached the semis in the last four years. Chelsea went on to win the competition in 2012 but did so on the basis of a series of backs-to-the-wall defensive performances.
The surprising aspect is that none of the four have taken significant steps to improve their defences. Between them they have signed a reserve goalkeeper (Mark Schwarzer at Chelsea), a reserve central defender (Martin Demichelis at Manchester City) and a defensive midfielder (Mathieu Flamini at Arsenal) who, with the arrival of Mesut Ozil likely to push Jack Wilshere deeper, and Aaron Ramsey in superb form, is likely to be a reserve as well.
Arsène Wenger obviously has a faith in his goalkeeper and centre-backs not shared by all Arsenal fans and observers despite his side conceding more goals (eight) in their group stage last season than any year since 2002. In mitigation, if the Gunners avoid the injuries suffered in this area last season, when Wenger was unable to field his first-choice back five (goalkeeper and back four) in any European game, the defence should be a lot more secure. Given they will be facing the goalscoring potency of Robert Lewandowski and Gonzalo Higuain, and the wiles of Mathieu Valbuena, it will need to be.
Chelsea and Manchester City are both under new management. At City that should mean an end to the uncertainty last season when Roberto Mancini switched the defence from back three to a back four with bewildering frequency. Bewildering, that is, for the players who conceded 11 goals in six games despite the heroic performances of Joe Hart. The goalkeeper's form has dropped off alarmingly since and he needs a clean sheet or three. However Vincent Kompany's absence will not help him achieve this as Manuel Pellegrini tries to bed in his own defensive methods.
Jose Mourinho has put his trust in old faithful John Terry as he seeks to restore Chelsea's defensive solidity. This will probably mean they defend deep, but that will help create space for the counter-attacking game Mourinho favours. Chelsea conceded 10 goals in the group stages last season, the worst performance of their 11 seasons in the Champions League. This pitched them into the Europa League and while that foray ended happily, a repeat would be most unwelcome, as Mourinho has made clear himself.
Manchester United have not bought any defensive players this summer, though this was not for want of trying. Quite how left-back Patrice Evra feels after David Moyes' public pursuit of Leighton Baines, and his subsequent desperate attempt to bring in Fabio Coentrao, one can only imagine. Marouane Fellaini may play in a defensive role – which is how the Belgian views his future – but even if he does not, his aerial power will help United defend set-pieces. Besides, United's main problem last season was an injury crisis which resulted in Michael Carrick being deployed at centre-half.
An analysis of the goals conceded last season by the quartet discovered many were simply the result of sloppy defending – think of Jack Rodwell's mis-directed square pass against Borussia Dortmund that Marco Reus intercepted, Eden Hazard being robbed in possession at Shakhtar Donetsk, or Alex Buttner's slack marking of Alan against Sporting Braga.
If these individual errors can be eradicated, and injuries are limited, the English quartet's prospects will be much brighter. The likes of Robin van Persie, Sergio Aguero, Ozil and Samuel Eto'o will be the focus of attention this week, but their managers know a solid defensive platform is usually the key to making progress. 
Plugging the gap: Flimsy foundations
Defensive recruits by English clubs in Champions League
Arsenal: Mathieu Flamini (DM)
Chelsea: Mark Schwarzer (GK)
Man City: Martin Demichelis (CB)
Man United: None
Champions League: Groups and fixtures
Arsenal: Borussia Dortmund, Napoli, Marseille
Chelsea:  Schalke 04, Basle, Steaua Bucharest
Man City: Bayern Munich, CSKA Moscow, Viktoria Plzen
Man United: Bayer Leverkusen, Shakhtar Donetsk, Real Sociedad
Next week's fixtures
Tuesday:
Man United v Bayer Leverkusen
Viktoria Plzen v Man City
Wednesday:
Chelsea v Basel
Marseille v Arsenal
Five Asides
1. Bale's deference to Ronaldo may be the intelligent option
"It was amazing. He's a nice guy, he made me feel welcome." Thus did Gareth Bale describe his first meeting at Real Madrid with Cristiano Ronaldo. While Bale's humility is refreshing, these are the words of a star-struck fan, not a team-mate. One cannot imagine Zlatan Ibrahimovic reacting that way. However, given Ibrahimovic failed to fit into the Barcelona ethos – and subjugate himself to Lionel Messi – perhaps Bale is on the right track in deferring so obseqiuously to the Sun King.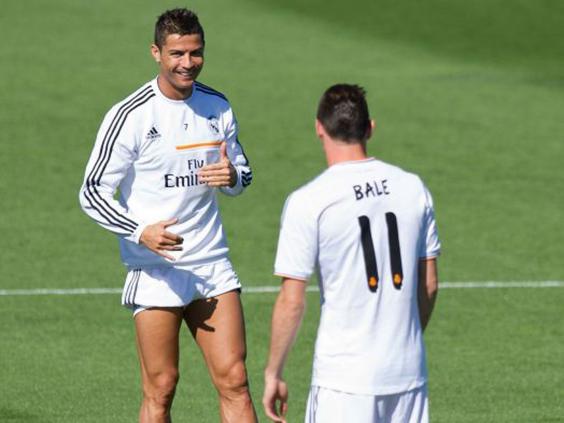 2. Liverpool Ladies' success will be good for the game
Liverpool have not won the men's league title since 1990, but a summer of investment in their ladies – support staff as well as poaching players from Everton – looks like being rewarded with the FA Women's Super League crown. It underlines money talks, as elsewhere in football, but competition for Arsenal is good for the women's game, and next season Manchester City arrive.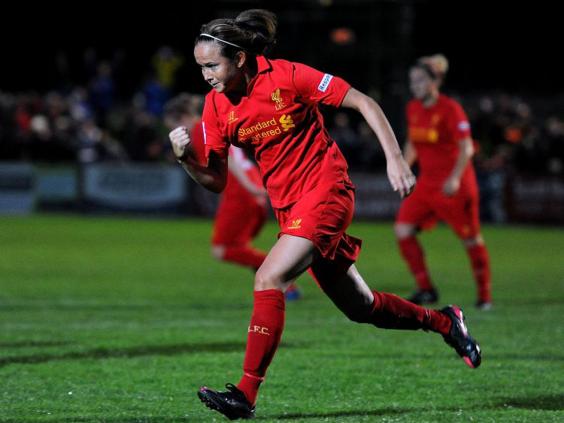 3. Managers should decide whether loan players play
When Everton play Chelsea today new signing Romelu Lukaku will be absent because he belongs to the opposition. He can, though, play all of Chelsea's rivals. This anomaly is to prevent 'gentleman's agreements' whereby players were sometimes omitted against their parent club on a handshake. But it is unfair. Roberto Martinez should be the man who decides if Lukaku plays today.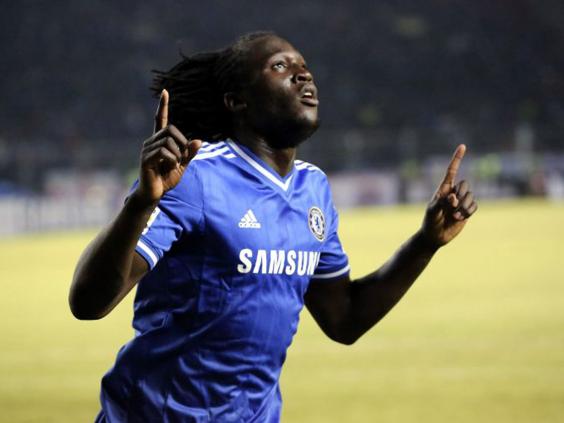 4. Fifa needs to weed out corruption in African game
Eight matches in the African World Cup qualifiers have had their results changed so far due to ineligible players featuring. The chaotic and often corrupt nature of football administration in African countries, and in the continental federation, continues to undermine the players and short-change fans. It is time Fifa became more closely involved.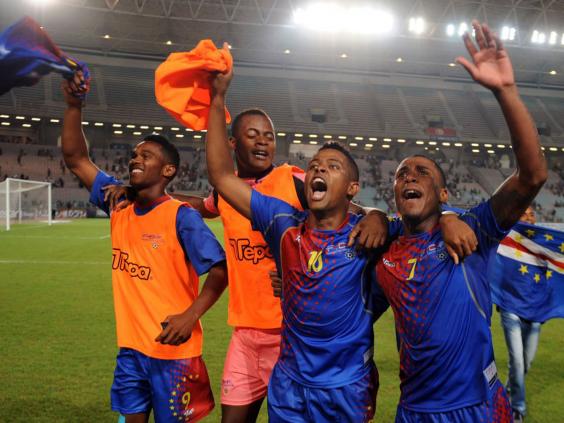 5. It seems there is no way to avoid Qatar in 2022 
The most depressing aspect of the current Qatar 2022 World Cup debate was Sepp Blatter's insistence that the bid requirements were so loosely written that rivals will not be able to take legal action if it is moved to the winter. The prospect of a recognised football nation suing and winning the tournament was the last hope of a competition that could be anticipated with enthusiasm.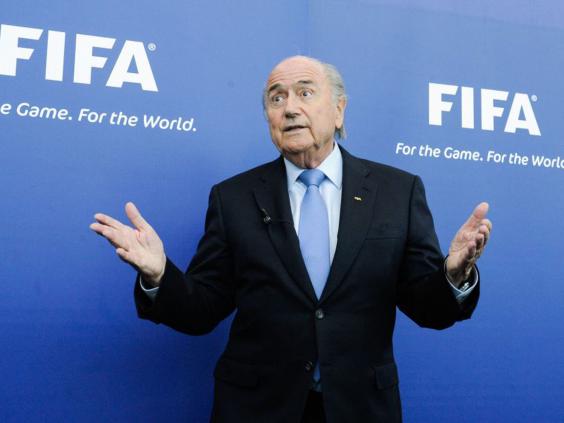 Reuse content