PLAYER OF THE SEASON
Miguel Delaney: There are really a number of Chelsea players that have would have a claim, and N'Golo Kante's is stronger than almost any of them… but Eden Hazard's claim has a bit of a difference. He so often made a difference, especially in big games, with key strikes against Manchester United, Arsenal, Manchester City twice and Tottenham Hotspur in the FA Cup. It is also the key with awards like.
If we are elevating individuals in a team game, they should have offered the kind of contribution that truly elevated a team, that lifted them to a level they mightn't have otherwise reached… that won them key games. This is the difference that Hazard made. David Luiz might have bolstered, N'Golo Kante might have so often won the ball, and Diego Costa might have so often hit the net with it, but it was Hazard offered the creativity to really do something with the ball; to punish teams. Title-winners have to have something extra. Hazard was that.
Premier League final days ranked
Premier League final days ranked
1/10 10. 2006-07

On the line: One relegation place, three Uefa Cup places

2/10 9. 2007-08

On the line: The title, two relegation places, one Uefa Cup place

3/10 8. 1996-97

On the line: One Champions League place, two relegation places, one Uefa Cup place

4/10 7. 2004-05

On the line: Three relegation places, one Uefa Cup place

5/10 6. 2010-11

On the line: Two relegation places, one Europa League place

6/10 5. 2002-03

On the line: One Champions League place, one relegation place, one Uefa Cup place

7/10 4. 1995-96

On the line: The title, one relegation place, one Uefa Cup place

8/10 3. 1993-94

On the line: Two relegation places

9/10 2. 1994-95

On the line: The title, one relegation place, two Uefa Cup places

10/10 1. 2011-12

On the line: The title, two Champions League places, one relegation place

Getty
Jack Pitt-Brooke: N'Golo Kante won both of the major trophies but attacking players are more important, and no-one has contributed more than Eden Hazard to Chelsea's title. Just like in 2014-15, his ability to beat opponents, score goals from nowhere and in pressure situations has marked him out as the best in the country. The only question is whether, for the first time in his career, he can sustain the top level for two years in a row?
Ben Burrows: N'Golo Kante has won the awards – and a fine player he is – but while Chelsea can win the Premier League without him, they couldn't have without Eden Hazard. When he wants it no one in England can touch him and he proved the difference in the biggest games that ultimately saw the Blues crowned champions. He's the best player in the best team in the country. It's as simple as that.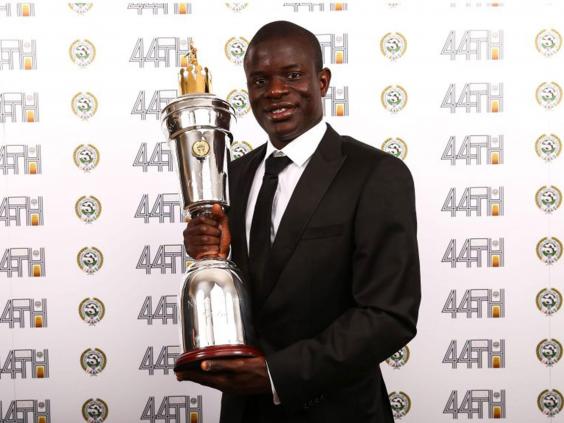 Jack De Menezes: His Chelsea teammates may have taken the plaudits, but the form of David Luiz this season has been nothing short of remarkable. The Brazilian left the Premier League as a man who simply did not have the word defend in his vocabulary, but he has returned from Paris Saint-Germain as the complete defender. He has flourished in Antonio Conte's 3-4-3 system with the extra protection around him, but it's worth remembering that he was seen at the start of the season as something of a quick fix after Conte missed out on his prime targets.
Mark Critchley: N'Golo Kante. I am going with the crowd, but it's worth noting that this has not been a vintage season for individual performances. Few individual displays stand out, with only Eden Hazard's showing against Arsenal, Romelu Lukaku's several spankings of the top-flight's lesser lights and Wayne Shaw sticking in my memory.
There is an argument against every candidate for a 'Player of the Year' award. The only consistently impressive performances have come from Chelsea as a team, and those have come as the product of 11 functional players operating in well-suited roles in a pitch-perfect system. Kante makes all that possible, so he takes my individual gong.
Jack Austin: He may have been overlooked for the major individual trophies but Eden Hazard's goals in big games this season have been the difference for Chelsea. You need only look at the big goals and big performances against the likes of Manchester United, Arsenal and Manchester City (twice), and the way he changed the game in the FA Cup semi-final to see what a special player he is. No other player in the league has contributed like this.
Luke Brown: Eden Hazard did score a lot of nice goals and N'Golo Kante did make an awful lot of tackles, but then they were both helped by the fact they were playing in a squad positively fit to burst with world-class players, all operating at the top of their game. Gylfi Sigurdsson did not have that luxury. Swansea were dire until Paul Clement's arrival in January, and even under his stewardship they still went six matches without winning throughout March and April.
Sigurdsson was superb throughout. He has scored nine goals and registered 13 assists, and was required to play in several different positions — out wide, in the hole and even a spell as a false nine during Bob Bradley's ill-fated reign. Without him, Swansea would have been relegated. And if relegation really does cost a club £65m, then Sigurdsson's transfer value should reflect that accordingly.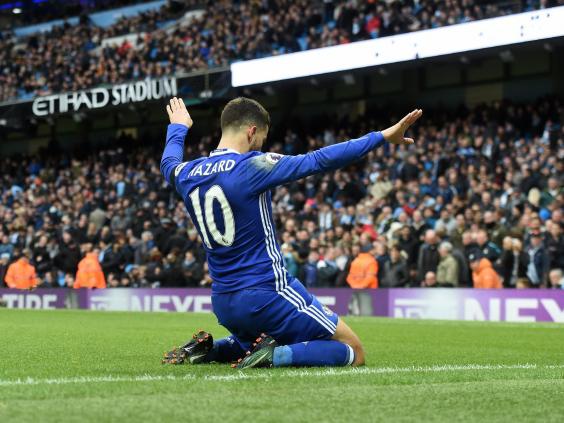 Samuel Lovett: After a year in hiatus, Eden Hazard has seen his creative intuition return in all its glory this season, with team after team subject to his slaloming, penetrative runs. It's this ability to make something out of nothing, and determine or seal the outcome of a game in the process, that ultimately sets the Belgian apart from Chelsea's second POTY contender: N'Golo Kante.
Hazard's irresistible goal against Arsenal was a classic example of his instinctive sense for a big moment and his bravery to take responsibility when it matters - something for which he is unique. Along with 15 goals and five assists, he has completed the most dribbles (138), drawn the most fouls (98) and created the most chances from open play (75) for his side. If Kante furthered his reputation as a destroyer this season, then Hazard has restored his as a creator. Chelsea, as a result, have been all the better for it.
Premier League champions through the years ranked
Premier League champions through the years ranked
1/26 Who are the greatest Premier League champions?

The Independent's Chief Football Writer Miguel Delaney runs through his list of greatest Premier League winning sides.

Getty

2/26 25. Blackburn Rovers 1994-95

Points per game: 2.12 Other trophies: none Another win that is memorable for the events that led to it and the unique identity of the winners, rather than what they did. That an Alan Shearer-powered Blackburn Rovers lost on the last day but still won the league said a lot about their quality, but also about how dramatic this campaign was.

Getty

3/26 24. Manchester United 2000-01

Points per game: 2.11 Other trophies: none Still too good for England, but the signs were there that United's treble team were no longer as good as they had been, in what was maybe Ferguson's most forgettable title win.

Getty

4/26 23. Manchester United 1992-93

Points per game: 2 Other trophies: none United's first in 26 years, as illustrated by just how many moments of doubt they suffered before pretty much learning how to win the league on the job. This was really United's most emotional wins, rather than their most impressive.

Getty

5/26 22. Manchester United 1996-97

Points per game: 1.97 Other trophies: none The Class of 92 were coming into their own, but still not quite the top-class group they would become. It just wasn't a very high-class season, as the challengers - and retiring Eric Cantona - all faded.

Getty

6/26 21. Leicester City 2015-16

Points per game: 2.13 Other trophies: none One of football's great stories and achievements, and a genuinely fine team when fully functioning, but that doesn't necessarily make them close to the greatest champions. It still feels like they needed a thousand things to fall into place at exactly the same time, in a way other title-winners would not have.

Getty

7/26 20. Manchester United 2012-13

Points per game: 2.34 Other trophies: none Ferguson's final statement, as he expressly signed the free-scoring Robin van Persie to win the title.

Getty

8/26 19. Manchester United 2010-11

Points per game: 2.1 Other trophies: none One of those campaigns when Ferguson had so clearly perfected the rhythm of winning titles. This was far from a brilliant United side in what was a generally underwhelming Premier League campaign, but it was one still able to reach the Champions League final too.

Getty

9/26 18. Manchester United 1999-2000

Points per game: 2.4 Other trophies: none United's 1999 Champions League win had put them onto another level, and well above the rest of the Premier League, but this was almost like Chelsea 2005-06 in that it all felt too easy to really push the side to their best.

Getty

10/26 17. Manchester United 2002-03

Points per game: 2.18 Other trophies: none United's grittiest title win of the Premier League era, as they really ground it out with Arsenal, at the height of the Ferguson-Wenger rivalry.

Getty

11/26 16. Manchester City 2013-14

Points per game: 2.34 Other trophies: League Cup So often supreme to watch, and maybe played the best football that season, but the way that Liverpool collapsed and Chelsea lost a lead fosters the feeling that they didn't quite drive to the title in the way the 2011-12 team did.

Getty

12/26 15. Manchester United 1995-96

Points per game: 2.16 Other trophies: FA Cup The most famous run-in, and the most entertaining, as Eric Cantona, Peter Schmeichel and Roy Keane helped a group of kids magnificently mature over the course of a double campaign. The oddity was that, as defining as this season became, it was arguably a team between eras.

Getty

13/26 14. Chelsea 2014-15

Points per game: 2.37 Other trophies: League Cup Never budged in the table, but only because were forced to budge in approach, remarkably going from a brilliant open side to a very closed one. There was a slight element of crawling over the line, and signs of what was to come.

Getty

14/26 13. Manchester United 1993-94

Points per game: 2.19 Other trophies: FA Cup Ferguson's most muscular United, as perfectly displayed by how they were the only side other than Chelsea 2014-15 to never move from top spot once in the season.

Getty

15/26 12. Chelsea 2005-06

Points per game: 2.4 Other trophies: none A team whose very strength actually maybe took a little off their edge, certainly in terms of perception. Mourinho's first Chelsea were by that point so much better than everyone else that it made the race a foregone conclusion, but maybe dulled them for both the foregone conclusion of the run-in and the cups.

Getty

16/26 11. Manchester United 2006-07

Points per game: 2.34 Other trophies: none Maybe Ferguson's most thrilling attacking team, and the one that heralded his return to the very top. United were facing one of the most physically intimidating and domineering champions ever in Chelsea, so to best them with such exuberant football was all the more impressive.

Getty

17/26 10. Manchester City 2011-12

Points per game: 2.34 Other trophies: none So nearly threw it away on more than one occasion, but that only made their eventual win all the more impressive, and famously spectacular. Their points haul is also hugely creditable for first-time champions, not least for how it saw them hold off all the title experience of a Ferguson United.

Getty

18/26 9. Chelsea 2016-17

Points per game: 2.44 Other trophies: FA Cup final This was hyped as one of the most competitive Premier Leagues ever given it had its finest ever collection of managers so, whatever about the debate regarding the lack of European football, it reflects very well on this Chelsea that they have ultimately won it so easily and so early. That cannot be talked around that easily.

Getty

19/26 8. Chelsea 2009-10

Points per game: 2.26 Other trophies: FA Cup The top-scoring team in Premier League history, who roared to a double with so many rampant, but the only lingering question is whether they quite had top opposition. United had not signed well after the departures of Ronaldo and Carlos Tevez, while Liverpool fell apart.

Getty

20/26 7. Arsenal 1997-98

Points per game: 2.05 Other trophies: FA Cup One of the great title comebacks, from one of the great football revolutions. Wenger's transformation of Arsenal's old guard saw them go into overdrive towards the end of the season and win 10 in a row, including a double.

Getty

21/26 6. Arsenal 2001-02

Points per game: 2.29 Other trophies: FA Cup A beautifully balanced team, and one that went on a brutally devastating run to sweep all competition away. These were the double-winners that claimed 13 league wins in a row and made it 14 the following season, while also clinching the title away to Manchester United and providing Arsene Wenger with the psychological seed for the Invincible season.

Getty

22/26 5. Manchester United 2008-09

Points per game: 2.37 Other trophies: League Cup Not quite as commanding as the previous season, as illustrated by how they just fell in the Champions League final and also recorded fewer points in a more stuttering campaign, but showed immense reserve to respond to Liverpool's surge by claiming seven runs in a row in the run-in to also win the title.

Getty

23/26 4. Arsenal 2003-04

Points per game: 2.37 Other trophies: none An utterly divine side, and Arsenal's greatest… but also one responsible for one of football's great ironies. Arsene Wenger's best team famously and supremely went unbeaten in the domestic league season, only to then lose the biggest game of all - the Champions League quarter-final - to a team a few miles away in Chelsea.

Getty

24/26 3. Manchester United 1998-99

Points per game: 2.08 Other trophies: Champions League, FA Cup Perhaps the most entertaining champions of all, but that is oddly the only reason they are not top of this list, despite topping the three major competitions that season - including the continent. They were not necessarily the best Premier League champions, but the most resilient; the most resolute. Unlike United 2007-08 or Chelsea 2004-05, this United were a team oddly easy to get at, but that weakness made them great and made them entertaining because of how many spectacular comebacks it brought. Their return of 79 points is actually surprisingly low, but was just something else they overcame to reach the ultimate heights.

Getty

25/26 2. Chelsea 2004-05

Points per game: 2.5 Other trophies: League Cup They weren't quite invincible, but they often felt untouchable. Whatever about all the debate about Jose Mourinho now, there could be no debate about the overwhelming quality of his first Premier League champions. This Chelsea recorded the highest ever points-per-game record in English history, and simply never looked like they were going to be caught. So many games were so well controlled, as was the destination of the trophy.

Getty

26/26 1. Manchester United 2007-08

Points per game: 2.29 Other trophies: Champions League With one of the finest defences England has ever seen, with Cristiano Ronaldo reaching another level, and with the way the Chelsea team they held off were also beaten in the Champions League final, this was probably Sir Alex Ferguson's most complete United side. They was thereby probably the Premier League's most complete champions too.

Getty
SIGNING OF THE SEASON
MD: All too obvious, but obvious for a reason. He was there, right in the middle but at the same time everywhere, any time an opposition side tried to move forward; any time someone tried to take him on. Opposition forwards would move one way, only to see N'Golo Kante there, and then quickly go another… only to see Kante there on the other side.
It was amazing, but not quite as amazing as the fact Chelsea could in 2016 get such a player for so cheap, a mere £32m. That would not be the case now, and that is no better illustration of Kante's importance - how radically his price would have leaped.
JPB: There was some surprise when Manchester City shelled out £37m for 20-year-old Leroy Sane from Schalke 04 last summer. But Pep Guardiola had seen him up close in Germany and knew how good he was. It took Sane a few months to settle but when he did he was phenomenal, capable of dribbling at high speed with the ball seemingly glued to his feet. His remarkable balance and skill made him a constant threat down the left and with two games left he has nine goals to his name.
BB: At over £30m Sadio Mane had to hit the ground running at Liverpool but hit the ground running he did and looked worth every penny as he slotted into Jurgen Klopp's plans effortlessly from day one. His blistering pace is something no one else in Klopp's squad possesses and you only have to watch the Reds now to see how much they already miss him, a true test of just how good an addition he was last summer.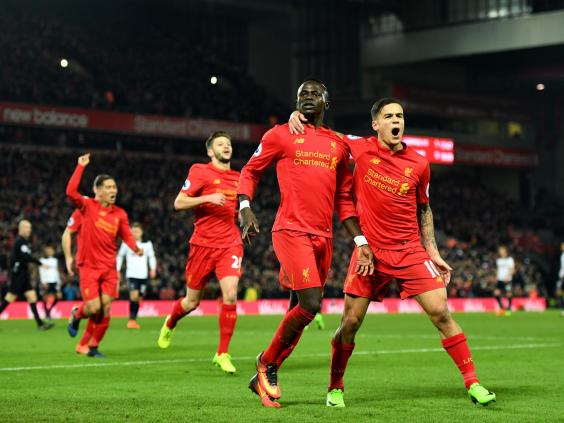 JDM: It's rare that a January transfer can work out so well towards the top of the table – though Gabriel Jesus was actually signed in the summer – yet his arrival can take credit for the fact that Manchester City will be playing in the Champions League next season. The 20-year-old not only chipped in with six Premier League goals, but he also brought the best out of Sergio Aguero as the Argentinian produced his best football when seeing his place put under threat by the Brazilian's arrival. He may have cost £27m, but he could prove his weight in gold over the next few years.
MC: David Luiz. This is a category that should reward a signing that either represents excellent value for money or proved to be successful against the odds. N'Golo Kante may have been the best player in the league to move clubs in the past year, but £32million was a fair price and buying him was a no-brainer.
The acquisition for Luiz for £34million was certainly no bargain but it was one of the window's riskier moves and one that can now be reviewed as an unqualified success. The Brazilian proved integral to Chelsea's title win, becoming the fulcrum of the three-man defence on which their charge towards the championship was built.
He still has his old weaknesses and they may be better exploited next season, but for now the decision to bring him back to Stamford Bridge seems a masterstroke.
JA: Having been consigned to rot in the reserves at Liverpool after falling out with Jurgen Klopp, Mamadou Sakho was screaming for a way out, something that came in the form of a loan deal at Crystal Palace. He only made eight appearances before picking up a season-ending ankle injury, but in that time inspired his side to four clean sheets to set up wins over Arsenal and Chelsea and earned a nomination for the club's player of the year gong in the process.
LB: Chelsea were the pits last season; Leicester were the best team in the country. And so, come the end of the campaign, Roman Abramovich pottered over to his fax machine and sent Leicester an offer of £32m for N'Golo Kante — or £26.4m more than they had paid for him the previous summer. As business decisions go it was ruthless, shameless, perhaps even a little bit crass. But it also made perfect sense.
Kante hasn't been a revelation this season, but in his case, continuation is more than enough. He is essential to both Chelsea's defensive and offensive structure: he has made the second-highest number of tackles in the league this season, while also boasting the highest pass accuracy percentage (88.6) of any player to have featured in more than 30 games. It is simply no coincidence that he has been at the heart of the last two teams to win the Premier League.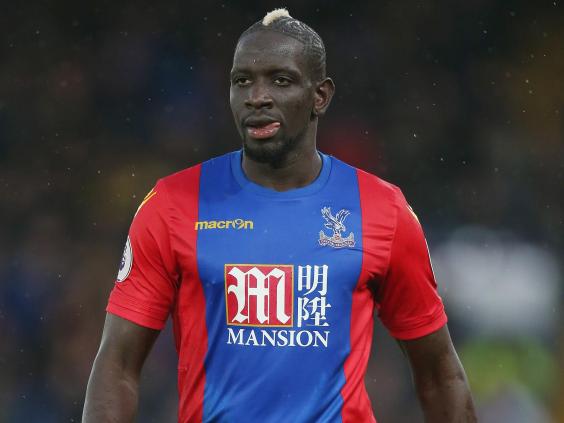 SL: Having picked N'Golo Kante for this accolade in our pre-season predictions, it made sense to follow it up 10 months on. In winning the title with Chelsea, the Frenchman became the first outfield player since Eric Cantona to win back‑to-back top-flight titles in England with two different clubs. Pip-squeaked in size, the midfielder has packed an almighty punch for Chelsea. Industrious, ubiquitous and perceptive, Kante has tightened up Chelsea's midfield core and even opened up defences. Indeed, the 26-year-old has made far more passes this season than he did at Leicester - a telling sign of his evolution. Such development bodes well and suggests more is to come from the most self-effacing footballer in the league. Oh, and at £32m, what a bargain.
UNSUNG HERO OF THE SEASON
MD: Another candidate for signing of the season, and someone who so covered and dominated midfields in the way that Kante did. While the Chelsea midfielder's ability in this regard was obviously talked about so much he was double player of the season, though, that was not the case with Victor Wanyama.
There were a lot of Tottenham Hotspur players mentioned before people got to the Kenyan but those same Spurs players felt that he was a crucial link in the team, someone that gave them a stability and balance that hadn't been there before. By the season's end, he was going further and even scoring more goals, like that plundering header against Manchester United in the last ever game at the old White Hart Lane. Keep that up, and his name will be sung much more loudly and regularly.
JPB: After the departures of Morgan Schneiderlin and Victor Wanyama, Southampton have had a gap in front of their defence to fill. This year Oriol Romeu has filled it, completely justifying his £5million move from Chelsea in 2015. Big, strong and not afraid to put himself about, Romeu also has the technical skill of a player who grew up at Barcelona. He could very plausibly play for a big club again. At 25 years old, still someone to keep an eye on.
BB: N'Golo Kante has the headlines and the awards and the plaudits but Everton midfielder Idrissa Gueye has been every bit as good and in many ways even better than his much-hailed Chelsea rival. The diminutive Senegalese runs the midfield for the Toffees, breaking up play and distributing more efficiently than almost anyone in the league. And all that for a little over £7m. Bargain.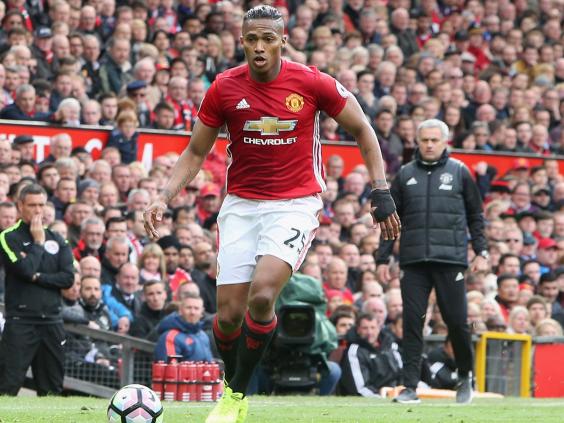 JDM: Bournemouth are on the cusp of a top-half finish, and a big reason for that has been the form of striker Josh King. The Norwegian has never been one for bagging the goals, so his tally of 16 in the league this season has been a huge surprise – and a pleasant one for manager Eddie Howe – and his goals have provided 21 points alone for his side this season. If he can take his momentum from 2017 into the new campaign, he could be in the mix for the top award next year.
MC: Antonio Valencia. The Manchester United right-back won his first Sir Matt Busby Player of the Year trophy at the club's annual awards in 2012. He was promptly handed the No 7, wilted and then handed the famous shirt back, reverting to No 25.
He picked up the Manchester United Players' Player of the Year trophy this season and it was even more deserved. In a year of inconsistency at Old Trafford, Valencia has been Jose Mourinho's most dependable player and on balance, the league's leading right-back. This time around though, no new shirt numbers.
JA: Ander Herrera gets my vote by a process of being pretty much the only Manchester United player not publically criticised by Jose Mourinho this season. He is wily, mouthy, tenacious, a fan favourite and looks like a future United captain. He is not anywhere near the level of Roy Keane, but he is certainly the closest the club have got to him in terms of fire and hunger since he left.
LB: There are exciting football transfers, such as walking emoji Paul Pogba's £90m move to Best Team in the World™ Manchester United, and then there are boring football transfers. Transfers that you don't hear talked about in the office or down the pub. Transfers that the Daily Sport can't be bothered to report on. Football transfers of such crushing insignificance, that not even Jim White himself can be bothered to get out of bed for them.
Lee Grant's loan move to Stoke from Derby belonged in the latter category. But then Grant, initially brought to the club as a fourth-choice keeper, was propelled into the starting XI because of injuries and losses of form, and the veteran never looked back. He made 30 consecutive appearances before Jack Butland's recent return, and this week was named the club's fans' player-of-the-year and players' player-of-the-year.
SL: Stepping in to fill a distinctive Harry Kane-shaped hold midway through the season, Son Heung-Min more than proved his worth. Keeping the Tottenham front-line sharp and dangerous, the south Korean helped the side avoid dropping off at a period when others would have so easily slipped away without the presence of their main striker in the side. More than this, Son has gone on to establish himself as a vital cog in the Tottenham machinery and after Spurs' 6-1 rout at the King Power on Thursday night, became the third player in the team to reach the 20-goal mark this season. Impressive stuff. Tenacious and devastatingly effective at times, Son has enjoyed a dream season in the shadow of Tottenham's bigger names.
FLOP OF THE SEASON
MD: You could probably just have 'Leicester City' here, but there was always an expectation that they would level out and finish closer to the middle of the table. Because, while Leicester's 2015-16 season seemed something of a freak, Riyad Mahrez's didn't.
The only expectation with him was that he would keep on his upward trajectory, keep showing why he was worthy of a place at one of Europe's wealthiest clubs. He didn't just fail to live up to that expectation, but failed to do pretty much anything at all this season. He was so underwhelming, so ineffectual, and so frustrating given his talent.
JPB: There were high hopes when Southampton paid big money to bring Morocco international Sofiane Boufal from Lille last summer. But he struggled for consistency and finishes the season with one Premier League goal and one in the League Cup. Needs to do far more next season if he is to be the new Eden Hazard.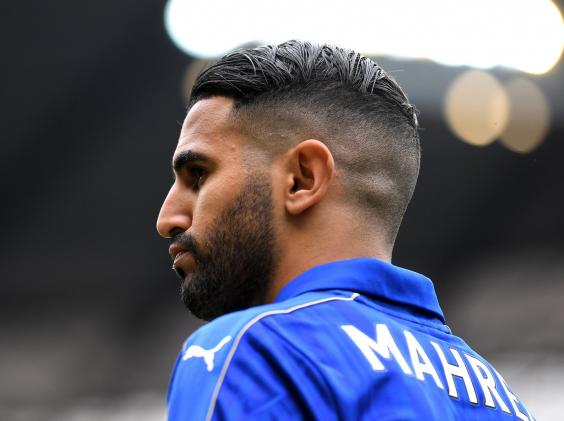 BB: Simone Zaza. Did you see him play?
JDM: The fact that Arsenal can still finish in the top four and win the FA Cup should not gloss over how disappointing the Gunners have been this season. Having spent money last summer to improve the first team – namely £35m on Granit Xhaka and the same fee on Shkodran Mustafi – and while they can increase their points haul from last season, their performances have been dreadful. Arsenal have lost that spark that they always held and made them so attractive to watch, and the likes of Mesut Ozil and Aaron Ramsey have been a long way from their best this season. At any other club, there'd be a new manager heading to the Emirates.
MC: Claudio Bravo. There is only option here, surely? Even those of us who believe Joe Hart does not have a divine right to stand between the sticks for Manchester City have to admit that Bravo's displays have been bad enough to make him, all things considered, the worst signing of the season.
The Nou Camp sending off, the horrorshow at the King Power, the minimal effort put into stopping Willian's pivotal goal at Etihad, the Burnley mistake, the Everton mistakes, the Hull mistakes. A high-profile signing that went horribly wrong.
JA: If Hazard has stepped up in the big games this season to become the hero, then Mesut Ozil has looked like a shadow in comparison. He has looked like the Belgian did last year. When Hazard has put in his best performances, Ozil has hidden and when Hazard has celebrated, Ozil has been left dejected. For two players who are supposed to be doing a similar role for their team, one has been everything the other has not this season.
LB: The first paragraph of his Wikipedia page reliably informs the reader that Moussa Sissoko is "tall, rangy, and strong in the tackle." It neglects to add that he's slow, half-arsed and so clumsy in possession that at times it looks as though he's attempting to dribble the ball with his shins. An inevitable loan move to a club in the mould of Valencia or Marseille (with a later option to buy for £5m-£7m) beckons.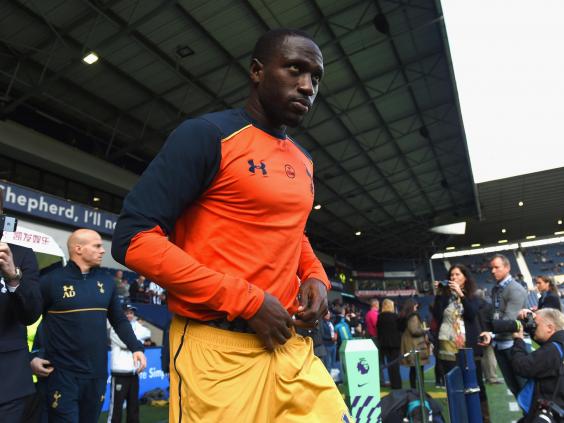 SL: "It's really had a dynamic impact on the things we can do," Karen Brady said, speaking earlier this season, of West Ham's move to the London Stadium. As a woman of business, that's suger-coating at it's sweetest. The move to Stratford has certainly been dynamic.
Indeed, it's as if someone has taken a stick of explosives to the foundations of the club and pressed the big red button. West Ham have quite simply imploded this season following their lucrative stadium move. Their best player gone, on-pitch performances worthy of a Sunday League side and persistent speculation over Slaven Bilic's future: the Hammers have been way off the mark.
TEAM OF THE SEASON
MD: De Gea; Alderweireld, David Luiz, Vertonghen; Moses, Kante, Alonso; Eriksen, Alli, Hazard; Kane
JPB: De Gea; Alderweireld, Luiz, Azpilicueta; Valencia, Kante, Silva, Rose; Hazard, Kane, Alli
BB: Lloris, Azpilicueta, Luiz, Van Dijk, Rose, Eriksen, Alli, Kante, Hazard, Ibrahimovic, Kane
JDM: Lloris; Alderweireld, David Luiz, Bailly; Azpilicueta, Kante, Silva, Alonso; Alli; Kane, Hazard.
MC: Pickford; Valencia, Alderweireld, Luiz, Alonso; Kante, Silva, Alli; Hazard, Eriksen; Kane.
JA: De Gea, Valencia, David Luiz, Alderweireld, Azpilicueta, Eriksen, Alli, Kante, Hazard, Kane, Ibrahimovic.
LB: Grant; Keane, Cahill, Vertonghen; Antonio, Kante, De Bruyne, Rose; Sigurdsson, Hazard; Lukaku. 
SL: De Gea; Alderweireld, Luiz, Azpilicueta; Rose, Kante, Herrera, Hazard, Alonso; Kane, Jesus.
BEST GAME ATTENDED
MD: Manchester City 1-3 Chelsea, 3 December
Maybe a vision of the Premier League's future, and a rare contest that lived up to all pre-match expectation. It was certainly a rare moment when the 2016-17 campaign briefly lived up to all pre-season expectation, too. When the summer hype was building up, after all, the expectation was that the influx of so many star managers would create an intense race for the title with their unique qualities pushing them and their teams ever further. That didn't really happen, except for this match. It was two sides playing at a maximum and with very distinctive styles, with all of that so chaotically clashing against each other to produce a blazing match that had everything - including a lot of consequence. It had supreme goals, a genuine what-if moment as Kevin De Bruyne could have put a then-rampant City 2-0 ahead when just a point behind Chelsea, only for the league leaders to pull off a comeback and brilliantly cut Pep Guardiola's side apart for a resounding win - and for all it to all spill over into a confrontations and red cards. This match just had too much to keep a lid on, and too much speed to keep up with. It was the best of the league.
JPB: Manchester City 5-3 Monaco, 21 February
The best European game ever held at the Etihad Stadium, and the best of any sort since Sergio Aguero won the title in May 2012. City surged in front but Rademel Falcao and Kylian Mbappe ripped their flimsy defence to pieces. It looked as if City were heading out before Sergio Aguero inspired a comeback, setting up Leroy Sane for the brilliant fifth. It was a thrilling exhausting game, but one that showed the defensive frailties that would see City knocked out in the return leg.
BB: Chelsea 4-2 Tottenham, 22 April
The two best teams in the country, playing at the peak of the powers, with all the marbles in play, at the home of football. The first FA Cup semi-final was a blinding game with great goals, late drama and an absolute screaming winning goal (more on that later). It had everything. 
JDM:  Arsenal 3 Chelsea 0, 24 September
Arsenal don't beat Chelsea 3-0, they just don't. So to see the Emirates Stadium by all accounts rocking as Mesut Ozil struck home Arsenal's third inside 41 minutes was a moment to behold. The match would have a huge impact on the rest of the season as it triggered Conte's switch to the three-man defence that brought the title back to Stamford Bridge, while for Arsenal, all the optimism of ending their title-drought fell away over the course of the next eight months.
MC: Chelsea 4 Manchester United 0, 23 October
This was a contest for all of 30 seconds, but from the moment Pedro put Chelsea ahead, this game was about much more than what happened on the pitch. Mourinho was behind enemy lines, actually under siege for once, and he completely wilted. United's defeat raised plenty of questions and, despite that long unbeaten run they subsequently embarked on, many of them remain unanswered.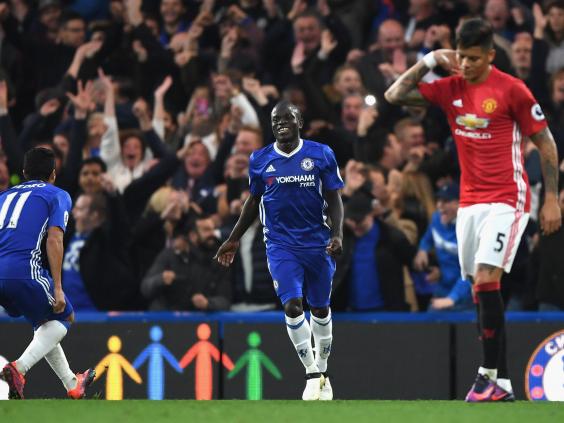 JA: Chelsea 4 Watford 3, 15 May
John Terry going from a teary-eyed hero to a crestfallen villain in a matter of seconds, Watford becoming the first team to score three times at Stamford Bridge this season after not scoring an away goal for 10 hours, a red card, a last-minute winner, Antonio Conte wearing an inflatable crown and Diego Costa being caught snacking in the press room at half time. It was quite eventful.
LB: Manchester United 1 Bournemouth 1, 4 March
Manchester United games at Old Trafford this season have generally been as pleasant to watch as back-to-back episodes of Fletch and Sav. But United's match against Bournemouth in March — a draw, of course — broke that trend.
The fun and games started just before half-time when, at 1-1, Zlatan Ibrahimovic and Tyrone Mings decided to engage in an amateur MMA contest that started in United's penalty box and finished in Bournemouth's. Mings stamped on Ibrahimovic's head. Boom. Ibrahimovic elbowed Mings in the face. Bosh. For some reason, they both escaped punishment and the hapless Andrew Surman was sent-off instead. Banter!
And then there was Ibrahimovic's missed penalty, not to mention the fact that Eddie Howe was late to the game having been struck down with the squits. Terrific fun.
SL: Leicester City 1-1 Atletico Madrid (1-2), 18 April
From the fireworks that kicked off the evening to the explosive denouement, Leicester, unlike the UK, left Europe kick and screaming. Saul Niguez's sublime header certainly took the wind out of the home side's sails but Jamie Vardy's equaliser injected new life into the game. Coming in the 61st minute, the goal sent ripples of electricity around the King Power Stadium to bring the Foxes close to the improbable. As Diego Simeone confessed after the game, Atletico were left in "fear" by the ensuing wave of blue that, on a number of occasions, genuinely threatened the visitors' goal. Albeit from the end result, it was a remarkable night in Europe that will live long in the memory.
BEST GOAL WITNESSED
MD: Eden Hazard v Arsenal, Chelsea 3-1 Arsenal, 4 February
Had I been at West Ham United for Andy Carroll's goal against Crystal Palace or Vicarage Road for Emre Can's against Watford it probably would have been one of them. As it was, the best and most distinctive I saw was Hazard's against Arsenal. It was the way he seemed to so smoothly slide through the Stamford Bridge pitch before offering the finish that aesthetically suited the run, with the calamitous way that Francis Coquelin fell to the ground in the playmaker's slipstream only offering a crucial contrast that only emphasised its quality.
JPB: Gonzalo Higuain, Monaco 0-2 Juventus, 3 May
Juventus underlined their status as the best team in Europe in this semi-final against Monaco, and opened the scoring with a wonderful team goal. It started with a Paolo Dybala backheel before Higuain played in Dani Alves down the right. He backheeled the ball into a space in the box, Monaco's defenders paused, and Higuain timed his jog perfectly to sweep the ball into the bottom corner.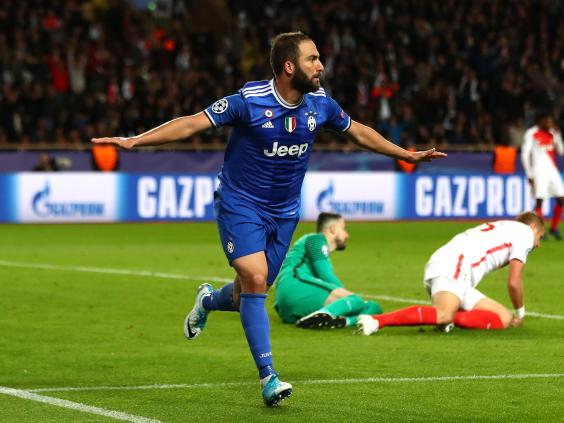 BB: Nemanja Matic, Chelsea 4 Tottenham 2, 22 April
Once in a blue moon a player hits a ball that well and truly stays hit and Nemanja Matic's thunderbolt at Wembley, struck with such otherworldly force, gave Hugo Lloris so little chance he was probably secretly happy he didn't get anything on it in truth. Eden Hazard's goal set them on their way to the win but Matic's sealed it and what a goal it was and a privilege to witness.
JDM: Sadio Mane, Arsenal 3 Liverpool 4, 14 August
Mane announced his arrival at Liverpool in style with a dazzling goal in his very first outing. The Senegal midfielder struck home the goal that may have put the Reds 4-1 up, but it ultimately proved the crucial winner following an Arsenal fightback. Picking the ball up near the right sideline, Mane immediately took on and beat Callum Chambers before cutting inside Nacho Monreal, giving himself space to shoot and curling an effort out of Petr Cech's reach. A fantastic goal and a sign of things to come for Mane.
MC: Jordan Henderson, Chelsea 1 Liverpool 2, 16 September
A proper goal from distance: hit cleanly, on looping arc, looking like it might go over until a final dip puts it under the crossbar and into the top corner, in a space no goalkeeper has any hope of reaching.
JA: Daniel Sturridge, West Ham 0 Liverpool 4, 14 May
Having been blessed with low scoring games this season, this one is just for the pass by Philippe Coutinho to set it up. Playing in his deeper 'number eight' position, he played a glorious low pass through the West Ham defence before Sturridge rounded Adrian with a stepover to finish. But it's all about that pass from Coutinho. 
LB: Pedro, Chelsea 2 Tottenham Hotspur 1, 22 November
A goal that ultimately proved crucial in the title race. With Chelsea trailing 1-0, Jan Vertonghen gave Pedro just that little bit too much space on the edge of the box, as Nemanja Matic whistled a low pass to his feet. A quick shake of the hips. A subtle transfer of weight. And then a gorgeous lofted finish into the top corner of the net, with Hugo Lloris left to claw disbelievingly at thin air. Woof.
SL: Dele Alli, Tottenham 4-0 Watford, 8 April
It was a goal that encapsulated everything good about Tottenham this season. It showcased the side's audacity in playing out from the back, under significant Watford pressure, it had the power and drive of Mousa Dembele, augmenting the attack from the centre of the park, and it had the class of Dele Alli to pick out the top-right corner with a deliciously curled strike - his first goal of the season to come from outside of the penalty area. Mauricio Pochettino has repeatedly described his side as a "collective unit" this campaign and this was evidence of just that.
Reuse content