Manchester United have been selected for just one match during the latest round of picks for television, the same number as Burnley, Stoke, Southampton, Crystal Palace and West Brom.
The decision from Sky Sports and BT Sport to overlook Louis van Gaal's side comes as something of a surprise considering their recent run of results that has seen them win six on the bounce and lead to talk of a possible title tilt. The match that will be shown is their trip to West Ham.
The most popular picks are struggling Merseyside duo Liverpool and Everton who will both be shown four times in February, including the derby at Goodison Park on February 7.
The next most popular are high-flying West Ham who will be appear on television three times as they aim to retain their place amongst the sides chasing European qualification.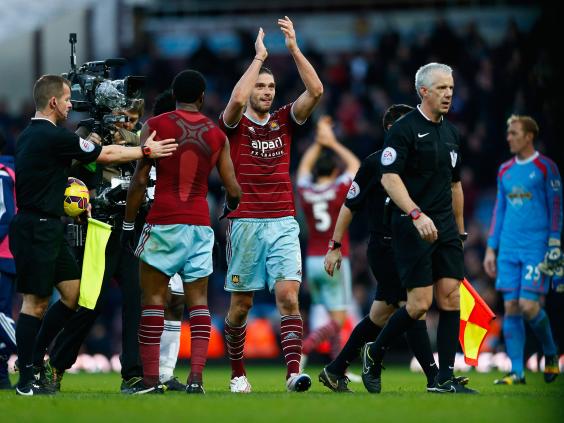 Tottenham will also be shown three times, however they and their north London neighbours Arsenal have been totally ignored by Sky Sports. However, BT Sport have shown a keen interest in the duo, with the derby at White Hart Lane featuring on the channel as well as two other Tottenham games and Arsenal's match against Everton.
The current top two, Chelsea and Manchester City,will be on television twice in February along with lowly Leicester. No other team's matches will be screened more than once.
PREMIER LEAGUE FIXTURES SELECTED FOR TV IN LATEST ROUND OF PICKS...
Fixtures on Sky Sports
Everton v Liverpool, Saturday, Feb 7, 5.30pm
Burnley v West Brom, Sunday, Feb 8, 12pm
Newcastle v Stoke, Sunday, Feb 8, 2.05pm
West Ham v Manchester United, Sunday, Feb 8, 4.15pm
Manchester City v Newcastle, Saturday, Feb 21, 5.30pm
Everton v Leicester, Sunday, Feb 22, 2.05pm
Southampton v Liverpool, Sunday, Feb 22, 4.15pm
West Ham v Crystal Palace, Saturday, Feb 28, 12.45pm
Leicester v Chelsea, Saturday, Feb 28, 5.30pm
Liverpool v Manchester City, Sunday, Mar 1, 12pm
Fixtures on BT Sport
Tottenham v Arsenal, Saturday, February 7, 12.45pm
Liverpool v Tottenham, Tuesday, February 10, 8pm
Chelsea v Everton, Wednesday, February 11, 7.45pm
Tottenham v West Ham, Sunday, February 22, 12pm
Arsenal v Everton, Sunday March 1, 2.05pm
Reuse content