Wilshere comes to life under Howe's watchful eye
After completing his third full Premier League match for Bournemouth at the weekend, Jack Wilshere is finally springing back into life after multiple injury-ridden seasons at the Emirates. Under Eddie Howe's astute eye, the player has started to impress with the sort of quality and intelligence that marked his emergence onto the football scene eight years ago. With his vision and tireless commitment to the chase, Wilshere proved vital to the Cherries' first away victory in seven months against Stoke.
But his rehabilitation and resurgence has been a steady process, as Howe admitted. "We worked very hard with him when he first came, in training not to overload him with work and on game-time to ease him into 90 minutes," the manager said. "We didn't want to demand too much of him too early. Hopefully we've got that balance right and we're at a stage now where he can tolerate that load. I think the proof is in the pudding in terms of what you see out there."
Foxes stuck in a rut
While Leicester's Champions League run continues to keep fans appeased, their woeful domestic form took another turn for the worse as the side were beaten 2-1 by Watford on Sunday.  Two early goals, conceded within the opening 30 seconds and then 11 minutes later, highlighted the growing cracks that are beginning to appear in the Leicester defence. Robert Huth looked particularly hesitant and uneasy at times, spending too much time on the ball and inviting unnecessary pressure. Kasper Schmeichel's dominant presence between the sticks, and the discipline he adds to Leicester's backline, also remains sorely missed as the 'keeper recovers from a fractured hand. With confidence at a low, the side need to tighten up or face the prospect of sliding further down the league.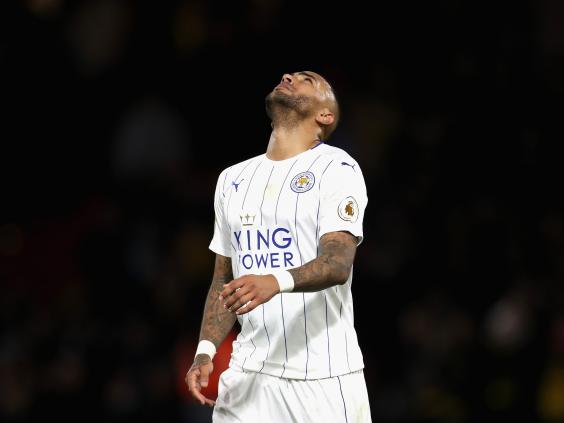 Reds defence offers Klopp something to smile about - despite disappointing draw
Billed as one of the games of the weekend, Liverpool's clash with Southampton at St Mary's ended in a disappointing draw as both sides failed to break the deadlock. For all the possession they enjoyed – around the 65 per cent mark – Jurgen Klopp's men lacked the fluency that has defined their previous performances. Nonetheless, the game marked a notable success for the side's defence who earned their second clean sheet of the season. Saints failed to register a single shot on target as the Red backline remained resolute. Not the result Klopp wanted, but one that proves Liverpool's defence isn't quite as porous as assumed.
United's failure to convert chances will be their undoing
In their last three matches at Old Trafford, against Stoke, Burnley and now Arsenal, Jose Mourinho's side have enjoyed the lion's share of chances.  But once again, Manchester United failed to convert this dominance into three points. A late Olivier Giroud goal prompted defender Phil Jones to admit after Saturday's game that: "It feels like we have been slapped 6-0". Indeed, the reality was that Giroud's 89th minute header was Arsenal's sole attempt on target.  In contrast, United registered 12 shots, five of which were on goal, and enjoyed 10 corners to Arsenal's four. If the club are to stand any chance of competing with this year's frontrunners, the side desperately needs to overcome this shortcoming. While they may have flashed with potential at times this season, United's search for rhythm and fluency plods on.
Manchester United vs Arsenal player ratings
Manchester United vs Arsenal player ratings
1/22 David de Gea - 4 out of 10

With Arsenal scoring their only shot on target, it's not been the best day for the Spaniard. He had very little to do throughout.

2/22 Antonio Valencia - 8 out of 10

Performed exceptionally today, looking strong going forward and defensively.

3/22 Phil Jones - 5 out of 10

Did the simple stuff well at the back, but looked slow defensively at times.

4/22 Marcos Rojo - 6 out of 10

Defended well throughout proceedings, played safely and used possession well from the back.

5/22 Matteo Darmian - 5 out of 10

A mediocre performance from the Italian. He was lunging into challenges, despite already being armed with a yellow card.

6/22 Michael Carrick - 5 out of 10

The skipper played a very standard performance today. He played his role well and stuck to his position.

7/22 Ander Herrera - 7 out of 10

His work rate was faultless and he influenced play in the middle of the park – good overall performance.

8/22 Paul Pogba - 6 out of 10

He appeared to patrol the middle of the park in the first half, but in the second half he seemed to go off the boil. He did not make many chances and lacked any attacking prowess.

9/22 Juan Mata - 8 out of 10

An exceptional performance from the Spaniard today. His goal was an example of his immense technical ability and he created chances throughout.

10/22 Anthony Martial - 6 out of 10

A somewhat quiet performance from him today, but he showed glimpses of brilliance in the first half with a number of strikes that tested Cech.

11/22 Marcus Rashford - 6 out of 10

Despite being caught out for the late Arsenal goal, his performance throughout was positive. He attacked confidently and his crossing was inviting problems for the Arsenal defence.

12/22 Petr Cech - 6 out of 10

He made a number of important saves in the first half, but was out of position when Mata broke the deadlock.

13/22 Carl Jenkinson - 4 out of 10

It was a somewhat uncomfortable performance from him today, as he looked slow and unable to keep up with the pace of the United strike force.

14/22 Laurent Koscielny - 6 out of 10

He did well in the air today, but the United attack got the better of him at times as he was caught out of position.

Phil Noble

15/22 Shkodran Mustafi - 5 out of 10

It was an incredibly mediocre performance by the German. He did well in possession, but that wasn't enough at times.

16/22 Nacho Monreal - 5 out of 10

A questionable penalty call in the first half was the main incident for the Spainard. He failed to show his defensive ability against the quality of United going forward.

David Klein

17/22 Francis Coquelin - 6 out of 10

Made a number of important tackles, but it wasn't enough to stop his opponents running the midfield battle.

18/22 Mohamed Elneny - 4 out of 10

The Egyptian made a few unneeded and mistimed challenges and failed to show any sign of threat when going forward.

19/22 Aaron Ramsey - 5 out of 10

He had very little of the ball throughout, and when he did he failed to do much with it.

20/22 Mesut Ozil - 5 out of 10

Taking into account his huge talent, it was a rather dim performance. He failed to create chances and feed Sanchez which resulted in Arsenal having no spark going forward.

21/22 Theo Walcott - 4 out of 10

A very quiet performance from the winger today. He saw very little of the ball and was regularly caught playing too narrow which left Arsenal with no width to their attacks.

22/22 Alexis Sanchez - 6 out of 10

He looked dangerous when in possession, but a lack of service did not allow him to make a real impact on the game.
Chelsea continue to thrive under Conte's tactical tweaks
Despite his best efforts, Antonio Conte isn't fooling anyone with his insistence that Chelsea aren't title contenders. The Blues coach talked down his side's credentials after their 1-0 victory at the Riverside Stadium on Sunday, but it's clear to see that Chelsea are in unstoppable form. The visitors may have only won by one goal against Middlesbrough, but it is 17-0 over the past six league matches. With their 3-4-3 formation coming to fruition, Chelsea have tightened up at the back while unleashing the full potential of Eden Hazard and Diego Costa up front. Victor Moses and Marcos Alonso have thrived in their adopted wing-back roles, while Gary Cahill, David Luiz and Cesar Azpilicueta have looked impregnable as a back three. After unsure beginnings, Chelsea are now stamping their authority on the league.
Reuse content