The difference between Hull City and Newcastle United as they stand on the riverbank of Premier League relegation can be calculated in the difference between fear and loathing. While on the Humber there is angst, on the Tyne there is anger. The moods reflect time and expectation.
At Hull, there is bewilderment that a team which reached the  34-point mark last month – and 15th place – is still on 34 points, but now in 18th place going into today's final game at home to Manchester United. At Newcastle, there is fury that a team which had 35 points in February – and 11th place – has only 36 points today and is shaking in 17th place ahead of this afternoon's visit by West Ham.
At Hull, Steve Bruce talks of "quite an extraordinary fanbase. I've been at clubs where, if we had produced a performance like we did against Burnley at home a couple of weeks ago, they'd have torn the stands down."
Premier League 2014/15 memorable moments
Premier League 2014/15 memorable moments
1/12 Comical tackle of the season

Phil Jones' commitment has never been in question – but he really went the extra mile in May's Premier League clash against Arsenal. Having slipped with Olivier Giroud on his shoulder, the defender managed to nod a header away – despite lying flat on the ground. Former Gunners defender Martin Keown labelled him as a "comical stuntman" – and it's hard to disagree on this showing.

Getty Images

2/12 Unluckiest player of the season

In the opening match of the season, Ashley Young may have seen Ki Sung-Yeung's goal and thought it was going to be a bad day – but little did he know, it was about to get a whole lot worse for him. Whilst berating team-mates for their defending, videos appear to show bird excrement falling from the sky and straight into the midfielder's mouth – something he still denies, of course.

Getty Images

3/12 Best free-kick

"It was a boring game and I livened it up. My mates think I'm a legend" – the words of Jordan Dunn, the pitch invader who ran on to take a free-kick in August's match between West Ham and Spurs. His effort was arguably better than many seen on the pitch that day, but Dunn was subsequently fined £305 for his moment of madness.

Getty Images

4/12 Best worst celebration

Charlie Adam's reaction to scoring one of the goals of the season? A not-so-great robot celebration – which led team-mate Peter Crouch to judge it as "horribly wrong". Adam had just scored from his own half against Chelsea at Stamford Bridge, but many will remember the goal for other reasons.

Getty Images

5/12 Worst attempt at a head-butt

An addition to the historic list of on-field battles between Manchester United and Arsenal, Gunners midfielder Jack Wilshere took umbrage with opponent Marouane Fellaini – and appeared to head-butt the Belgian. Wilshere's nine inch height disadvantage meant that his strike failed to meet its target, however, probably helping him to avoid an FA ban.

Getty Images

6/12 Strangest complaint

Match officials will carry out a number of checks before every match – ensuring twenty-two are on the field of play, checking there are no holes in the nets and so on – but in October, before Leicester's match at Swansea, the away team's goalkeepers became convinced that the crossbar was too high and complained to the officials. Checks were made – and the goals were found to be the correct height.

Getty Images

7/12 Biggest loser at mind games

After West Ham's 1-1 draw with Manchester United in February, Hammers chief Sam Allardyce accused his opponents of purely playing long-ball football – much to the Dutchman's anger. Instead of brushing the comments off, Van Gaal produced a document to suggest it was actually Allardyce's men who lumped the ball forward more often. Big Sam's efforts to get under the skin of his counterpart had worked.

Getty Images

8/12 The Alan Pardew award for bonkers behaviour from a manager

In February, the pressure was starting to mount on Leicester boss Nigel Pearson – and things threatened to come to a head during his side's 1-0 home defeat to Crystal Palace. Eagles midfielder James McArthur had collided with the hot-headed manager on the touchline, and instead of helping him to his feet, Pearson appeared to strangle the 27-year-old. He subsequently escaped punishment by the FA.

Getty Images

9/12 Most topical celebration

On the day of Manchester United's victory over Spurs in March, a video emerged showing the United Wayne Rooney skipper being knocked to the ground in a boxing match in his own home by ex-team-mate Phil Bardsley. He went on to celebrate his goal in the 3-0 win with a celebration imitating his own knock-out.

Getty Images

10/12 Weirdest press conference/best name calling

Nigel Pearson has always been a manager who will back his players – even if it means ostracising himself from the media. A journalist had asked Pearson to explain his comments that his side had faced a high level of criticism and negativity, and instead of giving a reasoned answer, Pearson labelled the reporter as an "ostrich" and said his "head must be in the sand".

Getty Images

11/12 The delusional boaster award

Step aside Jose Mourinho – you're not the best coach in the Premier League, according to Newcastle boss John Carver. His suggestion for the mantle? Himself. Speaking recently, on the back of eight straight defeats, Toon boss Carver made the bold statement – perhaps to deflect attention onto himself and away from his struggling squad.

Getty Images

12/12 Playground moment

Cesc Fabregas has always been able to pick a pass – and showed this more than ever in May's away trip to West Brom. During a break in play, the Spaniard's 20-yard punt hit opponent Chris Brunt on the head whilst referee Mike Jones was dealing with another incident. Jones saw Fabregas' strike and showed him a straight red card – but his three-match ban has since been reduced to just one, after Chelsea successfully argued the initial punishment was excessive.

Getty Images
At Newcastle, the fanbase has been treated with such sustained disdain, a large chunk of it boycotted the home game against Tottenham last month and is today preparing to "occupy" St James' Park after the final whistle, regardless of what it signals.
At Hull, they fret over cherished status, the place on the map which Premier League football delivers. Bruce sported the club's 1904 badge on his shirt on Friday and reminded all that this is only Hull's fourth season in England's top flight. Just a decade ago, Hull were in the third tier losing at Port Vale and Hartlepool.
A decade ago, Newcastle reached the semi-final of the FA Cup and the quarter-final of the Uefa Cup, having been in the Champions League the previous two seasons. Now they could be relegated for the second time in six often toxic years. Still, they remain the third-best supported club in the country.
That may be so, but when it was stated this week that "they've stayed with the team and stayed loyal to myself", it was Bruce speaking, not Newcastle's caretaker John Carver. 
Bruce added of Hull's fans: "It would be great if we can make them part of the game, if we can get in front we can do that. Of course that would send shockwaves up in the North-east."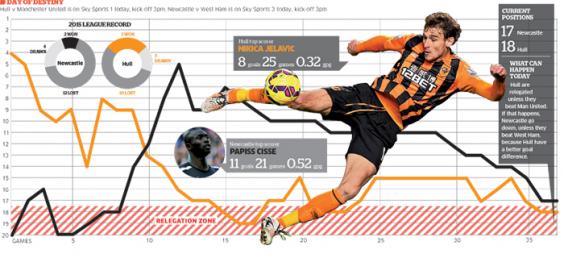 Bruce said that as someone who grew up in Newcastle's East End. He knows and understands the sound of a Gallowgate howl. He knows that if Hull can go one up against United, the goal can make Newcastle's crowd part of the West Ham game – negatively. That can have an effect on the afternoon.
"I don't think we'll be able to escape from it," Carver said of news from elsewhere. "What I will do is stay focused on us, but there is everybody in the crowd."
Maybe this is why, despite Hull starting two points worse off than Newcastle, Bruce was in relaxed form at the KC Stadium. He swept away a question about Jake Livermore and his drugs tests and handled others about his Old Trafford history with a smile.
When the subject turned to Hull's owner Assem Allam, Bruce said it was no time for an inquest into the Hull Tigers name-change proposal and offered this: "I haven't spoken to him [Allam], then again there are times when I don't speak to him for three or four weeks.
"I'll go and have a cup of tea with him on Tuesday or Wednesday, I'd have thought. He lets me get on and manage and at this particular moment I am desperately upset for him. We've let him down, that's the overriding emotion I feel. Let's hope we can turn it round, a final twist."
On Tyneside, there are no such words or feelings. The current version masquerading as Newcastle United could not spell relaxed. After all, when earlier this season the club advertised "exhilarating" tours of St James', they spelled exhilarating wrong.
And while there is a connection between the two fanbases' disconnection with their respective owners, Allam and Mike Ashley, there is a difference once again. Hull's argument feels like an argument; Newcastle's argument feels like a feud.
Hull played in Europe this season for the first time in the club's history, despite losing against Arsenal in their first FA Cup final last May. They invested in proven players and have been unlucky to see Robert Snodgrass, Nikica Jelavic and Mo Diamé injured for lengthy stretches.
Other signings such as £10m Abel Hernandez have not justified the fee. But there has been a display of ambition. It's plausible to argue Hull are not among the worst three teams in the Premier League this season, though they are the only one beaten home and away by Burnley.
Bruce will receive criticism should Hull fall and, as he would say, "rightly so". He acknowledged on Friday: "Me and my staff haven't been good enough. That's the brutal fact," though he added: "The big reason for me is the big players missing for so long."
Newcastle, too, have had injuries, but locally those matters pale beside the overall shabbiness of Ashley's regime. Theirs is a decline seen coming. As those orchestrating the post-match occupation of St James' said in a statement: "This most recent impending disaster has been years in the making."
Into the middle of this stride Louis van Gaal's assistant Ryan Giggs and Sam Allardyce. It was to Bruce's house that Giggs and all Manchester United players went the 1993 night they won the club's first League title for 26 years. Allardyce was in situ at St James' when Ashley bought the club in 2007. Giggs will view Bruce differently to the way Allardyce sees Newcastle. Here the difference is between affection and resentment. We will see if this means the difference between a push and a shove.
Reuse content