As Manchester City's decline showed no signs of slowing up in the 2-1 defeat to Crystal Palace on Monday night, Arsenal suddenly found themselves in second place on merit alone. City had failed to take advantage of their game in hand and now sit fourth, one place behind rivals Manchester United, who they face at Old Trafford this weekend.
But can the Gunners pull off the most unlikeliest of title challenges and beat Chelsea to the winning post? It's not inconceivable, but it's going to take some doing.
Arsenal already trail by seven points, and that's before you take Chelsea's game in hand into consideration. Should they win their rearranged match with Leicester, the Blues will lead the way by an intimidating 10 points with just a handful of games remaining.
Arsenal's best XI of the season so far
Arsenal's best XI of the season so far
1/11 David Ospina - 7.40/10

Liverpool owner John W Henry once asked 'What are they smoking at Emirates?'. When it came to having a puff the focus landed on Wojciech Szczesny who was dropped from the team having been caught having a crafty cigarette in the changing rooms after Arsenal's game with Southampton. It was enough for Wenger to give Ospina his chance and the Colombian has easily been more impressive than Szczesny (6.46) was.

GETTY IMAGES

2/11 Nacho Monreal - 7.35

There is real competition at left-back with England international Kieran Gibbs (7.04) an option, but it's Monreal who scores higher.

GETTY IMAGES

3/11 Gabriel Paulista - 7.46

Only signed in January, the Brazilian defender ranks as the best centre-back at the Emirates based on his performances so far.

GETTY IMAGES

4/11 Laurent Koscielny - 7.37

Paulista is joined by Laurent Koscielny, meaning Per Mertesacker (7.07) is the one to miss out. Calum Chambers, who made such an impressive start to the season, is on 7.05.

GETTY IMAGES

5/11 Mathieu Debuchy - 7.25

The Frenchman has been out since January but in the 14 appearances before then he made more of an impression than youngster Hector Bellerin (7.21) - if only just. Debuchy is nearing his return from injury just in time for the season run-in.

GETTY IMAGES

6/11 Mesut Ozil - 7.56

Has been much derided following his £42.5m switch from Real Madrid, but Ozil has begun to show why Arsenal were willing to pay so much money. The World Cup winner recently spoke about aspiring to be crowned the best player on the planet. He'll have to start by being the best player at Arsenal but as it stands he's the third best based on these ratings.

Getty Images

7/11 Francis Coquelin - 7.53

In his 12 starts since returning from a loan spell at Charlton, Coquelin has seemingly solved the desperate need for a defensive midfielder. Alternate options Mathieu Flamini (6.78) and Mikel Arteta (6.73) don't get close.

GETTY IMAGES

8/11 Santi Cazorla - 7.65

Unsurprisingly based on his brilliant season, Cazorla completes the midfield in this 4-3-3 line up, with the Spaniard considered the second best player of Arsenal's season so far. That means there is no place for the Alex Oxlade-Chamberlain (7.20) had he been fit, Tomas Rosicky (6.73) or Jack Wilshere (6.69). But perhaps the most unexpected player to miss out if based on pre-season prediction is Aaron Ramsey, who's inconsistent performances see him score 7.02 and miss out on a place.

GETTY IMAGES

9/11 Danny Welbeck - 7.30

He might have scored just four Premier League goals since joining from Manchester United, but Welbeck's overall contribution sees him score enough to keep Theo Walcott (6.42) out of the attacking trio.

PA

10/11 Olivier Giroud - 7.46

Never any doubt the French striker would be the best central striker thanks to his 13 Premier League goals and three assists.

GETTY IMAGES

11/11 Alexis Sanchez - 7.84

And completing the XI is of course Alexis Sanchez. The summer signing from Barcelona has been brilliant, scoring 13 goals and collecting seven assists. It makes him Arsenal's best player of the season so far.

GETTY IMAGES
Their first challenge comes this weekend against a struggling Queens Park Rangers side, who have been slightly buoyed by last weekend's impressive 4-1 victory over a dismal West Brom side. Their London rivals have caused problems for the Blues in recent years, having beaten them 1-0 in both 2011/12 and 2012/13. However, Chelsea triumphed 2-1 earlier in the season, and with their current squad you would back them to overcome the threat of Rangers, though their current status in the relegation battle will add an extra edge to the match.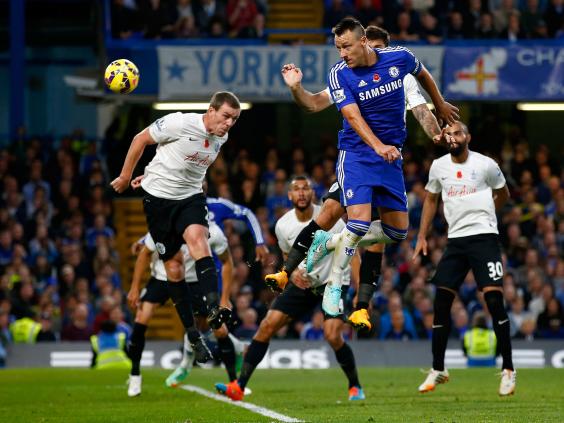 Arsenal will hope that Chelsea slip-up this weekend, and a victory for the Gunners over Burnley would see the gap closed to four points, before the Gunners turn their attentions to the FA Cup semi-final clash against Reading at Wembley.
All eyes will be on Stamford Bridge at the same time though, as Jose Mourinho's side welcome a resurgent Manchester United side to London in what will be a pivotal week for the Premier League. United could well upset the champions elect and return to Manchester with three points in the bag, meaning the gap will remain at four points but both Arsenal and Chelsea will have played the same number of games.
Which brings us to the London showdown at the Emirates. Chelsea sealed the bragging rights earlier in the season with a 2-0 victory at the Bridge in a game that will be remembered for the touchline spat between Arsene Wenger and Mourinho rather than anything that happened on the pitch. Victory for the Gunners would close the gap to just one point, but defeat would likely end any faint chances they have of topping the table come the end of the season.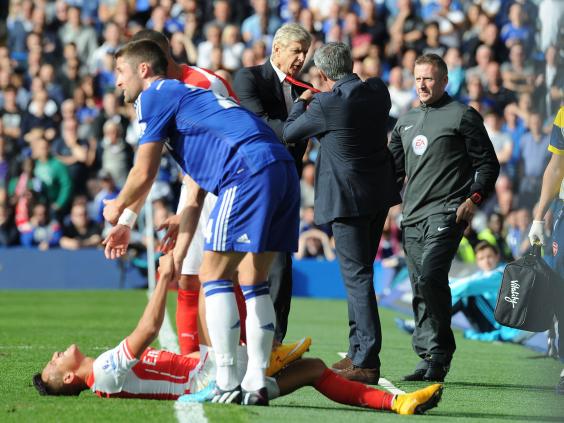 The Blues will be back in midweek action in their extra game against Leicester, where anything but a victory against the current basement club would be a shock. We can comfortably expect the Blues to stretch their lead, meaning the gap will be back out to four points with Chelsea having played a game more than Arsenal.
It will be Chelsea in action again the following Sunday as they take on Crystal Palace at Stamford Bridge, and Mourinho will have cause to be wary heading into the game given Palace pulled of a brilliant upset against City. It's also worth noting that, despite appearances of the famed Selhurst Park atmosphere, Palace have picked up more points away from home this season.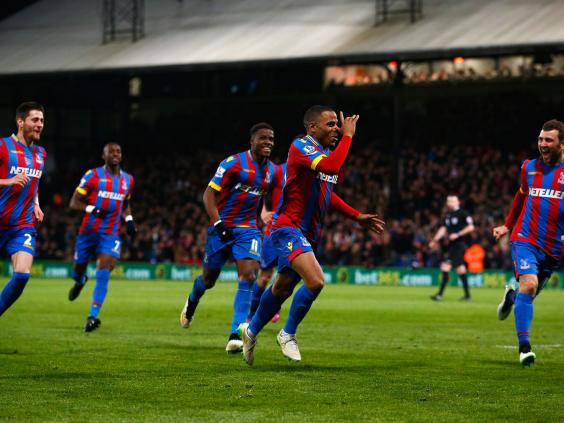 A shock Palace victory would give Arsenal the chance to close the gap back to a point when they take on Hull in that round's Monday night fixture, and the Tigers currently find themselves in disarray having endured an alarming fall down the table.
Chelsea then are back in action on Sunday when the host Liverpool, having met in the same fixture at a similar time last season. That day, the title was effectively on the line for the Reds, only for Steven Gerrard's famous slip and Demba Ba's ensuing goal to deal the Merseyside club a hammer blow in their unsuccessful title charge.
It would take a miraculous result that day for Arsenal to move ahead on Monday, as a Liverpool victory would give the Gunners the chance to go top of the table should they beat Swansea to build a two-point gap over Chelsea. The problem for the Gunners is that they take on Manchester United the following weekend, while Chelsea travel to West Brom on the Monday in another weekend that could have a major say where the Premier League trophy will end up.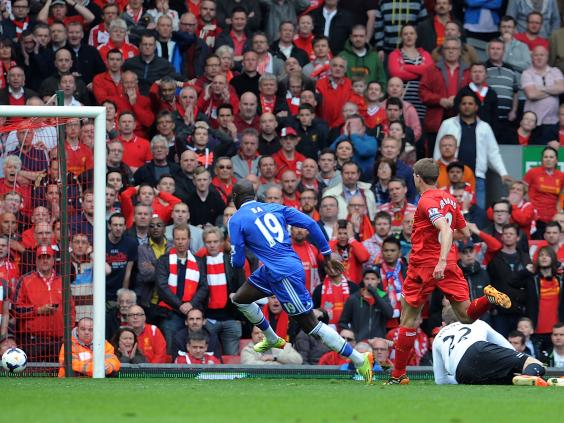 To wrap up the season, Arsenal will host both Sunderland and West Brom while Chelsea will finish the season against the Black Cats, meaning that the two clubs currently keeping their heads above relegation could have a huge say in the title race.
Of course, Arsenal need Chelsea to slip up in at least four of their eight matches remaining this seas, but with two of them against the current top three in the Gunners and United, and London derbies with QPR and Palace, Arsenal fans shouldn't give up all hope just yet.
Reuse content