Queens Park Rangers chairman Tony Fernandes has ordered manager Harry Redknapp and forward Adel Taarabt to put a halt to their public row about the player's fitness.
Redknapp had refused to relent on his claim after Sunday's 3-2 Liverpool defeat that Taarabt is "about three stone overweight".
Taarabt released pictures holding up his shirt in a bid to dispel Redknapp's jibes, claiming the former Tottenham boss has used him as a scapegoat for QPR's early-season troubles.
Yet on Tuesday the war of words escalated as Redknapp branded Taarabt "the worst professional" he had ever come across, saying a bout of tonsillitis was the only way the player has been able to shed some pounds.
Fernandes reacted by holding talks with both men, later stating the exchange between Redknapp and Morocco international Taarabt had caused the club "embarrassment".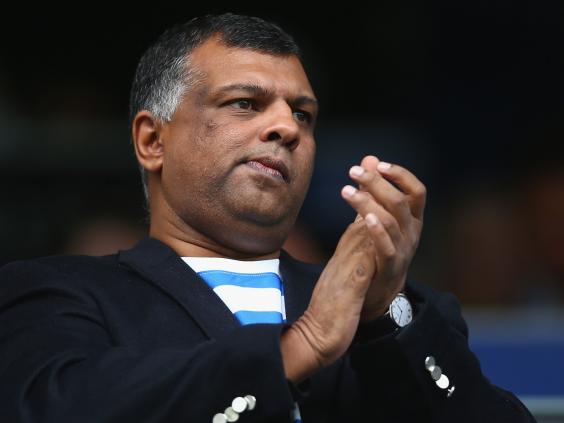 Fernandes said in a QPR statement: "As a club, we are fully aware of stories in the press over the last few days regarding Harry Redknapp and Adel Taarabt.
"We regret these issues being played out in public and both Harry Redknapp and Adel Taarabt have been notified of our disappointment regarding their handling of the situation. I have spoken to them both personally.
"On behalf of the club, I would like to apologise to the QPR supporters for the embarrassment this has caused and confirm that the issue has been dealt with internally.
"The club's entire focus is now on the Aston Villa fixture next Monday and hopefully after a tough few days we can turn a negative into a positive and build on Sunday's improved display."
Taarabt had on Monday told the Daily Mail he has kept his weight at a level consistent with his loan spell at AC Milan last term.
"I don't like the food at the training ground, but eat healthily like every other player. Simple," he said.
'My heaviest weight at Milan was 86kg, my lightest 84kg - now I'm 85kg. It's not true to say I'm not fit.
"He tried to give an excuse."
On Tuesday Redknapp responded by telling The Sun: "The only reason he has lost weight is because he has had tonsillitis, that's the only way we could get any weight off of him.
"He is not fit to play a game, that's the truth.
"He is the worst professional I have ever come across and I have been his only ally at QPR for the past three years.
"He doesn't try and I have protected him for too long. Even I could suck my stomach in for a picture and look okay."
Redknapp launched his initial tirade against Taarabt in the post-match press conference after QPR's galling Liverpool defeat on Sunday.
When quizzed on Taarabt's fitness, Redknapp laid into the 25-year-old.
"He's not fit to play football unfortunately," said Redknapp.
"I pick people that want to try and deserve to be at a good football club like QPR, and want to work and come in every day, and want to work and train and show a good attitude.
"When he starts doing that, whether he ever can do it, maybe he'll get a game.
"I can't keep protecting people who don't want to run about and train, who are about three stone overweight.
"What am I supposed to keep saying, keep getting your 60, 70 grand a week but don't train?
"What's the game coming to?"
PA
Reuse content