Arsene Wenger has set his Arsenal side the target of winning seven of their remaining Premier League games to guarantee a top-four finish.
The Gunners go into Wednesday night's clash at struggling QPR in third place but with only a three-point gap separating them from Manchester United, Southampton and Liverpool below.
Wenger's side also face a tricky away tie against Monaco, who won 3-1 at the Emirates Stadium in the first leg, knowing they need to provide an unlikely result to continue in this season's Champions League.
But having reached European's elite club competition for 15 successive years, Wenger is well-placed to know what is needed to ensure qualification for a 16th by finishing inside the Premier League's top four.
The players Arsenal nearly signed
The players Arsenal nearly signed
1/7 Harry Kane

Arsenal supporting Harry Kane was on the books at Arsenal but aged eight was allowed to leave, making his breakthrough season at local rivals Tottenham all the more harder to take.

Getty Images

2/7 Zlatan Ibrahimovic

A fee had been agreed for the then 19-year-old but then Wenger requested that the Swede play in a trial match. The mercurial striker replied he didn't 'do auditions' and went on to win league titles with every club he ever played at.

GETTY IMAGES

3/7 Didier Drogba

Now a Chelsea legend, Wenger revealed that he could have signed the Ivorian for just £100,000 when the striker was playing for Le Mans. Drogba was watched many times before eventually being overlooked.

Getty Images

4/7 Angel Di Maria

Wenger had the chance to sign Angel Di Maria for absolutely nothing when the Argentinian was a 17-year-old. But work permit issues got in the way and he ended up at Manchester United for £59.7, via Benfica and Real Madrid.

GETTY IMAGES

5/7 Yaya Toure

With his brother Kolo at the club at the time, the Ivorian featured for Arsenal in a friendly against Barnet. But work permit issues got in the way and the winner of multiple African player of the year awards eventually ended up at Barcelona and then Manchester City.

Getty Images

6/7 Cristiano Ronaldo

The three-time winner of the Ballon d'Or was apparently shown around Arsenal's training camp at London Colney and even given a shirt with his name on the back. But Manchester United stole in after seeing Ronaldo rip them apart during a friendly with Sporting Lisbon.

GETTY IMAGES

7/7 Petr Cech

Arguably the most consistent goalkeeper ever to play in the Premier League was heavily scouted by Arsenal but when the possibility of signing him from Sparta Prague was raised work permit issues got in the way. Cech also claims that Arsenal's chief scout at the time had reservations about his ability.

GETTY IMAGES
"Seventy-two," was his thoughtful response when asked how many points are required for a top-four finish. "People have finished in the top four with 67 points, but if you look at this year we have 51 points now. So it will be in the 70s. It is a tough run-in but it will be similar to last year.
"Look, have you seen the quality of the teams behind us? Southampton, Tottenham, Liverpool, Manchester United. The best way is to look forward and go as fast as we can.
"It will be down to consistency because mathematically it is not impossible for the guys behind us to catch us, but also for us to catch the teams in front of us. You just have to focus on yourself and win the next game."
A season-ending tally of 72 points means Arsenal require another 21, or seven wins, to reach that target, but Wenger also conceded he would like to remain in the top three and thus avoid the need to play in a qualifying round early next season to reach the Champions League group stages.
"It has not been every year, but when you have to go through the qualifiers you are not in the Champions League," he said of Arsenal finishing fourth.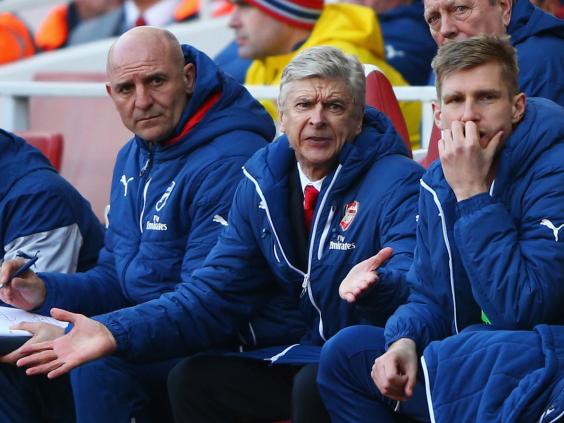 "It is better that you finish in the top three than the top four. Fourth is not a guarantee of Champions League football.
"The only thing you can say is that (this season) it is very tight. You look in front of you, Manchester City are four points ahead of us, and you look behind you, there's plenty of people chasing us.
"That will be very, very tight and it will be down to consistency in our results and mental strength. That will certainly be needed again on Wednesday night."
PA
Reuse content