Arsenal played all night under the Loftus Road lights like a team in third gear, intimating all the while that if they could just slip in to fourth the match would be theirs', but for some unquantifiable reason they either couldn't or didn't want to.
It was a fine move just after the hour mark that took them ahead. Six minutes later they had doubled their lead and a match in which Queen's Park Rangers created their fair share of chances looked over as a contest.
Charlie Austin's crashing strike with ten minutes to go pulled one back for QPR, and dragged the game to a tense finish, but it wasn't to be.
Arsenal were the superior team after their two clever goals, one from Giroud the other from Alexis Sanchez, showing glimpses of the side that overpowered QPR at the Emirates on Boxing Day. That is moment from which their resurgence in the second half of the season can be measured, but which looked like it might have been wiped out in 90 insipid minutes against Monaco last week.
The early exchanges were flowing but ultimately low on penetration. A frustrated Austin crashed in a weak volley on twelve minutes, seeming to lacking any better options or ideas.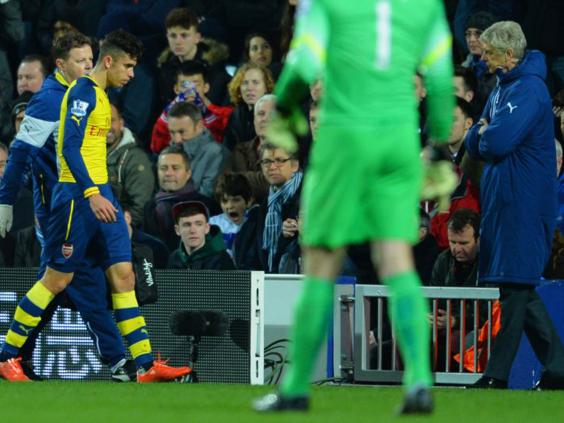 He had a better luck not long later, chesting down a pass from wide and volleying goalward, but it found the Arsenal keeper David Ospina in the centre of the goal. His third attempt from range came on thirty six minutes and was the best of the lot. It swerved inwards all the way, but crossed the line just wide of the post.
A bending Matt Phillips effort from well outside the box provided Ospina's sternest test in the first half. He saved easily but it was further indication that Arsenal, as they had been against Everton on Sunday, were there for the taking.
For the visitors, Sanchez threatened down the left, and Rosicky played with his typical intelligence, effectiveness and self-assurance. He, it is widely agreed, should have played more football this year.
As he ran on to a looping pass that cleared the box and shaped to volley, the stadium drew its breath, but he misfired.
QPR 1 Arsenal 2 player ratings
QPR 1 Arsenal 2 player ratings
1/22 Rob Green 6

Put under pressure much more in the second half. Difficult to criticise him for the two Arsenal. If it wasn't for him the difference between the sides would have been greater. A strong save to deny Ozil late on.

2/22 Suk-Young Yun 5

A danger for Bellerin in the early stages of the game but the Arsenal right back soon worked out what he was trying to do - take advantage of the overlap. Aimless balls forward meant the opposition were able to regroup quickly.

3/22 Nedum Onuoha 5

Clashed heads with Caulker towards the end of the first half. He was replaced by Clint Hill minutes before half-time due to injury.

4/22 Steven Caulker 5

Effective at defending Arsenal corners. Though he was sloppy when put under pressure by Sanchez and Giroud.

5/22 Darnell Furlong 5

Similar to Yun, he chose to push forward and attack the right flank. Very good range of passing too. Defensively, though, he was poor. That was proven when Sanchez easily skipped past him before scoring Arsenal's second.

6/22 Matt Phillips 7

A constant threat on the right side of the QPR midfield. His powerful volley from 25 yards on the hour would have been a contender for goal of the season had it crashed into Ospina's net. Provided the assist for Austin's goal.

7/22 Karl Henry 4

Often went missing in midfield. Too many misplaced passes from him meant QPR's attack broke down quickly.

8/22 Sandro 6

Did well on his return back from a knee injury. Looked to progress play where possible and fed Austin particularly well. Tired in the second half and was replaced by Niko Kranjcar on 56 minutes.

9/22 Junior Hoilett 7

Did well to track back and defend. Stayed close to Rosicky. Always a threat when he got near the Gunners' penalty area. He was replaced by Mauricio Isla on 73 minutes.

10/22 Charlie Austin 7

Threatened the Arsenal defence early on. He wasn't afraid to shoot either. His goal late on that gave QPR brief hope of getting a point was brilliant.

11/22 Bobby Zamora 6

Demonstrated why he can still make an impact in the Premier League even if he did start to tire shortly after half-time.

12/22 David Ospina 6

Relatively comfortable evening. Austin's shots on target were in the centre of his goal and didn't trouble the goalkeeper. Beaten by a beautiful effort by the striker - may have done a little better.

13/22 Hector Bellerin 6

Got the better of Yun on the left side of the QPR defence numerous times. He was allowed plenty of space on the overlap but his final ball was often poor.

14/22 Per Mertesacker 6

Back in central defence after he was on the substitutes' bench against Everton. He did well against the physical Zamora.

15/22 Gabriel Paulista 5

Struggled with the presence of Zamora. He was replaced on 36 minutes by Laurent Koscielny due to injury.

16/22 Kieran Gibbs 7

Linked up very well with Sanchez in the second half. His penetrating runs down the left made it difficult for Furlong.

17/22 Tomas Rosicky 6

Misplaced pass. Marked well by Hoilett. His creativity was stifled in the first half but in the second he found a slightly better range of passing.

2015 Getty Images

18/22 Francis Coquelin 6

His first match since sustaining a broken nose in the home win against Everton. The game seemed to bypass him at times.

19/22 Santi Cazorla 7

His usual skillful self. He started alongside Coquelin in the deep-lying playmaker position but it was only when he drove forward that he was effective.

20/22 Mesut Ozil 7

Started the attack that led to Arsenal's opening goal. Positioned behind Giroud, the German became more important as the game wore on.

21/22 Olivier Giroud 7

Not particularly convincing in the first half. He chose more often than not to fire aimlessly from outside the area. That changed in the second half. His goal set Arsenal on their way.

22/22 Alexis Sanchez 8

More of a threat in the second half as he started to cut in from the left. Roamed all over Arsenal's attack. He should have scored when he was one-on-one with Green. Redeemed himself when he doubled his side's lead on 70 minutes after skillful play.
Shortly before the break, Arsenal fans looked on concerned as new central defender Gabriel had to be replaced by Laurent Koscielny. The Brazilian was brought in from Valencia in January to address a strength in depth emergency. Arsenal need him.
Before the Monaco humiliation, Arsene Wenger had said Arsenal were a team on the rise. That there were over the worst of their injury crisis (they are always in injury crisis) and were in a position to move up a gear as the season drew to a close, rather than fade away as had been their modus operandi in recent times.
Certainly, one appalling result and display doesn't change everything. They won against Everton without finding any sort of fluency at all. Last night they were better, but never did they look like a team capable of putting three past Monaco away from home, as their first leg defeat demands they must. There were glimpses, particularly from Rosicky, who showed that if anything would undo the QPR defence it would be pace, yet Walcott, Welbeck and Oxlade-Chamberlain all languished on the bench.
In front of the defence, and with a white mask over his broken nose, Francis Coquelin had arguably his finest game yet for Arsenal. It is clear he is now all but undroppable in Arsene Wenger's eyes, and he played with the confidence of a man transformed by such a dramatic change in stature. He even impressed on his rare forays forward.
Sanchez showed more than occasional glimpses of the player he was when he arrived with such devastating impact last summer, especially in the second half. This league, he now knows, is more demanding than the rest, and his team has been dependent on him in a way Barcelona never were. If he is finding his early season form again, Arsenal could yet be a side transformed.
On paper, Queen's Park Rangers still look to good to go down, but they have done since the start of the season - on paper. After tonight, their ten remaining games include Tottenham, Chelsea, Man City and Liverpool. They may very well win their fight for survival, but it will go to the wire.
Reuse content