When asked to describe Glen Johnson, his manager, Brendan Rodgers, remarked he was one of those footballers whose true worth was only revealed when he was not playing. A glance through Liverpool's results would make the point for him. In the six weeks in which the full-back nursed a knee injury, Liverpool won three games. One was a desperately-narrow victory over the unknowns of Ludogorets Razgrad. Another came in a penalty shoot-out with Middlesbrough. Thus far there has been one clean sheet all season.
Rodgers has argued that Liverpool have been sometimes unrecognisable as the club that swept its way to second place last season but the disfigurement has been most pronounced in defence, a defence which unless a new contract can be agreed, Johnson will leave permanently in the summer.
If so, Johnson will leave Liverpool much as he found it. When he arrived in the summer of 2009, Liverpool had just finished second; a platform for an assault on the title that never remotely materialised. The suspicion remains that last season saw Liverpool play to their maximum. "Then, we only had the Premier League to concentrate on while the other so-called top-four teams were playing every four days. It was easier to keep everyone fit and we almost always had our best 11 on the pitch every week," said Johnson.
"I wouldn't disagree that we were playing to our maximum, we were playing very, very well. With the game-load we have now, it is not going to be as simple but we always believed we could put in the same performances." Without the man who scored 31 goals last season? "Of course, with any team that loses Luis Suarez, there is going to be a gap to fill."
The answer to the question of how Liverpool would fill the Suarez gap was the one that would define this season. Liverpool might have been able to cope without Suarez's goals but without Suarez and Daniel Sturridge, who will miss another month after breaking down at Melwood on Friday, their attack, if not toothless, has lacked incisors. It is why Rodgers was so angered when Sturridge suffered a serious injury while with England and why he is so keen to protect Raheem Sterling.
If you just skimmed the surface of the story that has filled a week's worth of back pages, Sterling would exemplify the disease of the modern English footballer. Headlines that his agents were demanding a six-figure sum for the 19-year-old to play football every week were followed by others stating that he was "too tired" to play for England. As a footballer he would not know the tiredness of a nurse, of a single mother, of a pensioner waiting for a bus in the rain.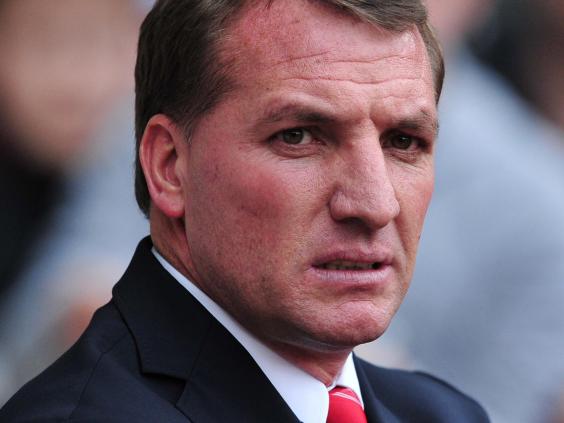 The truth, as always, was more complicated. Sterling was not tired, he told Roy Hodgson's assistant, Gary Neville, that he did not believe he was fit enough to face Estonia. "He was asked a question, gave an honest answer and was punished for it," said Johnson. "I think club and country should support young players. Raheem is still growing and playing in the best league in the world every week. So he is going to have a demand on his body.
"He wasn't 'tired' as has been published. He was asked a question: 'How does he feel?' He said his thighs were tired. There is a difference between aching and feeling a demand from the games to actually saying: 'I am tired and can't play'.
"Anyone with half a brain would know that's the case. He would play every week if he could. You are never 100 per cent, certainly not when you are playing every four days – you are going to play with knocks and aches. And then your body gets used to it.
"In hindsight, you could probably handle most situations better but I am sure they [the FA] didn't mean it to cause the reaction it has. Unfortunately, it had enough fuel for people to jump on."
This afternoon's encounter at Loftus Road has a resonance for Sterling and Johnson. Queens Park Rangers was the club where Sterling developed and Harry Redknapp, whose position as the club's manager is now decidedly precarious, reinvigorated Johnson's career at Portsmouth.
"I wouldn't say he rescued my career," said Johnson, now aged 30. "In terms of giving me the opportunity to play, then yes, but I'd say I rescued myself in terms of asking to leave Chelsea. He gave me the chance to play every week and that is what young players need to do."
QPR v Liverpool is live on Sky Sports 1 today, kick-off 1.30pm
Liverpool lead head-to-head with Real Madrid
Real Madrid may lead Liverpool in Champions League triumphs, but it is 6-0 to the English club in three games between the sides.
Their first European Cup meeting was in the 1981 final in Paris, when Alan Kennedy scored the only goal after 81 minutes.
"The whole thing was down to luck," Kennedy said a few years ago. "I didn't even want the ball when Ray Kennedy took his throw. I was just making a run to try and make space for someone else. But the ball hit me on the chest and dropped perfectly."
There was nothing lucky about their next meeting, in the 2009 round of 16. Liverpool claimed a 1-0 win in the Bernabeu through Yossi Benayoun before battering Real 4-0 at Anfield in the second leg. Fernando Torres opened the scoring and Steven Gerrard scored twice – once from a penalty – before Andrea Dossena wrapped up a rout.
For Real's players, it went beyond a beating. "They were the better team right from the start," Raul said. "On a personal level, this is the most painful defeat in my Champions League career."
It's that kind of hurt Real are looking to avenge on Wednesday.
1980-1: European Cup final Liverpool 1 Real Madrid 0 (Alan Kennedy).
2008-9: Champions League round of 16, 1st leg Real Madrid 0 Liverpool 1 (Yossi Benayoun).
2008-9: Champions League round of 16, 2nd leg Liverpool 4-0 Real Madrid (Torres, Gerrard 2, Dossena).