Chelsea have announced that loan signing Radamel Falcao will take over the No 9 shirt next season.
Unfortunately for a striker hoping bounce back from the worst season of his professional career last season, where he scored just four goals as Manchester United's No 9, he has been given a shirt number that some Chelsea fans think has become 'cursed' in the Premier League era.
Success in the No 9 has been the exception rather than the rule. In 22 Premier League seasons where squad numbers have been in force, Chelsea No 9s have rarely flourished, with arguably only two players truly making the shirt their own in Blue.
Best weekly Premier League fixtures 2015/16
Best weekly Premier League fixtures 2015/16
1/36 8 August

Manchester United v Tottenham

GETTY IMAGES

2/36 15 August

Manchester City v Chelsea

Getty

3/36 22 August

Arsenal v Liverpool

Getty Images

4/36 12 September

Manchester United v Liverpool

GETTY IMAGES

5/36 26 September

Tottenham v Manchester City

Getty Images

6/36 3 October

Everton v Liverpool

GETTY IMAGES

7/36 17 October

Tottenham v Liverpool

GETTY IMAGES

8/36 24 October

Manchester United v Manchester City

Getty

9/36 31 October

Chelsea v Liverpool

PA

10/36 7 November

Tottenham v Arsenal

Getty Images

11/36 21 November

Manchester City v Liverpool

Getty Images

12/36 28 November

Tottenham v Chelsea

GETTY IMAGES

13/36 5 December

Newcastle v Liverpool

Getty Images

14/36 12 December

Tottenham v Newcastle

AP

15/36 19 December

Arsenal v Man City

Getty

16/36 26 December

Southampton v Arsenal

GETTY IMAGES

17/36 28 December

Manchester United v Chelsea

Getty Images

18/36 1 January

Everton v Tottenham

Getty Images

19/36 12 January

Liverpool v Arsenal

GETTY IMAGES

20/36 16 January

Liverpool v Manchester United

Getty

21/36 23 January

Arsenal v Chelsea

Getty

22/36 2 February

Arsenal v Southampton

Stuart MacFarlane/Arsenal FC via Getty Images

23/36 6 February

Chelsea v Manchester United

Getty Images

24/36 13 February

Manchester City v Tottenham

GETTY IMAGES

25/36 27 February

Liverpool v Everton

Getty Images

26/36 1 March

Liverpool v Man City

Getty Images

27/36 5 March

Tottenham v Arsenal

Getty Images

28/36 12 March

Liverpool v Chelsea

29/36 19 March

Manchester City v Manchester United

Getty

30/36 2 April

Liverpool v Tottenham

Getty Images

31/36 9 April

Tottenham v Manchester United

GETTY IMAGES

32/36 16 April

Chelsea v Manchester City

33/36 23 April

Liverpool v Newcastle

34/36 30 April

Chelsea v Tottenham

GETTY IMAGES

35/36 7 May

Manchester City v Arsenal

Getty

36/36 15 May

Watford v Sunderland

Getty Images
Fernando Torres, of course, is the most obvious reason for the hushed talk of 'curses' but the word had been used before the Spaniard ever made his ill-fated £50million move from Stamford Bridge to Liverpool.
Chelsea have spent a combined £110.5m on players who have worn the No 9 at Stamford Bridge since 1993. Those 11 players, which curiously includes a midfielder and a defender, have combined for just 225 goals in 676 total games, and 150 in 485 Premier League matches.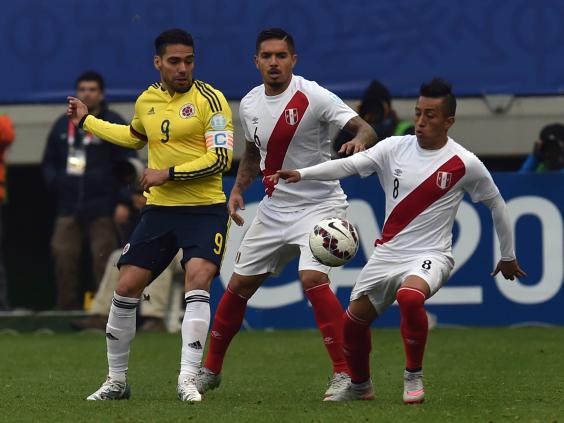 Compare that to the quintessential Premier League No 9, Alan Shearer, who scored 260 goals in 441 Premier League matches for Blackburn Robers and Newcastle United.
Digging further into the numbers one player, Jimmy Floyd Hasselbaink, is responsible for almost half of that Premier League tally in his four seasons at the club. Take away his 70 league goals for the Blues, in just 136 matches, and the total stands at a frankly awful 80 goals in 349 matches or one in every 4.3 matches (less than 10 a season) on average.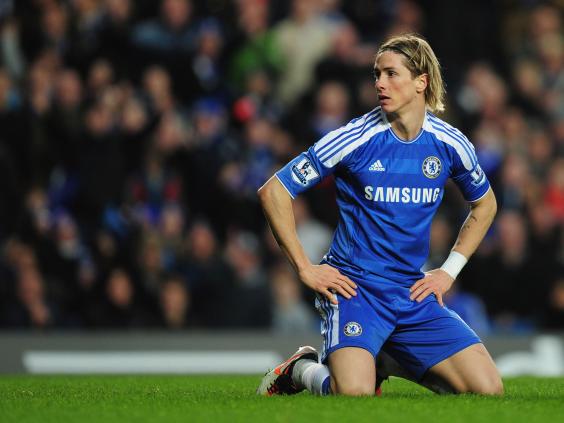 Of course, the Chelsea No 9 shirt will always belong to Peter Osgood, the King of Stamford Bridge, who scored 150 goals for the club in two spells between 1964 and 1979.
Let's see what Falcao has got himself in for (all stats as club No 9 only):
Tony Cascarino (1993/94-fee unknown)
The Irish striker was 30 when he joined Chelsea from Celtic and was hardly a first-team regular, scoring three goals in just 13 total appearances in what was his final season at the club. He went on, improbably, to be a huge success in France with Marseille and Nancy.
Stats: 13 matches, 3 goals (PL: 12/3)
Mark Stein (1994-96-£1.5m)
The small but lightning quick South African had modest success at Stamford Bridge, before losing his place after the foreign influx in the mid-90s. He scored in seven consecutive Premier League games from December 1993 to February 1994, a record that stood until 2002 when Ruud van Nistelrooy surpassed it.
Stats: 54 matches, 25 goals (PL: 50/21)
Gianluca Vialli (1996-99, free transfer)
Came to west London as a 32-year-old with a full glittering career behind him but still thrilled Chelsea fans - as a player and manager - in a successful period where the club won two FA Cups, the League Cup and the Cup Winners' Cup. Forty goals in 78 games, including crucial goals in England and in Europe, mark the Italian out as a rare success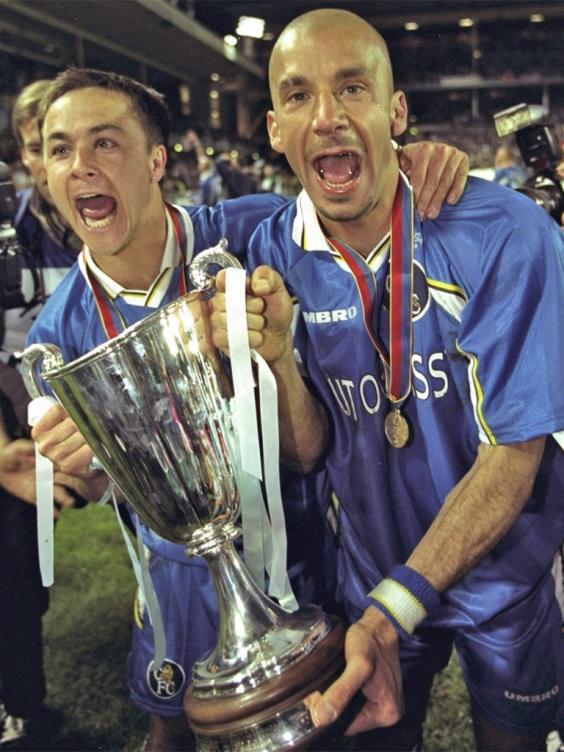 Stats: 78 matches, 40 goals (PL: 58/21)
Chris Sutton (1999-00, £10m)
This is where it really starts to go wrong. A year after Chelsea had spent £5.4m on record signing (and flop) Pierluigi Casiraghi, they again smashed their transfer record to bring Sutton in from Blackburn. He had struggled with form and fitness in the previous campaign and that continued in London, where he scored just one goal in the Premier League. That came in a memorable 5-0 win over Manchester United but Chelsea quickly cut ties with Sutton, taking a £4m loss just a year later as he moved to Celtic.
Stats: 39 matches, 3 goals (PL: 28/1)
Jimmy Floyd Hasselbaink (2000-04, £15m)
No other player has come close to the kind of success Hasselbaink had in front of goal as Chelsea's No 9. He may have been a club record fee but he quickly paid it back, quickly forming a masterful partnership with Eidur Gudjohnsen that saw the Dutchman become the top Premier League scorer with 23 goals.
Another 23 followed the next season, but he slowed down as Claudio Ranieri began to rotate with infuriating regularity. However, he continued to score and was the club's top scorer again in his final season - the first under Roman Abramovich - with 18 goals (in all competitions) ahead of big-money signings Adrian Mutu and Hernan Crespo as Chelsea came runners-up in the Premier League and got to the semi-final of the Champions League.
Stats: 177 matches, 88 goals (PL: 136/70)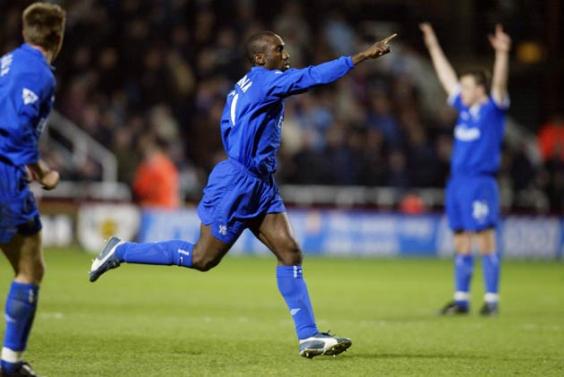 Mateja Kezman (2004-05, £5.3m)
Jose Mourinho was desperate for a striker who had scored 129 goals in 176 matches for PSV Eindhoven in the previous four seasons. But the former Serbia and Montenegro international never settled into the Chelsea team, even though they won their first title in 50 years with ease. He started just six Premier League games and was sold to Atletico Madrid the following summer.
Stats: 41 games, 7 goals (PL: 25/4)
Hernan Crespo (2005-06, £16.8m)
Had spent the previous season on loan at AC Milan (and worn the No 21 in 2003-04) but returned under Mourinho to play a vital, if understated, role as Chelsea retained the title. Rotated as the main striker with Didier Drogba and though the Ivorian tended to play in the bigger games, Crespo scored 10 league goals, including important winners against Wigan and Fulham.
Stats: 41 games, 13 goals (PL: 30/10)
Khalid Boulahrouz (2006-07, £8.5m)
Why he was given the No 9 shirt in the first place was a mystery. The defender, brought in as he was able to cover three positions, started well but quickly fell out of favour and was then out with a lengthy injury. At the end of the season Ricardo Carvalho was injured but Mourinho preferred to play Michael Essien alongside John Terry at centre-back. Was sent on loan and the sold in 2008.
Stats: 20 games, 0 goals (PL: 13/0)
Steve Sidwell (2007-08, free transfer)
After an impressive season at Reading he was came to Chelsea but never managed to dislodge a settled midfield; Jose Mourinho's sacking in September didn't help either.
Stats: 25 games, 1 goal (PL: 15/0)
Franco Di Santo (2008-09, £3.4m)
Had looked great for the youth tea and there had been a real buzz at the club about his potential. Was given limited chances under Luiz Felipe Scolari and then Guus Hiddink. Appeared to have a future at the club but his poor loan spell at Blackburn Rovers the following season convinced Chelsea to give up on him.
Stats: 16/0 (8/0PL)
2009-10 - number vancant
Chelsea won the double under Carlo Ancelotti...
Fernando Torres (2011-14, £50m)
It's a well known story by now, at one point at Liverpool he was the best striker in Europe. Abramovich was desperate to have him and overpaid for a player already struggling with injury and seemingly on the decline.
It started badly, with a 903 minute wait for his first goal, and never really got better despite some memorable moments, including a last-minute goal in the Champions League semi-final at the Nou Camp and a goal in the Europa League win. But he failed to hit double figures in the Premier League in three full seasons.
Simply one of the worst transfers ever, no matter how much Chelsea supporters wanted it to work.
Stats: 172 games, 45 goals (PL: 110/20)
Good luck Falcao, you're going to need it.
Reuse content