Rafael Benitez has refused to fuel further the feud with Jose Mourinho after the Chelsea manager aimed an extraordinary tirade at the Real Madrid coach and his wife.
Mourinho accused Benitez of destroying his Internazionale team that won the treble in 2010 and told the Spaniard's partner, Montse, to spend more time improving her husband's diet.
Such was the venom in the outburst, it overshadowed the news that Chelsea had lodged a second bid for Everton defender John Stones, worth £26m, which was rejected.
Mourinho's comments were in response to an interview given by Montse in Spain this week, and, although Benitez replied that he just wanted to talk about football, that is what his wife had done in a light-hearted manner.
"We tidy up his [Mourinho's] messes," she had said in relation to the fact that her husband's move to Real Madrid means he has now been employed by three clubs after Mourinho, with Inter and Chelsea being the other two.
Chelsea potential arrivals and exits - July
Mourinho took exception to the comments and delivered a scathing riposte following Chelsea's final game of their pre-season tour of North America, which ended in a  2-2 draw against Barcelona. He said: "The lady is a bit confused, with all respect. I'm not laughing, because her husband went to Chelsea to replace Roberto Di Matteo and he went to Real Madrid and replaced Carlo Ancelotti.
"The only club where her husband replaced me was at Inter Milan, where in six months he destroyed the best team in Europe at the time.
"I think the lady needs to occupy her time and if she takes care of her husband's diet she will have less time to speak about me."
Benitez refused to bite back and said: "Mourinho's comments? I'm the Real Madrid coach. I like football, I understand football and for this reason I only speak about football."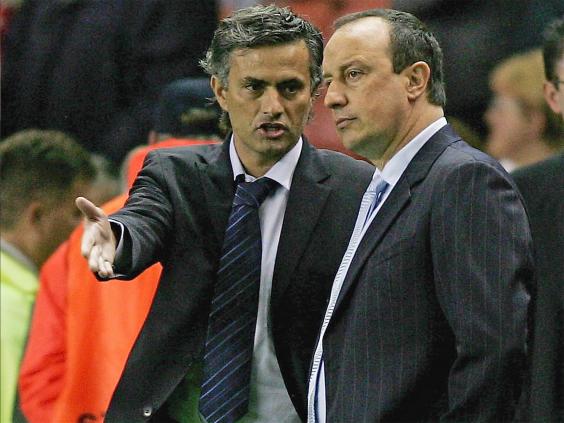 "We are here [in China] to prepare for the game against AC Milan and a tour that is going very well. I want to talk about the present and future, which I hope will be here at Madrid for many years."
 It is not the first time Mourinho has referred to Benitez's time at Inter Milan, where the Spaniard lasted just six months after the Portuguese had led the Serie A club to the treble in 2010.
Chelsea are preparing to make a third offer for Stones before the start of the season on 8 August. The champions have had a bid of £26m turned down after their opening offer of £20m had been rejected 10 days earlier.
Chelsea are convinced the England defender can be lured to Stamford Bridge. Stones is understood to want the move, although Everton insist the 21-year-old is not for sale. A bid of £34m could change their mind, but Chelsea will not go higher than £30m.
It is thought Chelsea have another option in mind should Everton refuse to budge.
Reuse content