Raheem Sterling is believed to be on the verge of agreeing a new contract with Liverpool that would see a significant increase on his wages, with talks set to be completed within the next two weeks.
Sterling's future at Anfield has come into question in recent months with interest coming from Real Madrid and Paris St-Germain, with The Independent on Sunday reporting that Sterling is high-up on the wish-list of the wealthy Parisian side.
Liverpool have looked towards Sterling to step-up his game due to the permanent absence of Luis Suarez and temporary absence of Daniel Sturridge, who should return from injury after the international break.
Sterling has seen his stock rise dramatically in the past year, having tied down a regular starting berth in Brendan Rodgers' first-team as well as forming a strong understanding with Sturridge. Given his outstanding talent at just 19 years of age, Liverpool are keen to hold on to him and are prepared to offer the teenager a long-term contract extension as a result.
Rodgers admitted that talks were being prepared, although it's that chief executive Ian Ayre made contact with Sterling's representatives two weeks ago to signal their intention of offering a new deal.
"It is not a big issue for us," Rodgers said according to the Liverpool Echo.
 Video: Premier League round-up
"Ian Ayre has spoken to his representatives and is quite relaxed. The club is dealing with the agent so everything is calm.
"The boy is remarkably happy here and there are no secondary thoughts about anything else other than continuing to play for Liverpool.
"He still has a lot of growth and for that the best place for him to be is here.
"His representatives know that and we as a club respect that so that will get sorted out with time."
Rodgers was also asked whether Anfield offered Sterling the best chance of reaching his full potential by aiding his development as a player and a man.
"I don't see anything different from that," answered the Northern Irishman.
"His agent is a good agent and understands that this is the perfect place for him."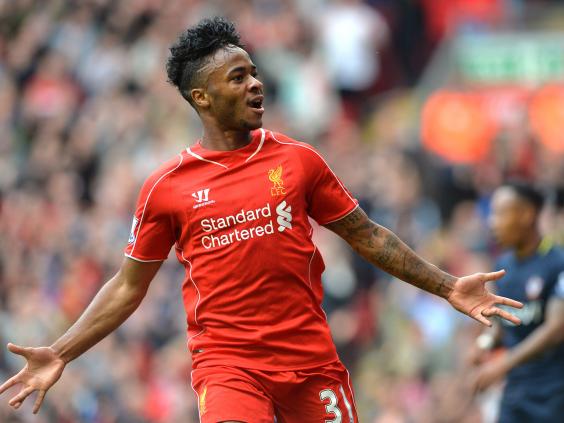 Sterling had an instrumental impact on the 2-1 win over West Brom on Saturday as he got up immediately from a late penalty claim to pass to England team-mate Jordan Henderson, who calmly slotted the ball beyond Ben Foster and into the back of the net to secure the three points.
His form since breaking into the Liverpool side has been outstanding, and he is seen as a key player that can form part of the Liverpool spine for years to come alongside the likes of Sturridge and Henderson.
Rodgers has been eager to prevent too much pressure from being applied to Sterling while he is still young, and he is also quick to recognise that the attacking midfielder must be looked after if he is to have his maximal impact on matches, with the fear of burning out looming large as he plays the majority of matches for the Reds.
"It's tough for him," Rodgers said. "I've been trying to protect the kid not just from performances but from headlines. People try to write him off because he's tired, but he put in an incredible shift in this game.
"He's going to have good games and he is going to have games where he is not going to set the world alight but one thing about Raheem is that he will always give 100 per cent."
Reuse content