Rio Ferdinand responded to Sir Alex Ferguson's comments about the number of 'world class' players he has managed by sparking a semantic debate about what the phrase really means.
In his new book Leading, Ferguson claims that he only managed four world class players during his 26-year tenure at Manchester United.
Ryan Giggs, Eric Cantona, Paul Scholes and Cristiano Ronaldo are the selected few, with names like Roy Keane, Wayne Rooney, David Beckham, Ruud van Nistelrooy and Peter Schmeichel left out.
8 players that almost signed for Manchester United
8 players that almost signed for Manchester United
1/9 8 players that Sir Alex Ferguson almost signed for Manchester United

Sir Alex Ferguson's new book 'Leading' not only reveals the secrets behind the former Manchester United manager's success, but also lifts the lid on the transfers that nearly were. Here are eight players Ferguson almost managed to coax to Old Trafford with explanations from the man himself as to why they didn't quite work out.

GETTY IMAGES

2/9 Ronaldo

"We wanted to sign the Brazilian striker from Cruzeiro in 1994, but we could not get a work permit and he went to PSV Eindhoven."

Getty Images

3/9 Petr Cech

"I went to see him in 2003 for Rennes. We thought Petr was a bit young for the bruisers in the Premier League."

4/9 Didier Drogba

"We went to check him out [at Marseille] but the club wanted £25million and Chelsea moved in for the kill before we had made up our minds."

Getty Images

5/9 Thomas Muller

"He was a ten-year-old when we heard about him. We had him watched and the following day he committed himself to Bayern Munich."

GETTY IMAGES

6/9 Sergio Aguero

"His agent was demanding a price we were not prepared to pay..."

Getty Images

7/9 Raphael Varane

"In 2011 I hurtled down to Lille. Zinedine Zidane got wind of this and somehow scooped him up for Real Madrid."

Getty Images

8/9 Lucas Moura

"We offered £35million but Paris Saint-Germain signed him for £45million."

GETTY IMAGES

9/9 Mario Balotelli

"In 2010 I briefly flirted with the idea of signing Mario Balotelli, the talented but controversial Italian striker. I did my homework on him, speaking to a few Italian contacts, but the feedback I got confirmed it was too big a risk."

Getty
Ferdinand, as well as his long-time defensive partner Nemanja Vidic, are also omitted, and judging by his Facebook post on Wednesday evening, he thinks he shouldn't have been.
"What equates to being world class?", he asked. "Sir Alex Ferguson named 4 players from his time at MUFC as being 'world class' (where was mine among a few other names boss!)"
Ferdinand then went on pose a series of questions on the whole notion of a footballer being 'world class'.
"How does he judge a player to be world class?" he pondered, before listing a number of traits he considers makes a world class player. "Performing in the big games, consistency, a high level of ability in all areas of the game, great goalscorer (sic), great saves, great tackler (sic), influential leader (sic)."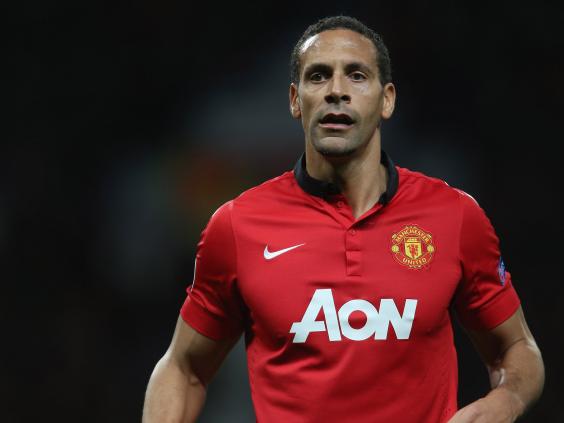 Next, the 36-year-old, who retired from football at the end of last season, ran through the specific qualities he looks for in particular positions.
"Can a midfielder run games consistently, can they score important goals, assists, carry the team, control games, be responsible, do they have the personality to take the ball in any situation at any time?"
"Can a defender dominate all types of strikers, can he influence others to perform better, are they vocal, a leader, do they have consistency, perform in big games, are they brave, can they play/pass...?"
"Can a 'keeper make game changing saves, are they consistent, are they leaders, [do they have] personality? These are some of the things you would have to consider when calling someone world class."
Ultimately, Ferdinand believes that "a world class player must be someone who could walk into any team in the world and improve them."
"Of course the Ronaldos, Peles, Maradonas, Cruyffs, Messis & Cristiano Ronaldos would all do that no problem.
"Anyway," Ferdinand concluded, "the debate goes on..."
The Independent has launched a new football app! Live scores, in-game stats, breaking news, videos and push notifications are just some of the many features. Use the links below to download and get more from Indy Football...
iPhone
http://ind.pn/iphonefootball
iPad
http://ind.pn/ipadfootball
Android
http://ind.pn/androidfootball
Reuse content