The season starts now, said Roberto Martinez. It is a fact, universally acknowledged from those who captain Nether Wallop Thirds to the gods who oversee Bayern Munich, that the phrase "the season starts now" is uttered by those who have not had a particularly good start to their season. For Liverpool, the season started on 17 August with a 1-0 win over Stoke City.
However, across the city at Everton's training base at Halewood, you had to concede that Martinez had a point. Much has been made of the fit and the cut of the shoes David Moyes had to fill at Manchester United but the imprint he left behind at Goodison Park was almost as big.
Sir Alex Ferguson may have bequeathed a statue of himself and his name in vast letters on Old Trafford's great North Stand but when you turned into Goodison Road, Moyes's face on a banner hanging from the Main Stand was the first thing you saw. His statement that Everton was "The People's Club" was hung from the girders of the Park End, while the Gwladys Street End had an official advertisement that proclaimed: "In Moyes We Trust".
This evening, Goodison stages its first grand occasion without him in more than a decade and it is a fixture that Chelsea have rarely enjoyed. Carlo Ancelotti was fired in Goodison's narrow, wood-panelled corridors. Avram Grant ended one match by refusing to answer any question with anything other than "yes" or "no". Jose Mourinho, naturally, never lost here.
Martinez may be searching for his first win but he has done more to reshape his club than Moyes has at Manchester United. There have been five major signings, three amid the last knockings of the transfer window.
Critically and unexpectedly, he has hung on to Leighton Baines. The defence, anchored around Phil Jagielka and Sylvain Distin, is Moyes' finest legacy, especially for a man like Martinez who at Wigan Athletic was betrayed too many times by a chronically unreliable back four.
And, if he has said so long to Marouane Fellaini, it has been for £27m, double the cost of James McCarthy, while the loan deals for Gareth Barry and Romelu Lukaku were intelligent strengthenings of areas where Everton have been lacking. One of Fellaini's underappreciated strengths was as someone who could knit the midfield together while the decline of Nikica Jelavic, who has managed a single league goal since December, meant someone such as Lukaku, who is prevented from playing against Chelsea by the terms of his loan agreement, was needed to sharpen an increasingly blunt spearhead. Everton have not won since Moyes made his dignified farewells to the old stadium in a victory over West Ham United that felt like an independence day of sorts.
Martinez smiled at suggestions that Lukaku's absence would be a chance for Jelavic and Arouna Koné to "audition" to lead Everton's attack: "They are not young boys," he said. "Auditions are for a player who has not been able to show what they can do. Niki, like any player, needs challenging. He has always been a fighter in his career. I've been looking at the situations he has had to overcome and I expect a real fighter coming back and showing his best levels this season.
"The three are very different. Romelu is powerful, strong and an outstanding option in counter-attacking football. Koné is more of a build-up player. His real strength is with his back to play. He can keep the team really high up the pitch. Jelavic is more of a box player, getting in behind centre-halves with those three or four-yard runs and opening up spaces. He is as good a first-time finisher as you will see in Europe."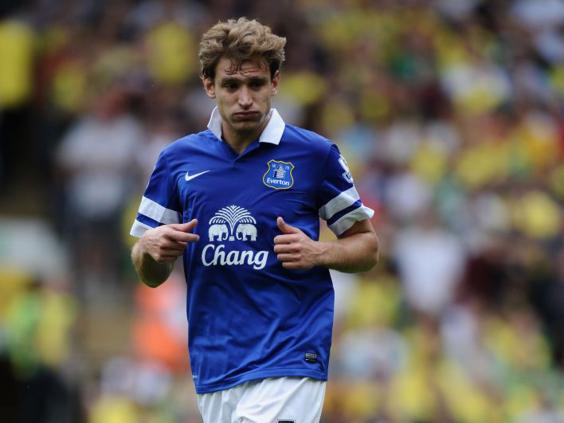 Martinez used to loathe international breaks as his disparate group of players made their way back to Wigan from Honduras, Ivory Coast and Paraguay. Invariably, Wigan would be vulnerable. Usually, they would lose.
Now the distances are shorter and the international fixtures more recognisable. Two of the most interesting figures returning from World Cup qualifiers in eastern Europe were McCarthy and Ross Barkley.
Having won the FA Cup with Martinez in wildly romantic circumstances at Wigan, the young Glaswegian is an unalloyed fan, saying that his manager's tactics "were so smart it made you feel as if you had an extra man at times". That was never more in evidence than in the quarter-final at Goodison, a game in which Everton were outplayed in a manner they had rarely been under Moyes.
Both Barkley and McCarthy are listeners which, Martinez says, is an uncommon quality in a young footballer. "I have worked with a lot of young footballers and you realise straight away that their focus is either: 'What can I do better?' or 'Did you see what I did last week?' Believe me, Ross is not one of those who'd say: 'Did you see the game I played last week?'
"He has seen both sides of the game after having such a horrific injury [Barkley had his leg broken in three places after a collision with Liverpool's Andre Wisdom when he was 16]. Something like that puts your career in perspective and tells you everything could be taken away from you."
McCarthy, said Martinez, could become "an Everton great" and not just because he once rejected a move to Liverpool. "To achieve things in life and in football you have to do it the hard way," he said. "James has not been trying to jump on the first train to success. He makes decisions on where he is allowed to have an important role. At 22, he has already played 100 games in the Premier League.
"To go to a big club at 16, you see time after time that it's not the perfect move for youngsters. I know we say: 'if you are good enough, you are old enough' but that's not right in  football. It is not about how quickly you can get there but how well you can get there."