Manchester United striker Robin van Persie has said that it is "still possible" for the club to win the title this season, as they have only played a quarter of their matches.
Louis van Gaal's side are up to fourth in the Premier League after a crucial win over Arsenal at the Emirates on Sunday.
The Dutch striker also admitted that it "will be very hard" to win it this year but if they fail to topple Chelsea and Manchester City then the club are aiming to be back in contention next year.
Speaking as a BT Sport ambassador for the broadcasters charitable initiative, The Supporters Club, Van Persie said: "This year it's still possible as we've only played [a quarter] of our games, we're aiming for this year but it will be very hard.
"If not this year then hopefully next year."
Van Perise, along with Rio Ferdinand, Gary McAllister, Graeme Swann and Ben Kay, are backing a campaign to get people to volunteer at local sports organisations.
Ferdinand and Swann will be volunteering themselves with a their efforts being aired on the channel in December. The Queens Park Rangers defender will get involved in a rugby session in Tooting while Swann will be spending time in a boxing gym in Bristol.
Kay will be donating his time at a Riding for the Disabled Association in South Yorkshire and McAllister at a StreetGames centre in Glasgow.
Van Persie, somewhat surprisingly, also revealed that his favourite moment in a match was not actually scoring a goal.
"The first 10 seconds of the game," is his favourite part, "because that's where you can explode and that's where it all starts."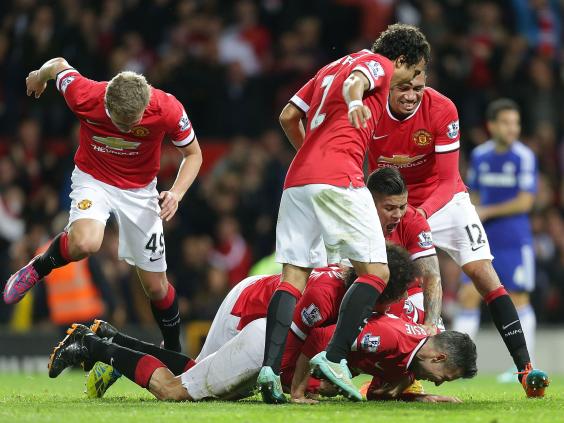 The 31-year-old was coy slightly more coy when he was asked who was the longest in the Manchester United shower - even answering that it was him.
"I will be up there, I like to take a long shower," he answered with a smile. "It's a bit personal to point at others, I'll just stick to myself..."
--
The Supporters Club has raised over £3 million from BT Sport customers and BT. This has so far been used to fund 24 sport-inspired community projects – 14 in the UK and 10 overseas, with over 91,000 people now signed up to the initiative.
People can try something new by pledging their extra time to sports volunteering opportunities in their local area via www.btsport.com/myextratime. Those who join are encouraged to share their pledges using #MyExtraTime