There was a time when Brendan Rodgers talked about Liverpool as if it was a destination, somewhere he visualised building a dynasty; a place where a natural consequence of enduring success would be the erection of a statue in his name after he was gone.
Yesterday morning, as he spoke considerately about the increasingly perilous situation he finds himself in, there seemed to be an understanding that soon enough, life might have to continue elsewhere.
He revealed that one of his ambitions is to manage for 1,000 games. He thinks it might take 20 years to reach the target. There is "no chance" he will walk away from Anfield but, in confessing to being a realist he knows it might take as many as "five or six jobs" to get there.
Rodgers did not swerve answering the awkward questions, the last of which was about whether it disappointed him that other managers are apparently happy to be linked to his existing role. On Thursday, the enigmatic Sky Sports News yellow ticker announced authoritatively that Jürgen Klopp would cut short his year long sabbatical for a move to the Premier League.
The Independent can confirm that Klopp has had two offers from English clubs since leaving Borussia Dortmund in May. One of them was from West Ham United. He would welcome a third from Liverpool.
Rodgers accepted it as the nature of an industry where peddling happens at "every level and in particular at this level." Then he reminded forcefully that 16 months ago, "We nearly won the league and I was manager of the year."
"Compare that to now," he pondered, considering the benefits of testing experiences, where "You're not so good at your job; when you're actually better."
His future will ultimately be determined by the opinions of three senior figures from Fenway Sports Group: John W. Henry, the principal owner; Mike Gordon, the president; and Tom Werner, the chairman.
Although Gordon does not possess the same percentage of shares in the investment company as Henry, his say is the most significant as Henry's attentions have been consumed by the Boston Globe newspaper, an acquisition that has opened doors at the top of American society.
Gordon's word was crucial in saving Rodgers in the summer and he is FSG's man on the ground in Merseyside, though at the moment, he is also to be found a lot in Massachusetts where the Boston Red Sox, FSG's primary asset, is in the midst of a slump. Earlier this month, the Red Sox missed out on reaching the play offs, marking the fourth Major League Baseball campaign in the last five where they did not qualify despite winning the World Series in the one year where they did.
Liverpool's recent history is similar; being a sporting institution that has qualified only once for the Champions League in the last five years and, under Rodgers, went close to winning the Premier League in the season that was achieved.
The parallels suggest there is something FSG isn't quite getting right. Maybe Liverpool's problems cut deeper than the presence of Rodgers who could have been defending himself in slipping in the mention of "the nature of how things are," at a club that has sold "some big, big players."
He refused to criticise the recruitment plan of Liverpool's infamous transfer committee in reaction to those sales, though he contended: "What is clear is in the couple of years I've been here, when we've had the availability of top class players, I think I've proven I can build a team that plays a way of football that excites and challenges at the top end of the table."
Rodgers is at a point where he needs to win convincingly to regain the hearts and minds of supporters. Scruffy victories like those over Stoke City and Bournemouth are not enough now because, who knows, a 3-0 defeat to West Ham might be lurking just around the corner.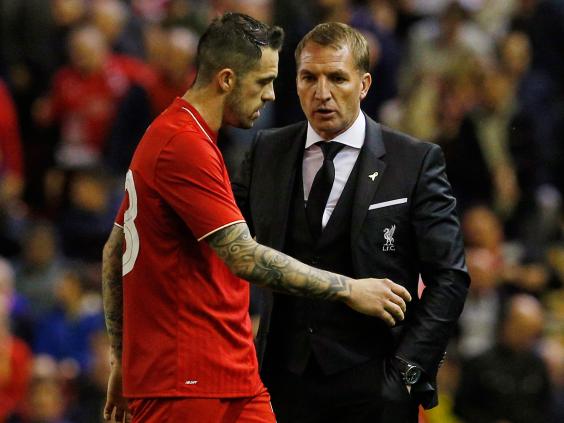 This afternoon, Liverpool face Aston Villa at Anfield – a fixture Rodgers has not prevailed in since his appointment in 2012. His reign was also undermined by losing to Tim Sherwood's side in April's FA Cup semi-final at Wembley, so this is surely a game he cannot afford to lose. Emotionally, however, perhaps he is preparing for what happens if he does.
 "This is an incredible football club and all I want to do is see it succeed and if it isn't with me, that's for other people to decide," he said. "I know I've given everything. I'll walk away and hopefully I'll get into another job where I'll get the chance to create something special.
"But my focus is still very much on the now and the now is making us the best we possibly can be. Hopefully that will see me here for a longer period."