Chelsea's fortunate victory over Queens Park Rangers this afternoon was a significant one, but not only because it brought them three points closer to the title. It also marked the 700th game since Roman Abramovich's revolutionary takeover of the club for £140m in 2003.
Since the Russian oligarch began pouring petro-dollars into Stamford Bridge, he has turned one of English football's underachieving clubs into an established powerhouse. His investment is now only twelve points away from returning a fourth league title.
Jose Mourinho described Abramovich's impact as "good for Chelsea, good for English football, good for European football" earlier this week, but just what kind of impact has his ownership had?
Trophies
Chelsea have won twelve major honours since the takeover, more than any other English club in the same period.
Only Manchester United's record is comparable. Despite initially suffering a few transitional seasons, Sir Alex Ferguson's side re-established themselves in the late-noughties and have been vying for supremacy with the Blues ever since.
Their haul of eleven trophies is one less than Chelsea's total but they can boast two more titles and a superior average league position (2.18 to 2.36).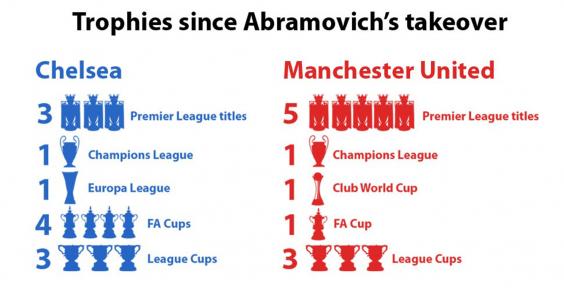 Transfers
While Abramovich's ownership may have helped to fill trophy cabinets, his chief impact has been on the club's bank balance. Chelsea have consistently charted in the top ten of Deloitte's Money League, which ranks clubs on the amount of revenue generated each season. What's more, the transfers fees paid out by the club since the takeover amount to a staggering £916.95m. It would be no surprise if they broke the £1bn mark this coming summer.
Their main competition in this category, once again, comes from Manchester, but both the red and blue halves of the city fall some way short. United's total amount of fees paid out clocks in at £690.9m, a figure boosted earlier this season by the marquee signing of Angel di Maria. Manchester City, meanwhile, have come a long way since 2003, but they are still playing catch up to the Blues. Their outlay on transfers comes to £857.9m.

Click this link for an interactive version of the transfer spend graphic
Managers
He has gained a reputation for having an itchy trigger finger. Abramovich has filled out nine managerial P45s since he assumed control and since 2003, no other club has made as many managerial changes while competing in the Premier League. Only Tottenham Hotspur and Newcastle United come close, with seven transitions each.
The most surprising sacking was Carlo Ancelotti, who was shown the door despite a second-place finish and winning the double a year earlier. Only Guus Hiddink, whose tenure was temporary, can be said to have left entirely on his own terms.

Legacy
The money, the trophies and the world class managers have changed Chelsea. Perhaps Abramovich's biggest impact on the game, however, has come in the form of UEFA's Financial Fair Play regulations, which curb the ambitions of copycat owners who seek quick success through injections of cash. Chelsea supporters will be grateful that their sugar daddy arrived well before UEFA saw how success could be bought and felt it was necessary to act. Their seat at European football's top table is secured, while new money clubs like City and Paris St. Germain find themselves increasingly frustrated that there is standing room only.
Reuse content